Sixty-six faculty members from eight member universities of the Southeast Asian University Consortium for Graduate Education in Agriculture and Natural Resources (UC) converged at the SEARCA Headquarters for the First UC Faculty Forum on 23 – 24 July 2019.
The Forum, co-hosted by SEARCA and the University of the Philippines Los Baños, provided a venue for faculty members from the UC to come together, exchange research ideas and develop strategic partnerships for collaborations. With the theme on Responding to the Challenges of the Fourth Industrial Revolution, there were 4 plenary speakers and 43 papers presented in parallel sessions under 4 sub-themes. In addition, there were two roundtable sessions that discussed possible key areas of strategic collaboration among the UC members. Among those proposed were cross visits, co-supervision of thesis, co-authorship of papers, research collaboration on topics that transcend boundaries such as on studies involving the Mekong River or the South China Sea, and the extension of the current UC project on the Joint Master of Science in Food Security and Climate Change (MSFSCC) to a Doctor of Science in Food Security and Climate Change (DSFSCC) program. There were at least three panelists who also suggested that the UC should use its influence to be an advocacy group for policies that would prioritize the agriculture sector or benefit the small holder farmers in the region.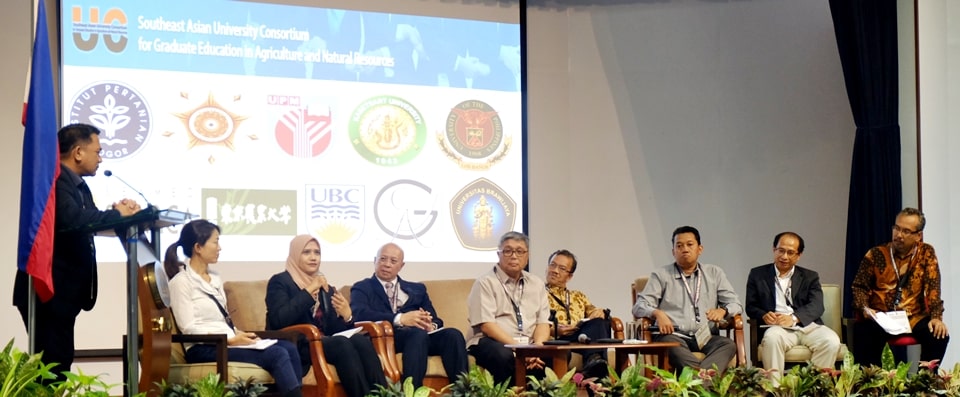 The UC was established in 1989 to be a leader in implementing collaborative strategies for excellent graduate education and cutting-edge research in agriculture, environment and natural resources for the benefit of the Southeast Asian region. Its members include Institut Pertanian Bogor and Universitas Gadjah Mada in Indonesia, Universiti Putra Malaysia, University of the Philippines Los Baños, and Kasetsart University in Thailand. It also has Tokyo University of Agriculture and National Taiwan University as associate members while Universitas Brawijaya of Indonesia, University of British Columbia in Canada and Gottingen University in Germany are affiliate members. SEARCA serves as Secretariat of the UC.