In line with the overall thrust of SEARCA in its 10th Five Year Plan (FYP) of inclusive and sustainable agricultural and rural development (ISARD), the Umbrella Program on Climate Change Adaptation and Mitigation for Southeast Asia or Umbrella Program on CChAM has been developed to serve as a platform for collaborative research and development (R&D), and knowledge management and capacity development (KMCD) on climate change adaptation and resiliency in Southeast Asia.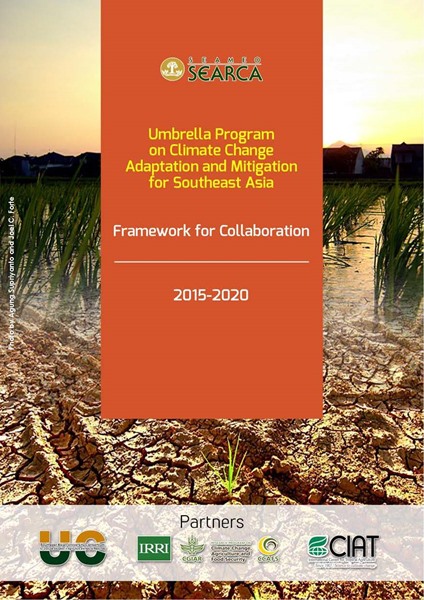 The Umbrella Program on CChAM is not an attempt to develop a new research agenda on climate change nor does it attempt to put all the existing research agenda of the partner institutions under one "umbrella program". In as much as institutions already have their respective priorities, focus areas on the subject matter, and accomplishments, this umbrella program identifies priority areas of convergence and collaboration at the regional and sub-regional levels, where institutions can work together, pool resources, and address gaps or move in directions where their joint efforts provide a strategic advantage for climate resiliency in SEA. It is hoped that the synergy created by the Umbrella Program can produce added value in terms of new knowledge, technologies, capacities, processes, and inputs to policies at the national and ASEAN levels than what is currently being generated by institutions working on their own specific research agenda.
This Umbrella Program on CChAM is seen as strategic and is anchored on the ASEAN Multi-Sectoral Framework on Climate Change (AFCC) and reflective of areas where there is willingness to collaborate at the regional level among the participating institutions. It can also support the implementation of the ASEAN Vision for Food, Agriculture and Forestry (2016-2025) where climate change will be a crucial concern. It is likewise drawn from the work, experiences, and lessons of other institutions and research programs working on related subject matter. The framework for collaboration shown below and the thematic/subthematic projects and activities laid out have been developed from a scoping study of frameworks, initiatives, and literature on climate change in the region and validated in the Regional Consultation Workshop held on 12-14 May 2015 in Hanoi, Vietnam with 59 participants, representing government, academe and research institutions, non-government organizations, and international organizations based in different countries.