The project team conducted informal interviews to gather preliminary data.
ORIENTAL MINDORO, Philippines – A scoping activity for the project Upgrading the Calamansi Value Chain towards Improving the Calamansi Industry in Oriental Mindoro was conducted on 14-16 February 2019 in the province of Oriental Mindoro.
The project team composed of staff from SEARCA and UPLB, together with partners from Mindoro State College of Agriculture and Technology (MinSCAT), Victoria Kalamansi Farmers Federation (VKFF), and the Office of the Provincial Agriculturist (OPag) of Oriental Mindoro had courtesy calls with the provincial governor and the mayor of the municipality of Victoria to discuss the project objectives, orient them about the project interventions, and set up initial collaboration with concerned offices.
In the ocular visits to calamansi farms in the municipalities of Naujan, Victoria, and Socorro, it was found out that these farms were being converted gradually to other crops because of low profitability. The team also visited accredited nurseries, processing plants, and traders/consolidators to discuss production, cultural management practices, postharvest handling, and processing. Prevailing diseases and pests were also identified by the team such as citrus greening and rind borer, respectively, and other parasitic plants. The discussion likewise covered the identification of critical concerns within the value chain, which will be used in preparing the baseline survey for the study.
Dr. Pedcris M. Orencio, Program Head for Research and Development of SEARCA, and Dr. Edna A. Aguilar, Project Leader and Director of the Institute of Crop Science (ICropS) at UPLB, together with partners from MinSCAT and local government units of Oriental Mindoro and Victoria through OPAg and the Municipal Agriculture Office.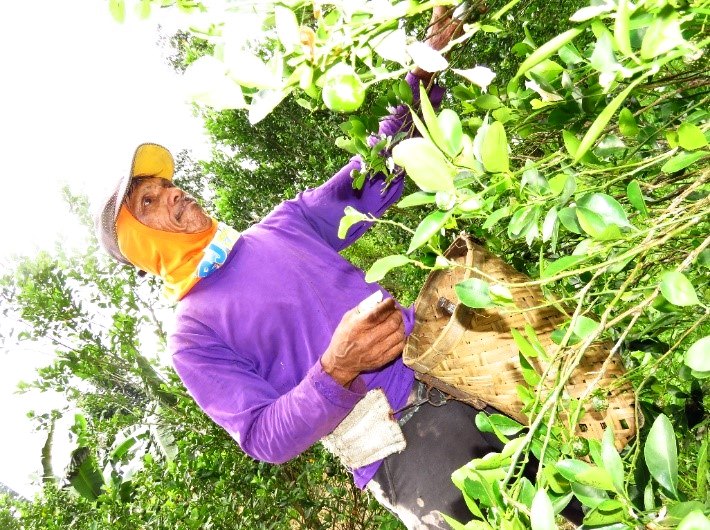 A farmer harvesting calamansi fruits using improvised hand tool (attached in thumb) to prevent fruit damage.