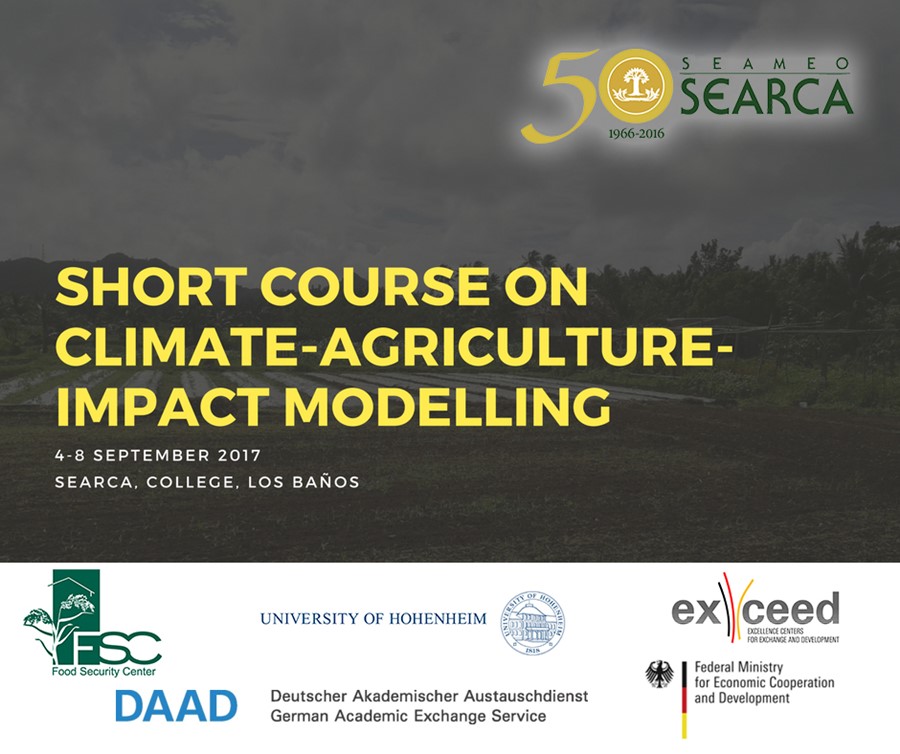 SEARCA will conduct a Short Course on Cropping Systems Models and its Application for Climate Impact Assessment from 4-8 September 2017 at the SEARCA Headquarters. The course is partially-funded by the Food Security Center (FSC) based at the University of Hohenheim in Stuttgart, Germany.
Dr. Perdinan, a faculty member of the Department of Geophysics and Meteorology at Bogor Agricultural University, and a Climate Risk Specialist from the Centre for Climate Risk and Opportunity Management in Southeast Asia and the Pacific (CCROM-SEAP) will serve as Course Lecturer. The course aims to describe a practical approach for simulating crop production using the empirical and the dynamical approach. Various principles and approaches will be covered during the five-day course which will introduce the students to crop modeling and its application for risk and impact assessment.
Twenty-eight (28) out of 86 applicants from the Philippines, Indonesia, Myanmar and Vietnam have been selected to participate in the Short Course. Selected participants are mostly graduate students, young lecturers and researchers in agriculture, agricultural engineering, agricultural economics, natural resource management, environmental science and related fields.
SEARCA is a strategic partner of FSC, one of five EXCEED Centers funded by the Federal Ministry of Economic Cooperation and Development (BMZ) of Germany through the German Academic Exchange Service (DAAD).