SEARCA, through Dr. Juan M. Pulhin as Team Leader and Ms. Millicent Joyce Q. Pangilinan as Technical Assistant, presented the first draft of the proposed multi-sectoral framework during the meeting. Dr. Pulhin recommended that the framework be titled, "ASEAN Multi-sectoral Framework for Climate Change: Agriculture and Forestry Contributing to Food and Nutrition Security and SDGs," to emphasize the important contribution of the framework in realizing the Sustainable Development Goals (SDGs) and Nationally Determined Contributions (NDCs) of ASEAN Member States (AMS). He also explained the content of the proposed framework and requested the participants to provide additional references and inputs for improving the draft framework.
Mr. Wiratno, AWG-SF Secretariat Chairperson and Director of Social Forestry Land Preparation of the Ministry of Environment and Forestry, Indonesia, welcomed the participants and encouraged everyone to share inputs in the draft multi-sectoral framework. He also presented a knowledge-sharing portal called the Situation Room (SR) and discussed how Information Technology can serve as a tool in putting people at the center of land (forest) management.
The rationale and objective of the team review meeting was discussed by Dr. Doris Capistrano, ASFCC Senior Adviser. She stressed that the multi-sectoral framework is expected to facilitate dialogue and enhance collaboration across different ASEAN sectoral bodies and various working groups. She also added that the results of the review will aid in the preparation of the final draft that will eventually be endorsed by relevant ASEAN bodies.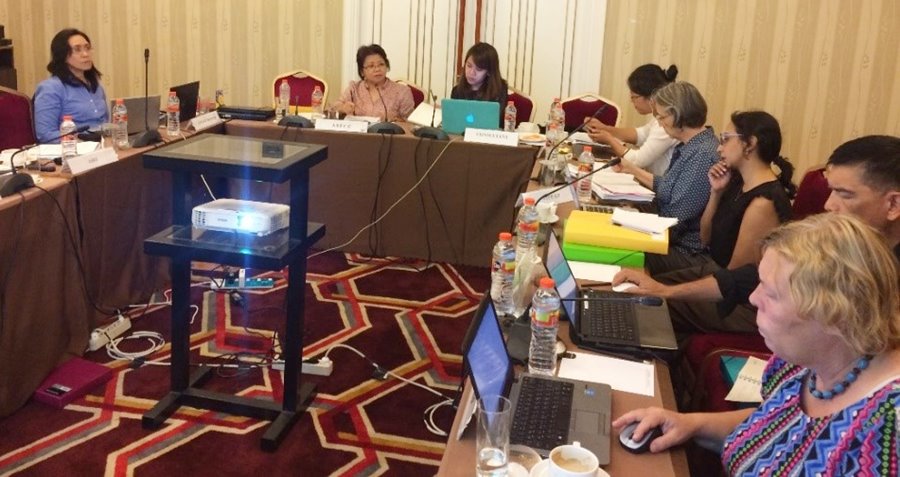 Participants of the team review meeting were from the World Agroforestry Centre (ICRAF), Non-Timber Forest Products-Exchange Programme (NTFP-EP), The Center for People and Forest (RECOFTC), Center for International Forestry Research (CIFOR), SEARCA, ASFCC Regional Advisor, AWG-SF Secretariat, World Resources Institute (WRI), and the private sector. Dr. Capistrano presided over the plenary meeting and participants gave recommendations on the draft, especially on the operationalization of the framework and plausible courses of action. The final draft of the multi-sectoral framework will be presented in the AWG-SF Conference in Chiang Mai, Thailand in June 2017. (Xyrus Godfrey B. Capiña)