The conference aimed to promote agroforestry development for food security and climate change mitigation and resilience in Southeast Asia. The ASEAN Member States (AMS), international organizations, donors, and other stakeholders were expected to propose priority actions toward the adoption of the Agroforestry Guidelines and elicit concerted actions among these stakeholders to promote agroforestry in the region.
SEARCA, as the implementing partner of the AWG-SF Strategic Response Fund, supported the participation of Dr. Wilfredo M. Carandang, University of the Philippines Los Baños (UPLB) Professor, as resource person for the plenary session on Agroforestry for resilience and disaster risk management; and of Dr. Adisti Permatasasi Putri Hartoyo, Bogor Agricultural University (IPB) Lecturer, as resource person for the parallel session on Capacity development priorities for agroforestry development. SEARCA likewise awarded an ASRF travel grant to Mr. Ricky Alisky Martin, Sabah Forestry Department (SASOF) SFM Officer, as resource person for the parallel session on Local livelihood systems and ecosystem services: lessons and tools to enhance effectiveness of agroforestry.
In the plenary session, Dr. Carandang presented the roles of agroforestry for resilience and disaster risk management. He emphasized that climate change is real and its consequences are often catastrophic, as experienced in the Philippines. In order to increase adaptive capacity and resilience of the most vulnerable communities, he shared two agroforestry approaches implemented in the Philippines, namely, Conservation Farming Village (CFV) and Conservation Forest Villages (CFoV). These agroforestry approaches play a critical role in moderating the microclimate, conserving soil and water, enhancing the efficient use of rainwater, offering a major pathway for sustainable diversification of agricultural systems and incomes, and providing economically viable and environmentally friendly means of improving soil fertility. He underscored the need for more research on and promotion of agroforestry and its contribution to resilience and disaster risk management.
Dr. Adisti presented key competencies needed to promote agroforestry for landscape resilience. Through formal education offered by IPB, she underscored basic competencies needed by agroforestry professionals to design agroforestry systems, which are productive, sustainable, and adaptable. These competencies cover the understanding and application of the (1) scope of agroforestry practice; (2) classification, distribution, and characterization of agroforestry practices and systems; (3) principles of plant productivity, species and interaction between component in agroforestry; (4) roles of agroforestry system for soil productivity and conservation; and (5) design and evaluate agroforestry system. To promote agroforestry through formal education, she further underscored the three pillars of higher education: Education, Research, and Community Service.
Mr. Martin presented the Tagal System, a traditional management system practiced by several indigenous peoples of Sabah, Malaysia. The underlying principles of this system are collective ownership and responsibility, sustainable use of resources, and maintaining the balance of life. Specifically, he shared the Tagal Hutan, which is concentrated in the forested lands surrounding a village. He highlighted that it is a revitalized concept, which aims to improve, protect, and conserve forested areas, especially village watershed or other high conservation value areas, thereby enhancing food security and resilience to the negative impacts of climate change. In order to sustain the benefits from the Tagal Hutan, he emphasized the need for holistic and participatory planning, engagement, and monitoring.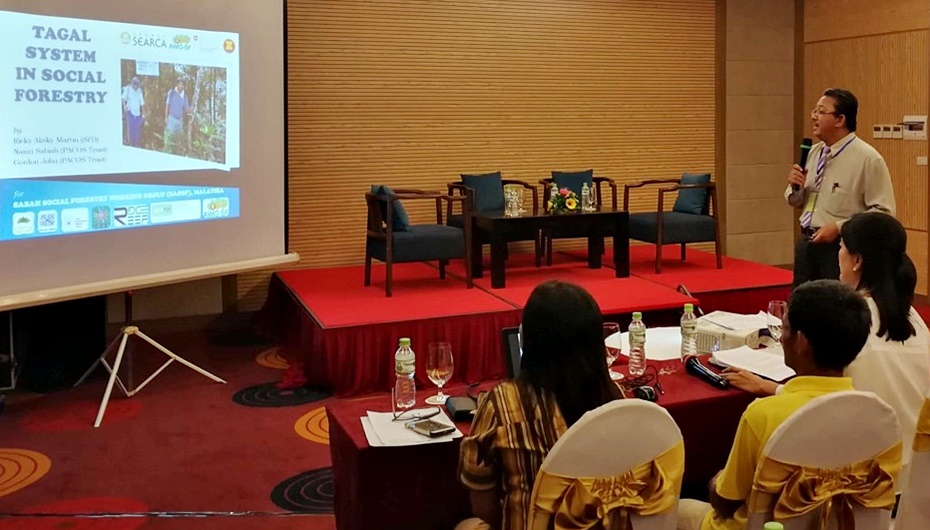 Mr. Ricky Martin, Sabah Forestry Department SFM Officer, presenting in the parallel session on Local livelihood systems and ecosystem service: lessons and tools to enhance effectiveness of agroforestry.
Ms. Carmen Nyhria G. Rogel, Program Specialist of the Research and Development Department (RDD), served as co-moderator of the sessions on Advances in agroforestry, priority actions, funding and partnership opportunities and Capacity development priorities for agroforestry development. Likewise, Ms. Rogel presented the session highlights and key recommendations for follow-up actions. (Xyrus Godfrey B. Capiña)