The symposium aims to (1) share information on technologies and strategies on climate change adaptation and mitigation; (2) identify gaps in RDE; and (3) develop priority areas and joint RDE agenda among APEC economies, as well as, the enabling mechanisms for RDE implementation. APEC recognizes that climate change is one of the biggest global challenges that will impact agriculture and food security.
Undersecretary Segfredo R. Serrano, DA Undersecretary for Policy, Planning, Research and Regulation, and Dr. Nicomedes Eleazar, DA-BAR Director, gave their respective messages during the opening program of the symposium.
Dr. Gil C. Saguiguit, Jr., SEARCA Director, with Dr. Bessie M. Burgos, Program Head for Research and Development, discussed during the plenary session, the Center's Umbrella Programs on Food and Nutrition Security, and Climate Change Adaptation and Mitigation for Southeast Asia to APEC member economies from Chile, People's Republic of China, Indonesia, Malaysia, Philippines, Thailand, Vietnam, and the United States of America including international organizations, namely, the International Center for Tropical Agriculture (CIAT), International Rice Research Institute (IRRI), and WorldFish Center. Dr. Burgos enjoined the representatives of the APEC member economies to use the Umbrella Programs as reference, or adopt them in part or in whole, as these reflect the priority areas for collaborative research, knowledge management, and capacity development of key ARD stakeholders in the region. She explained that these umbrella programs articulate areas where there is willingness to work together and pool resources at the regional level among participating institutions, where their joint efforts can produce added value in knowledge, technologies, capacities, processes, and inputs to policies.
Other SEARCA delegates to the symposium include Dr. Lope B. Santos III, Program Specialist and OIC; Ms. Nancy M. Landicho, Program Specialist; Ms. Imelda L. Batangantang, Program Associate, all from the Project Development and Technical Services (PDTS); Ms. Carmen Nyrhia G. Rogel and Mr. Henry M. Custodio, both Program Specialists of RDD; and Mr. Alvin G. Tallada, Project Coordinator; and Mr. Jerrel Edric B. Mallari, Project Support Staff, both under AMIA Project 1.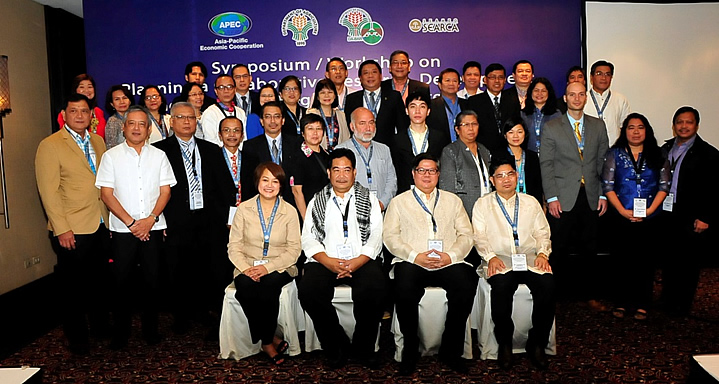 Resource persons and participants of different APEC member economies, international organizations and from the Philippine Department of Agriculture.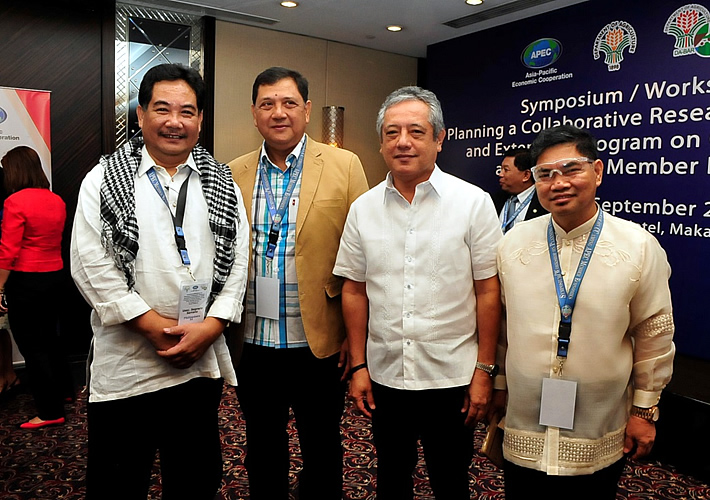 (From Left to Right) DA Usec. Segfredo Serrano, former UPLB Chancellor Dr. Luis Velasco, SEARCA Director Dr. Gil C. Saguiguit, Jr., and DA-BAR Assistant Director Dr. Teodoro Solsoloy attended the APEC symposium event.