Southeast Asian photographers, both amateurs and professionals across all ages, have until 30 November 2019 to beat the submission deadline for the Southeast Asian Regional Center for Graduate Study and Research in Agriculture (SEARCA) Photo Contest 2019.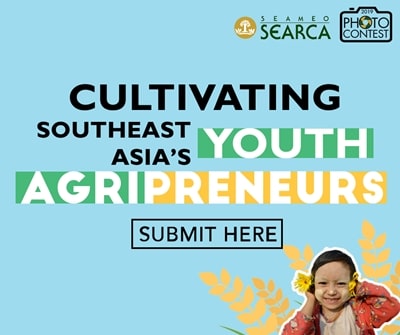 Photo by: Kyaw Kyaw WinnThe theme Cultivating Southeast Asia's Youth Agripreneurs spotlights SEARCA's challenge to respond to "the 'new normal' conditions in the Southeast Asia region, (which) compel SEARCA and all of its key partners to initiate a paradigm shift and deliver greater impact on the lives of the primary stakeholders, the farmers and farming families, including the youth," affirms Dr. Glenn B. Gregorio, SEARCA's newly installed director.
Dr. Gregorio echoes the concern of Philippine Education Secretary Leonor M. Briones, "If you want to promote agriculture and innovation, you have to start while they are young!" Secretary Briones emphasized how the partnership of SEARCA and the Philippine education department could rouse lasting passion and interest of learners toward agriculture by integrating researches into the basic education curriculum. The Department of Education is the Philippine Government's member to the Southeast Asian Ministers of Education Organization (SEAMEO), under which SEARCA is one of 26 specialist institutions.
The distinguished rice scientist and national science and technology academician, Dr. Gregorio, had noted that the secretary advised him to "make agriculture attractive, enticing, and a business and an elite club for the youth."
"In collaboration with its key partners and stakeholders working for the well-being of farmers and their communities, SEARCA should be able to empower the youth and agriculture graduates of the next generation," underscores Dr. Gregorio.
Thus, in keeping with the new track of SEARCA in the next five years under Dr. Gregorio's helm, the photo contest intends to curate images of children and youth along the landscape of Southeast Asian agriculture that highlight their potentials to transform the sector as agripreneurs.
"SEARCA wants young Southeast Asians to see the agriculture sector as an attractive business proposition that will earn a decent living, allow them to stay with their families, and one that will create a vibrant rural economy in their communities," says Dr. Gregorio. "Aligning with the Sustainable Development Goals (SDG), SEARCA will contribute to transforming the current farmers who are stuck in the belief that farming is limited to production, into new farmers operating in a modern agriculture ecology–Agriculture 4.0."
The subthemes of the SEARCA Photo Contest 2019 are innovative farming, agricultural entrepreneurship, maximizing information and communications technology (ICT), and the agriculture-education link. Five photographs will be selected, and the first place will be awarded USD 1,000, followed by USD 800 (2nd), USD 500 (3rd), USD 200 (People's Choice), and special prizes for the Director's Choice and the Philippine Education Secretary's Choice. All entries must be submitted online at https://photocontest.searca.org until 30 November 2019.