The SFRT, aSEARCAprogram, which provides limited start-up funds to selected research and training project proposals focused on the various facets of inclusive and sustainable agricultural and rural development (ISARD), had a number of its grantees from 2013 to 2016 present their research results. These included climate change impacts on and adaptation in rice production, fisheries and aquaculture, and livelihoods; modeling/simulation to assess climate and land use change impacts on hydrology and sediment yield; gender roles and relationships in water management; enhancing the marketing capacity of cooperatives; and the impact of out-migration on the resilience of rice agricultural systems.
These grantees came from Can Tho University, Hue University of Agriculture and Forestry (HUAF), Vietnam National University of Agriculture (VNUA), Research Center for Rural Development (RCRD) of An Giang University (AGU), Da Nang Institute for Socio-Economic Development (DISED), and the Department of Planning of the Ministry of Agriculture, Livestock and Irrigation (MoALI) of the Republic of the Union of Myanmar.
Researchers working on projects under ALiSEA, a network whose goal is to enable local and regional agro-ecology stakeholders to leverage one another's expertise to produce evidence-based studies to support a regional transition towards agro-ecology, presented research on floating rice agro-ecosystems, their potential for the region and as a tourist attraction, trade-offs between ecosystem services, its recovery and conservation, its niche market, and its value chain. Presenters were from the academe, non-government organizations, and selected local people's committees in Vietnam.
These sets of research projects were discussed in two parallel sessions. The SEARCA-SFRT session included a mini-workshop in which resource persons and participants, who were mostly SEARCA scholarship alumni invited from the various countries of the Mekong Region, divided themselves into breakout groups to develop concepts notes. These concept notes covered agrobiodiversity, aquaculture, sediment yield and hydrology, and socio-economic studies on related concerns, among others.
The participants went on a field trip to a floating rice conservation area. Floating rice was easy enough to grow but good markets have to be found. It was explained during the visit that cassava was planted during the dry season or periods of drought in lieu of rice, which commanded a better price in the market. Everyone was treated to rice tea, steamed floating rice, and cassava during the same visit
The forum was opened by the Rector of AGU, Dr. Vo Van Thang, who warmly welcomed the participants Dr. Nguyen Van Kien, Director of RCRD gave an overview of the forum. Messages from theALiSEARegional Coordinator Dr. Pierre Ferrand and SEARCA Program Specialist Ms. Carmen Nyhria G. Rogel followed. The forum closed with a presentation of the synthesis of each session and a brief statement on moving forward with the gains from the event.
The forum was a collaboration between RCRD, a research unit of AGU focused on rural development and environmental management, and SEARCA Research and Development Department, with the support of ALiSEAand the Food Security Center of the University of Hohenheim in Germany. (Carmen Nyhria Rogel)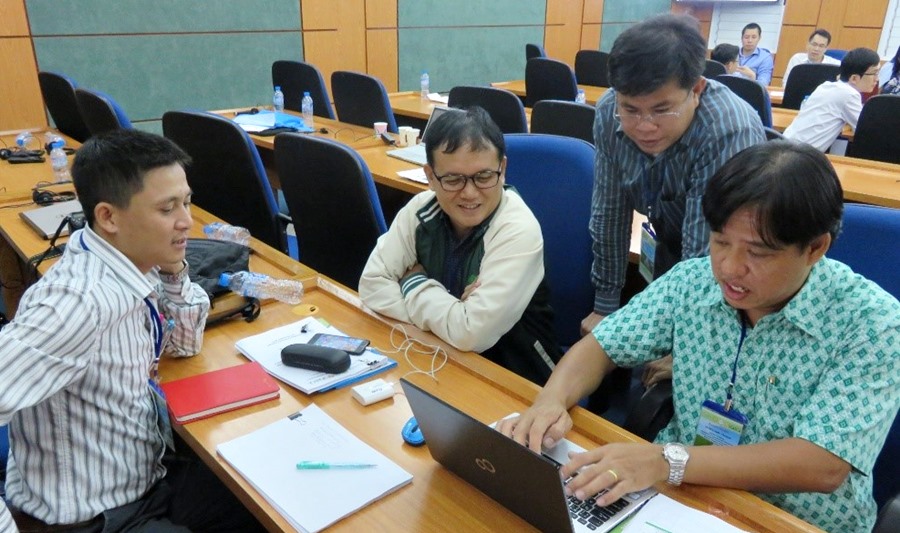 Participants discuss during the mini-workshop towards the development of concepts notes.