The Opening Program was attended by several heads of institutions involved in agricultural insurance. Dr. Segfredo R. Serrano, Undersecretary for Policy, Planning, Research and Development, and Regulations of the Department of Agriculture (DA), who represented Hon. Secretary Proceso Alcala, was one with the other guest speakers in saying that climate change is widely accepted as having an undeniably large impact on our country, especially in economic terms. He went on to say that insurance deals with risks all the time, but that there are too many factors for conventional systems, that climate change complicates matters, and that uncertainties need to be converted to calculable risks, which is easier said than done.
Dr. Gil C. Saguiguit, Jr., SEARCA Director, discussed in his message the policy roundtable series of the Center, which provides a venue to present science-based studies that make sense of the complexities of issues in agriculture and rural development and, in this case, allow us to improve agricultural insurance systems and address the concerns for the sector most vulnerable to climate change impacts.
Ms. Gilda E. Pico, President of the Land Bank of the Philippines (LBP), represented by the LBP Department Manager for Development Assistance Ms. Melinda Cruz, described LBP initiatives at focusing efforts towards greater and more meaningful cooperation. One such initiative is its Climate Smart Program, which consolidates all LBP climate change initiatives.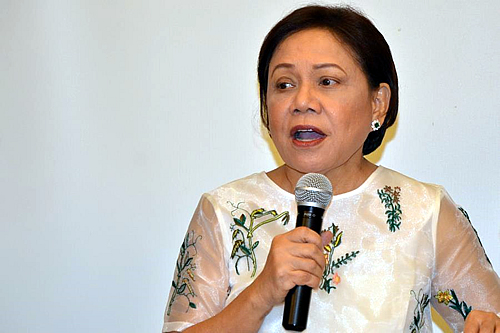 Hon. Cynthia A. Villar, Senator and Chairperson of Philippine Senate's Committee on Agriculture and Food, delivering a message during the Opening Ceremony of the policy roundtable.Senator Cynthia A. Villar, Chair of the Committee of Agriculture and Food of the Philippine Senate, elaborated on the vulnerabilities to climate change of Southeast Asia, in general, and of the Philippines, in particular. She lauded the policy roundtable as timely and crucial particularly because her committee is writing a bill on micro-insurance. She stated that she looks forward to the outcomes and policy recommendations of the roundtable which could be valuable inputs to the bill.
The event continued with a slew of presentations from resource persons. These presentations discussed various issues related to agricultural insurance such as moral hazard, "reasonable" premium, subsidies and tax incentives, counterparting vs. subsidy or sustainability vs. attractiveness, insurance cover vs. production cost, various agricultural insurance products, requirements for effective agricultural insurance, and road map and institutional support, among many others. All resource persons agreed that agricultural insurance is an important effort towards responding to the impacts of climate change.
Country presentations were made by participants from those with an agricultural insurance program such as Indonesia, Malaysia, Thailand, and Vietnam in addition to the Philippines. They shared the historical development of agricultural insurance in their country, the agricultural insurance product packages available from both public and private providers, the financial performance of the insurance program in terms of both coverage and cost, public disaster assistance programs, agricultural policies relating to agricultural insurance and climate change, stakeholder perception of agricultural insurance, and problems encountered and lessons learned from the provision of agricultural insurance.
The 55 participants, with 13 coming from the above four countries and Myanmar, and the rest coming from the Philippines, agreed on an initial list of areas of cooperation. These areas include information and educational campaign among farmers and fisherfolk, tighter partnerships with financial institutions, development of index-based crop insurance schemes in partnership with bilateral development agencies, timely communication of accurate climate information to stakeholders, mainstreaming of smart agriculture, establishment of institutional support mechanisms, and the establishment of a registry system to collate farmer information for easier access and focused implementation.
The policy roundtable concluded on the note that the Statement/Declaration drafted by the participants will be finalized and submitted to the respective Ministers of Agriculture of the Southeast Asian countries for their consideration. Likewise included in the way forward are: (1) hastening the development and piloting of new insurance products that are socially adaptable and sustainable and sufficiently addressing the climate risks faced by agricultural producers in the region; (2) developing in-country capacities on agricultural insurance through training and collaborative projects on product research and development; (3) exchange of insurance experts; (4) sharing of experiences and information and knowledge management; (5) collaborating on the development and testing of good agricultural practices designed to mitigate climate change that complement agricultural insurance; and (6) organizing a unit under the Ministry of Agriculture that is committed to provide insurance protection to farmers and other agricultural stakeholders.
The participants agreed that there is a lot of work ahead and some ways to go but that this policy roundtable is a step in the right direction. (Carmen Nyhria G. Rogel)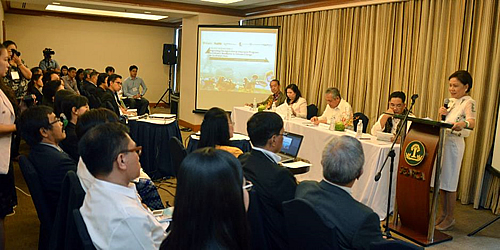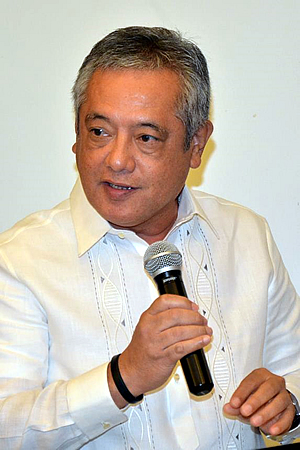 Dr. Gil C. Saguiguit, Jr., welcomes the participants of the policy roundtable on agricultural insurance.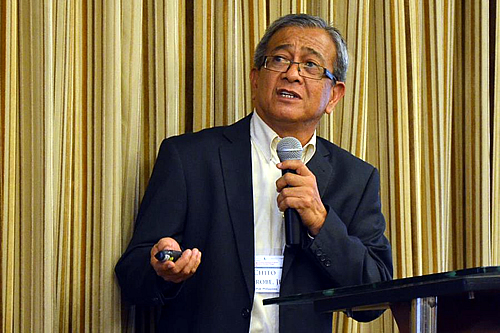 Dr. Jose M. Yorobe, Jr., Professor, College of Economics and Management (CEM), University of the Philippines Los Baños (UPLB), and the Technical Coordinator cum Facilitator of the policy roundtable, discusses the status and prospects of agricultural insurance in Southeast Asia.