The ASEAN Climate Leadership Program (ACLP) commences with its first module on 6 October 2020 via online mode. The Southeast Asian Regional Center for Graduate Study and Research in Agriculture (SEARCA) and the Deutsche Gesellschaft für Internationale Zusammenarbeit (GIZ) GmbH under the Climate-Smart Land Use (CSLU) Project in ASEAN financed by the Federal Ministry for Economic Cooperation and Development (BMZ) jointly organized this online leadership program.
With the theme "The Role of Land Management for Food Security and Climate Change," the ACLP aims to strengthen (informal) key leadership skills in initiating and facilitating change processes and collective cross-sectoral transformative action in climate-smart land use. It is basically designed as a Leadership Journey based on a peer-to-peer exchange, facilitated by experienced coaches in leadership and change theory and experts on land use and climate change.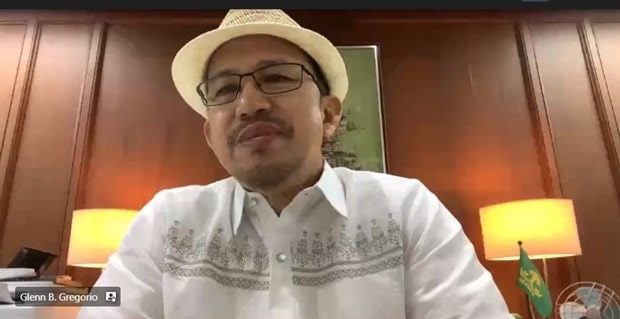 Prior to the session on Module 1, SEARCA Director Dr. Glenn B. Gregorio, welcomed the 26 participants representing government and non-governmental organizations, civil society organizations, the academe, as well as the private sector from Brunei Darussalam, Indonesia, Lao PDR, Malaysia, Myanmar, the Philippines, Singapore, and Thailand. In his remarks, Dr. Gregorio said that climate change threatens ASEAN's food security because of its adverse effects on agriculture, forestry, and fisheries sectors. Citing a recent United Nations report, he added that climate change has not stopped for COVID 19 such that extreme climate impacts continue to increase in frequency and severity despite the global pandemic and its subsequent economic crisis. Dr. Gregorio also acknowledged GIZ as one of SEARCA's staunch partners in its research programs and capacity building initiatives, foremost of which is the "ASEAN-German Programme on Response to Climate Change: Agriculture, Forestry and Related Sectors (GAPCC) Training Course on Integrating Climate Change Adaptation into Development Plans and Investments." Thus, he considers organizing the ACLP with GIZ as an important and integrative strategy that will contribute to the achievement of Sustainable Development Goal 13 – Taking Climate Action through Enhanced Agricultural and Rural Development (ARD) towards Climate Resilience. Dr. Gregorio shared that this is one of the priority strategies under SEARCA's 11th Five-Year Plan (2020-2025) focused on Accelerating Transformation Through Agricultural Innovation or ATTAIN.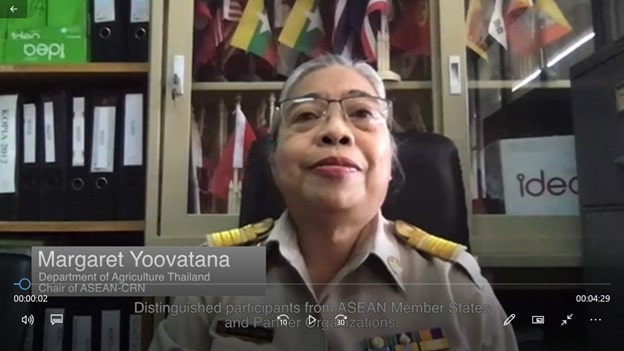 On the same note, Dr. Margaret Yoovatana, Acting Director, International Agricultural Affairs Group, Department of Agriculture-Thailand and Chair of the ASEAN Climate Resilience Network (CRN), highlighted the need to continue and further strengthen the collaborative spirit for increasing resilience of ASEAN countries to external shocks brought about by the COVID 19 pandemic and climate change. Dr. Yoovatana likewise shared that the ASEAN CRN, as a platform for regional exchange, has promoted many initiatives, which enhanced climate resilience and mitigate greenhouse gas emissions in the food, agriculture, and forestry sectors. She added that the ACLP has been designed as a contribution to the work of the ASEAN-CRN, which demonstrates how the ASEAN and its partners continue to contribute towards achieving ASEAN political goals. She noted that the leadership program is envisioned to empower the participants to become leaders who will drive cross-sectoral transformative actions to tackle climate change and enhance food security in the region.
The first workshop of ACLP's Module 1 started with a presentation on "Climate Change and Food Systems: Southeast Asia Assessments and Implications for Food Security" by Dr. Sridhar Gummadi, Science Officer of the CGIAR Research Program on Climate Change, Agriculture and Food Security (CCAFS) Southeast Asia Regional Program. The module also included a discussion on the ACLP leadership model, leadership development plan, and the various dimensions of leadership facilitated by Mr. Andre de Wit, Dean of the Leadership Academy Amsterdam, Netherlands and Ms. Rejani Kunjappan, Senior Program Officer, Training and Learning, RECOFTC- The Center for People and Forests, Thailand.
Sessions for Module 2 of the ACLP will be held on 19-22 October 2020. This foundational module aims to: 1) develop basic leadership skills to look beyond pre-conceived bias, embrace complexities, and adopt a productive and innovative approach; 2) increase understanding on the landscape approaches that contribute to food security, climate change adaptation and mitigation; and 3) reflect on the role of national and regional policymaking and implementation through the systems perspective.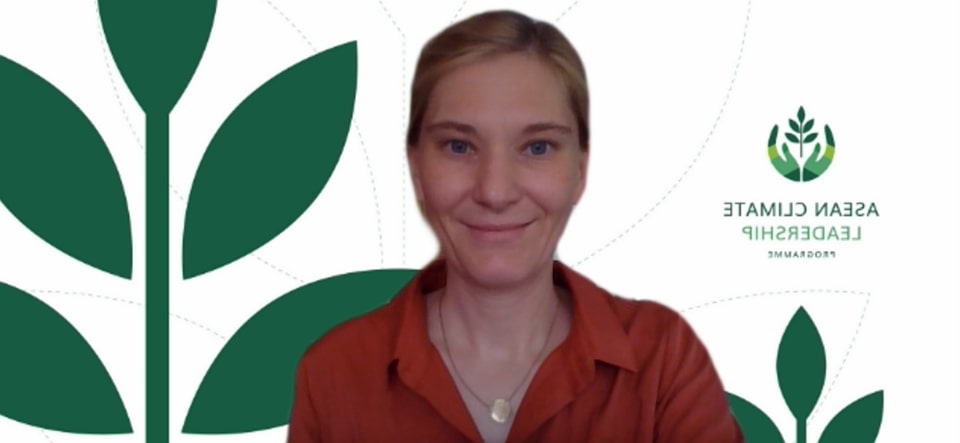 The two and a half months leadership program is spearheaded by the GIZ-CSLU in ASEAN Project Team led by Ms. Hanna Reuter, Principal Advisor, and the SEARCA ACLP Organizing Team composed of Dr. Nova A. Ramos and Ms. Rosario B. Bantayan, Unit Head and Program Specialist, respectively, of the Training for Development Unit of the Education and Collective Learning Department (T4DU-ECLD); Dr. Pedcris M. Orencio, Program Head, Research and Thought Leadership Department (RTLD); and Mr. Jaymark Warren T. Dia, Head, Management Information Systems Unit (MISU).