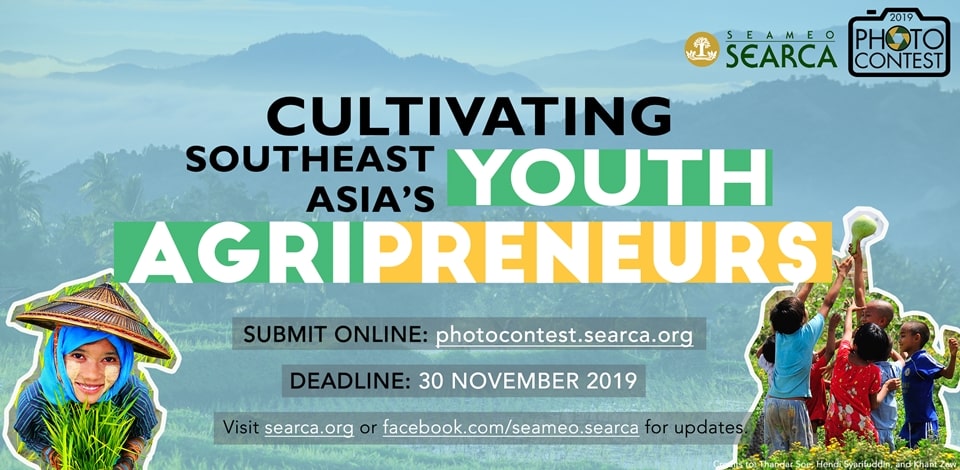 Los Baños, Laguna—The SEARCA Photo Contest 2019 has been launched here, seeking images which showcase Southeast Asia's entrepreneurial and innovative youth who are actively engaged in the agriculture now and in the future.
Themed Cultivating Southeast Asia's Youth Agripreneurs, the photo contest aims to curate photos from professional and amateur photographers who are nationals of the 11 countries of Southeast Asia. The 2019 photo tilt is the 13th conducted by the Southeast Asian Regional Center for Graduate Study and Research in Agriculture (SEARCA), one of the regional specialist institutions of the Southeast Asian Ministers of Education Organization (SEAMEO).
Southeast Asia is home to 213 million youth in 2016 (aged 15-34), which will peak to over 220 million by 2038, according to United Nations (UN) estimates. Southeast Asia's population is considered young, as the youth makes up 34 percent of the total populace. Dr. Glenn B. Gregorio, SEARCA Director, underscores that "the region's young population should be seen as an advantage, a strong potential for a bright future in the agriculture sector of most countries in Southeast Asia."
Yet, the 2017 ASEAN Youth Development Index reported that ASEAN youth were 6.4 times more likely to be unemployed than their adult counterparts in the labor force. "Because the youth is the future engagement of any given country, they should be invested in, properly guided and directed, so they will become good leaders and the catalyst for economic, social, and cultural development," added Dr. Gregorio.
Generally, development organizations' experiences working with young farmers prove that they are effective agents of change. They diversify agricultural production, adopt new technologies and IT solutions, and enter lucrative value chains, such as the processing of raw products that increases value or price of agricultural products.
The youthful moniker 'agripreneur' captures the essence of youth rooting for agriculture and is defined by the Young Professionals for Agricultural Development as "A new breed of young entrepreneurs combining their love of farming and agriculture with an acquired professional business approach."
SEARCA's 2019 Photo Contest aims to highlight the potentials of the youth in transforming Southeast Asia's agriculture landscape and inspire youth enthusiasm to take over agricultural development as agripreneurs. "SEARCA wants young Southeast Asians to see the agriculture sector as an attractive business proposition that will earn a decent living, allow them to stay with their families, and one that will create a vibrant rural economy in their communities," added Gregorio.
The subthemes of the SEARCA 2019 Photo Contest are innovative farming, agricultural entrepreneurship, maximizing ICT, and agriculture-education link. Five photographs will be selected, and the first place will be awarded USD 1,000, followed by USD 800 (2nd), USD 500 (3rd), USD 200 (People's Choice), and special prizes for the Director's Choice and the Philippine Education Secretary's Choice. All entries must be submitted online at https://photocontest.searca.org until 30 November 2019.