"Given the aggravating nature of climate change impacts, rice farming will increasingly rely on improved resilience to climate variability and extremes"—such is the premise of researchers from various international organizations on most of the papers headlining the June 2022 issue of the Asian Journal of Agriculture and Development (AJAD).
In the paper tackling rice-based landscapes, "climate smart agriculture" was introduced in "climate smart villages" in several Southeast Asian countries, including the Philippines. These villages initially focused on improving rice seed systems and found out that a community-based seed system could strengthen their resiliency to climate change impacts. For stronger efficacy, seed systems should be enhanced with improved crop and pest management through farmers' field schools, awareness raising, participatory variety selection, and climate risk mapping. Additionally, the emerging online retail economy could provide direct market access for village products. These markets could be promising for the promotion of the novelty of food production from the climate smart villages, such as "buying local" for local markets and climate change concerns for the international market.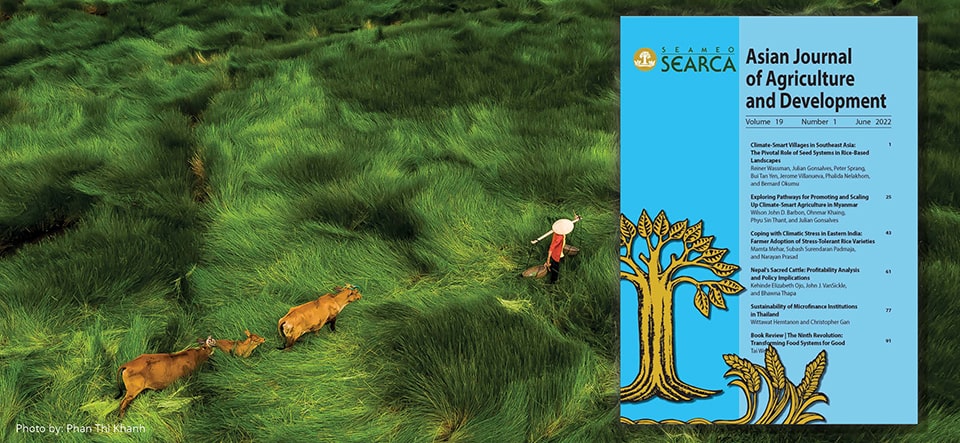 Another paper on climate smart agriculture explores potential pathways for promoting and scaling up its uptake in Myanmar. It was found out that the basic framework for advocating and promoting climate smart agriculture is already in place, but pertinent policies have been poorly enforced. The researchers infer that with the current political context in-country, the bigger role of optimizing climate smart agriculture for Myanmar will shift to active citizen engagement through local nongovernment organizations, the private sector, and the academe.
Factors influencing the cultivation of stress-tolerant rice varieties in India is the focus of another research tackling farming strategies to cope with climate-induced stresses. The farmers' perceived and actual experiences of climate stress greatly influence their decision to cultivate stress-tolerant rice varieties, although only in small portion of their land. The researchers recommend a targeted approach to improve the adoption of stress-tolerant rice varieties among farmers—those affected by climate stress should be educated on the benefits of stress-tolerant varieties through farm demo. They must also be able to access stress-tolerant rice variety seeds more readily.
The paper on Nepal's "sacred cattle" analyzes the country's livestock policy rooted in culture and religion and its effect on the industry. In comparing models of actual and alternative scenarios to estimate the impact of the no-slaughtering policy of cows in dairy milk production, profit was found higher by 19 to 31 percent if the cow slaughter ban is lifted. While this could be cost effective and more profitable, political backing would be challenging with the Hindu populace, which considers cattle to be a sacred symbol. The researchers suggested "more acceptable" alternatives including government subsidy for dairy farmers and establishing cow shelters for those passed their productive period.
The final full paper in the AJAD June 2022 issue tackles the sustainability of microfinance institutions in Thailand. The main hurdles point to staff's efficiency in managing borrowers and the short-term assets to generate income for the institution. The researchers recommend to microfinance institutions to focus on maximizing profit but balancing with their social goals to reach the poorest households, as well as utilizing technology for efficiency.
The book review of "The Ninth Revolution: Transforming Food Systems for Good" presents how the book is a survey of the milestones of historical food revolutions in a "world historical paradigm" that very few other agricultural developmental economics or history volumes apparently attempt to do. This review caps the full issue of AJAD volume 19 number 1.
AJAD is an international refereed journal published by the Southeast Asian Regional Center for Graduate Study and Research in Agriculture (SEARCA). AJAD's editorial board is headed by Dr. Cielito F. Habito, professor of economics at the Ateneo de Manila University in the Philippines and director of the Ateneo Center for Economic Research and Development. He is also a former cabinet member of the Philippine government, having served as Socioeconomic Planning Secretary and Director General of the National Economic and Development Authority of the Philippines.
AJAD publishes articles resulting from empirical, policy-oriented, or institutional development studies, as well as articles of perspectives on agriculture and development, political economy of rural development, and trade issues. All the new and past papers published in AJAD are available online for free via https://ajad.searca.org, while print copies are also available through subscription.
Submissions are welcome all year-round through the newly minted online submission and review system of AJAD at https://mc04.manuscriptcentral.com/ajad_searca, powered by Clarivate ScholarOne Manuscripts. ScholarOne features a more engaging online experience for authors and reviewers, who are now able to view the progress of their papers online, and primarily aims at making the submission and review of papers in AJAD more efficient and transparent.