Conduct of FGDs with farmer-groups in Victoria and Pola, Oriental Mindoro
LOS BAÑOS, Laguna – The Project Team for the "Promotion and Dissemination of Integrated Pest Management Strategies," a component of the project Upgrading the Calamansi Value Chain towards Improving the Calamansi Industry in Oriental Mindoro, conducted a pest and disease baseline survey in calamansi farms and plant nurseries accredited by the Bureau of Plant Industry (BPI) in the province of Oriental Mindoro on 10-12 April 2019.
The team conducted focused group discussions (FGDs) with farmer-groups and associations in Victoria (Victoria Kalamansi Farmers Federation, VKFF) and Pola (Matulatula Agrarian Reform Community Cooperative, MARCCO, and the Matulatula Fruits and Citrus Growers Association, MFCGA). The FGDs provided the project team with a better understanding of the crop protection practices of farmers in handling pests and diseases. It was learned from the discussions that the farmers use pesticides with Cypermethrin as the active ingredient. Due to the repeated use of the same chemical for the past years, the chemical is losing its effectiveness in controlling the pest populations. The farmers were introduced to new formulations of insecticides as a substitute to Cypermethrin. Additionally, they were also advised to adopt biological control practices such as the use of predators (lacewings) and parasitoids like Trichogramma.
The team had a chance to interview Ms. Lorna A. Cepillo, Officer-in-charge of the Plant Quarantine Services of BPI in Oriental Mindoro, regarding disease indexing protocols and certification and quarantine regulations for calamansi planting materials. It was found out that there are no accredited nurseries in Oriental Mindoro that produce disease-free seedlings. The Office uses the Iodo-starch test for disease indexing. Leaves showing symptoms of a disease are tested. The test has a particularly low sensitivity to the pathogen and will not easily be detected in earlier symptoms on the leaves. Further, Ms. Cepillo advised the team to meet with Dr. Juliet M. Ochasan, Supervising Agriculturist from BPI-Baguio, to discuss the calamansi pest and diseases and the methods for disease indexing and pest control.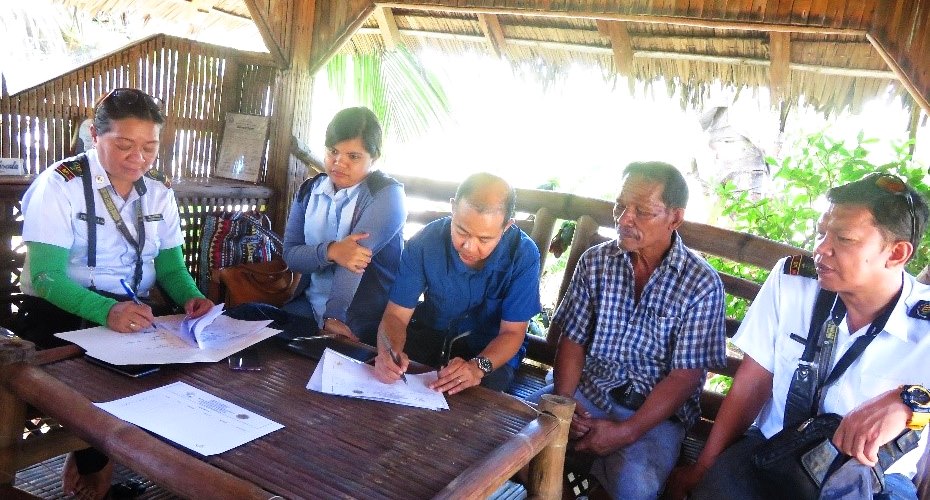 Meeting with Ms. Lorna A. Cepillo and Mr. Aurelio B. Escalla, owner of the Escalla nursery in Victoria, Oriental Mindoro
This project is funded by the Bureau of Agricultural Research of the Department of Agriculture (DA-BAR). The Project Team is headed by Dr. Flor A. Ceballo and Dr. Filomena C. Sta. Cruz, Associate Professors of the University of the Philippines Los Baños Institute of Weed Science, Entomology and Plant Pathology (UPLB-IWEP) and Project Component Study Leaders.