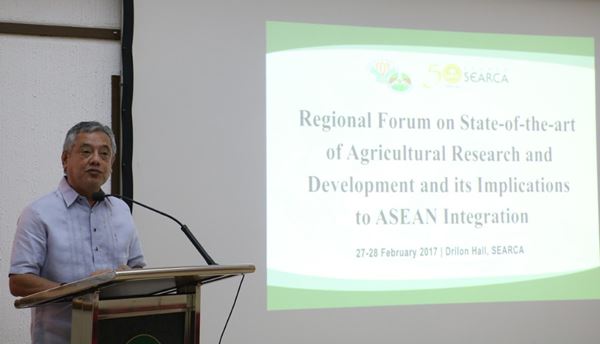 A total of 46 R&D practitioners from the academe, DA Regional Field Offices (RFOs) and research institutions in the Philippines, as well as six delegates from other ASEAN Member States (i.e., Cambodia, Malaysia, Indonesia, Lao PDR, Thailand, and Vietnam) attended the forum.
The forum is part of the capacity-building and staff development component of the project titled "Strengthening Agricultural Research and Development (ARD) Towards ASEAN Integration." The activity aimed to bring together agricultural researchers and practitioners in the Philippines as they present their best research works in the fields of social, natural, and physical sciences.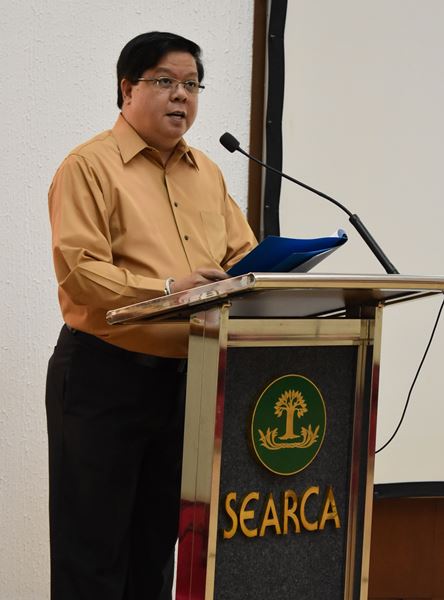 In his welcome remarks, Dr. Gil C. Saguiguit, Jr., SEARCA Director, emphasized the need to build up investments in R&D and to develop linkages among institutions in the region to promote a more competitive ARD for the country in view of the ASEAN integration. He also expressed his gratitude to DA-BAR for its support to SEARCA. He said he looks forward to continually working with DA-BAR in the service of the R&D in the country and in the region.
Dr. Nicomedes P. Eleazar, DA-BAR Executive Director, highlighted in his opening remarks the need for the country to continue being responsive to the needs of the agricultural sector while being innovative, dynamic, and integrated with ASEAN and global communities. He said the forum immensely complemented the other project activities to strengthen the researchers' capabilities in keeping with the regional integration. He also commended SEARCA for its dedication in serving the Philippine agricultural sector with its wealth of expertise and linkages as the country gears toward change brought by ASEAN integration.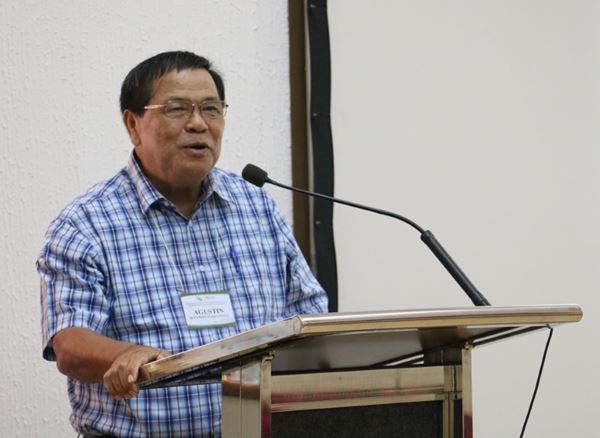 In his keynote address, Dr. Agustin B. Molina, Jr., Bioversity International Honorary Research Fellow and Regional Coordinator for Asia and the Pacific Commodities System and Genetic Resources Programme, tackled research for development (R4D) towards impact. He emphasized the need for collaboration, integrated with a series of complementary activities along the process, to achieve developmental goals. He concluded that impact of R4D scientific output is measured, not much on how many have read, but on how many have used.
Fourteen papers were presented during the forum, including a plenary paper on "The Philippine ARD & ASEAN Integration: Status, Challenges & Opportunities" by Dr. Eliseo Ponce and 13 country presentations, a follows:
Philippine Presenters
Dr. Tomas Reyes of Bohol Island State University (BISU) - "GIS-assisted Carbon Stock Assessment"
Dr. Erlinda Vasquez of Visayas State University (VSU) – "Management of Cassava Phytoplasma Disease (CPD): Survey, Diagnosis, Characterization and Control"
Mr. Alan Dargantes of Central Mindanao University (CMU) – "Impact, Control and Insect Vectors of Trypanosoma evansi (surra) Infecting Backyard Livestock in Mindanao, Philippines"
Prof. Belly Diono of the University of Southeastern Philippines (USeP) - "S&T Management Approaches against Fusarium Wilt [Fusarium oxysporum f.sp. cubense (Foc)] on 'Cavendish' in Mindanao"
Mr. Marlo Abyado, Jr. of Benguet State University (BSU) – "Production, Value-Addition, Promotion and Marketing of Organic Arabica Coffee Green Beans through Community S&T-Based Farms in Sagada"
Ms. Ethel Joy Garcia of Kalinga State University (KSU) – "Raising Productivity and Enriching the Legacy of Heirloom/Traditional Rice Through Empowering Communities in the Province of Kalinga"
Prof. Roy Kempis of the Regional Field Office 3 (RFO-3)/Pampanga State Agricultural University (PSAU) - "Regional/Provincial Rice Production Competitiveness Assessment in Central Luzon"
ASEAN Presenters
Mr. Bounxou Xayxana of Northern Agriculture and Forestry College, Lao PDR - "Flood Risk Reduction through Community Organizing: Local Experience in Luang Prabang, Lao PDR"
Dr. Nghia D. Hoang of Vietnam Sustainable Development Inc., Vietnam - "Climate Change and Sea level Rise impacting to Rural Water Supply in Nam Dinh Province/Vietnam"
Dr. Prathanthip Kramol of the Faculty of Agriculture, Chiang Mai University, Thailand - "Livelihood Assets Affecting Livelihood Outcomes and Quality of Life in the Past 10 Years in the Highlands of Thailand"
Dr. Seng Vang of the Cambodian Agricultural Research and Development Institute, Cambodia - "The Current Status of Agricultural Research and Development in Cambodia"
Dr. Chin Ping Tan of the Department of Food Technology, Universiti Putra Malaysia, Malaysia - "Preparation, Characterization and Stability Evaluation of Lipid Nanodispersions"
Mr. Pramono Sasongko of the Center of Food and Feed Sovereignty Tribhuwana Tunggadewi University Malang, Indonesia - "Nucleus Estate Smallholder (NES) Model of MOCAF Instant Noodle Production for Sustaining and Increasing Income of Cassava Farmers in Blitar Region, East Java, Indonesia"
Technical and administrative support in the conduct of the forum were provided by the project team led by Dr. Prudenciano U. Gordoncillo along with Dr. Victor A. Rodulfo Jr., Research Specialist; Dr. Jose Nestor M. Garcia, Training Needs Assessment and Capacity Building Specialist; Dr. Imelda R. Molina, Institutional Development Specialist; and Dr. Marc Jim Mariano, Research Specialist, and Mr. Arvin Carandang, SEARCA Project Assistant.
Presenters and participants of the regional forum.