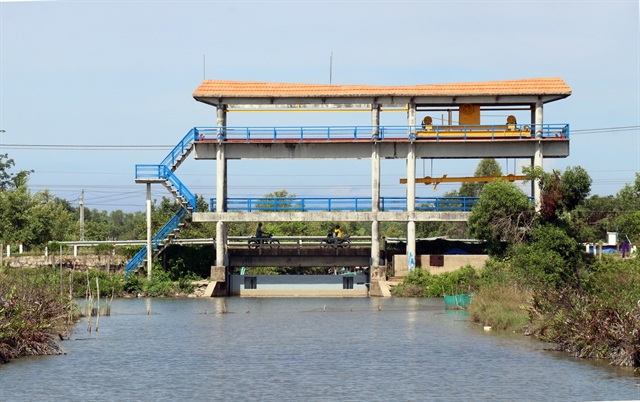 The Mekong Delta province of Kien Giang plans to invest 4.92 trillion VND (214 million USD) in infrastructure projects to cope with natural disasters and climate change in the 2021 – 25 period.

Funds will be used for erosion prevention, saltwater prevention sluices, freshwater reservoirs, storm shelter areas for fishing boats, and irrigation systems, according to the province's Department of Agriculture and Rural Development.

Households in areas prone to natural disaster and erosion will be relocated, including 126 households in the eroded area of Ba Hon Mountain in Kien Luong district and households in flood-prone areas caused by rising sea levels.

Coastal erosion

The province will build embankments along coastal areas to prevent erosion. It will upgrade its sea dykes, start the second phase of Duong Dong Reservoir in Phu Quoc city, and build storm shelter areas for fishing boats on the estuaries of Cai Lon and Cai Be rivers, and in Phu Quoc city.

Three urgent coastal erosion-prevention projects are being carried out in An Bien district's Mui Ranh area, An Minh district's Kim Quy estuary, and a coastal section from Kenh 9 Canal to Kenh 7 Canal in Hon Dat district.

More than 50 kilometres of coast in An Minh district's Van Khanh and Van Khanh Tay communes face dangerous erosion and need embankments, at a total cost of 1.16 trillion VND (50 million USD).

The province has petitioned the Government to allocate funds to build the erosion-prevention embankments. With a coastline of about 200km, the province has 80 km of eroded coast areas identified as dangerous or extremely dangerous.

Coastal erosion has caused damage to protective mangrove forests, sea dykes and facilities, affecting the livelihoods of local people and the environment.

The Department of Agriculture and Rural Development in cooperation with localities is checking dykes and sluices, and ensuring that they operate effectively.

The province has also planted mangrove forests to prevent erosion along coastal areas in An Bien and Hon Dat districts in recent years. It planted a 35ha new mangrove forest to protect sea dykes in An Bien district's Nam Thai commune, and a 50ha new mangrove forest along coastal areas from Binh Son commune to Binh Giang commune in Hon Dat district.