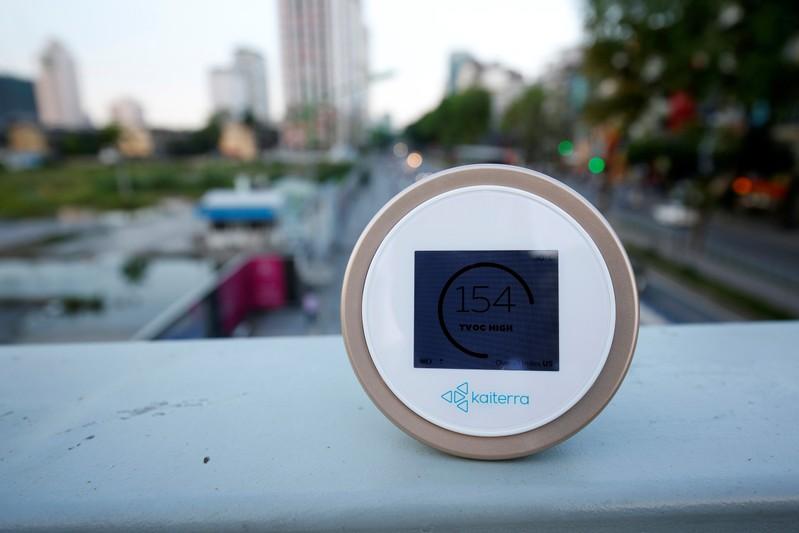 An air quality monitor shows pollution figures on a street in Hanoi, Vietnam May 18, 2018. Picture taken May 18, 2018. REUTERS/Kham
"I usually joke with my friends, the more polluted the air is, the more prosperous I get," said Cao Xuan Trung, a Hanoi dealer in air purifiers, who expects monthly revenue to double by 2020, from 3 billion
dong ($131,199) now, a value that is already 75 times higher than when he started in 2013.
Hanoi's air quality was the second worst among Southeast Asia's major cities in 2016, after Thailand's industrial heartland city of Saraburi.
Vietnam's commercial capital Ho Chi Minh City ranked fourth, environmental group Green Innovation and Development Centre (GreenID) said in a report.
"Recent developments benefit economic growth, but issues related to sustainable development, and consequences on the environment, increased," said Nguy Thi Khanh, the head of the Hanoi-based group, which analyzed WHO data.
She blamed factors such as a surge in construction projects, expanding fleets of cars and motorcycles and heavy industry ringing the city, from steelworks and cement factories to coal-fired power plants.
Coal provides the bulk of electricity for Vietnam's fast-growing economy, expected to grow more than 6 percent this year for the fourth time.
In its pollution fight, the Hanoi city council this month approved a ban on motorcycles by 2030, hoping to boost public transport, including a new train system.
Hanoi has also planted more than 80 percent of a target of a million trees and wants to add 70 air monitoring stations over the next few years to the 10 that exist now.
It is pushing people to switch to cleaner-burning heaters from polluting honeycomb charcoal stoves and replacing petrol with cleaner biofuel, said environment official Luu Thi Thanh Chi.
Hanoi recorded 10 clean air days in the second quarter of this year, higher than the corresponding period 2016 and 2017 periods, Green ID said, but warned the improvement may not mean Vietnam is turning the corner.
"As we see new coal-fired plants, new industry clusters, more traffic and other sources of air pollution emerging around Hanoi and Ho Chi Minh City, it seems too early to say Vietnam has reached its air pollution peak," said its technical adviser Lars Blume.
Clean air advocates are also promoting alternatives.
"I wanted to create a garden where any house owner can enjoy clean air after a long working day," said 27-year-old architect Nguyen Manh Hung, who made space on the roof of his home for 15 types of plants that help clean the air, from snake plant to windmill palm.
Source: ICLEI | 24 July 2018