Oceans play an essential role for life on earth by generating most of the oxygen we breathe, providing us with food, regulating our climate, cleaning the water we drink and delivering a variety of valuable ingredients for medicinal uses.
However, humans are continuously threatening the oceans by carrying out destructive fishing practices, overfishing, and creating pollution which in turn leads to coral bleaching and other impacts from climate change.
ASEAN has a total of 173,000 kilometres of shorelines, and overall, the region hosts a third of the world's coastal and marine habitats, providing many resources that are important to the livelihoods of coastal communities.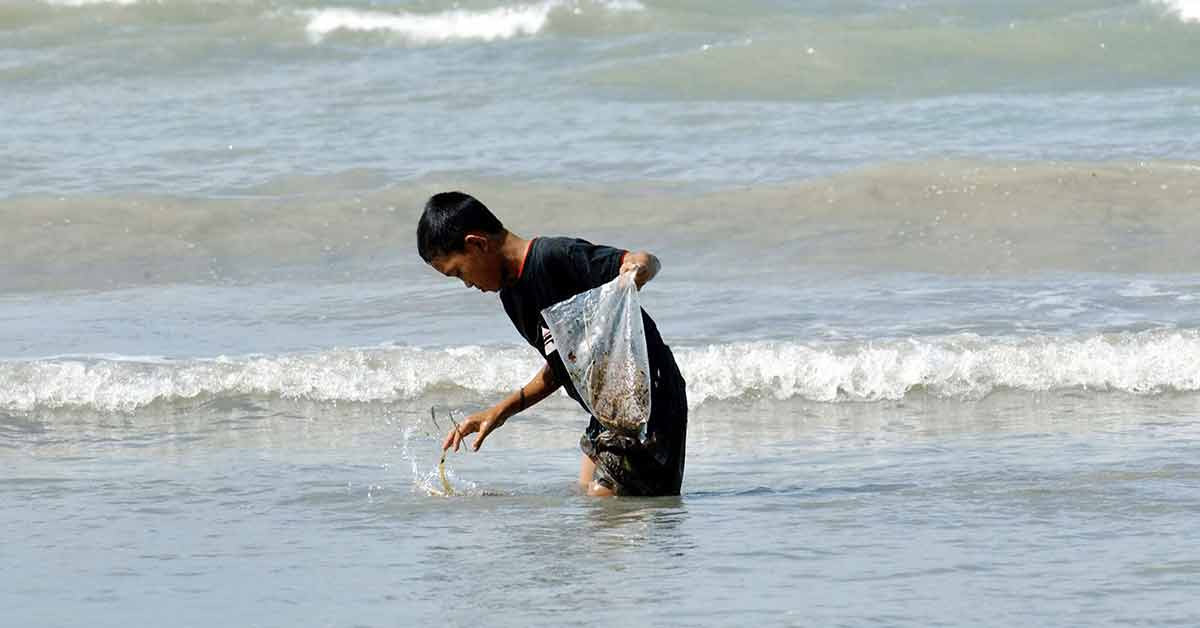 This file photo shows a boy collecting sea plants on the sea shore of the Tanahbure, Sulawesi province. (AFP Photo)
"Considering that the region is one of the fastest growing economies in the world, its nearshore ecosystems have become more vulnerable to habitat change from overexploitation, sedimentation, pollution, coastal development, ineffective governance, and collateral damage from coastal tourism and climate change," said Dr Theresa Mundita S Lim, Executive Director of the ASEAN Centre for Biodiversity.
Pollution Getting Worse
It is this personal connection to the seas, or the lack of it, which has led to rising pollution levels – with mind boggling numbers regularly being used to describe the global environmental catastrophe caused by decades of overuse and a surge in single-use plastics.
Human activity presents the biggest threat to oceans as more than 80 percent of marine pollution comes from land-based activities and waste, specifically plastics.
An estimated eight million tonnes of plastic reach our oceans every year, where a total of 150 million tonnes of plastic waste has already accumulated over the years.
While most plastics are expected to remain intact for decades or centuries after use, those that do break down end up as micro-plastics, consumed by fish and other marine wildlife, quickly making their way into the global food chain.
90 percent of the world's seabirds have ingested plastic, and by 2050, there will be more plastic than fish in the world's oceans.
Illegal, unreported and unregulated (IUU) fishing has also had a severe impact on oceans, with the European Union (EU) estimating that between 11 and 26 million tonnes of fish are caught illegally a year, accounting for at least 15 percent of the world's catches worth up to US$22 billion annually.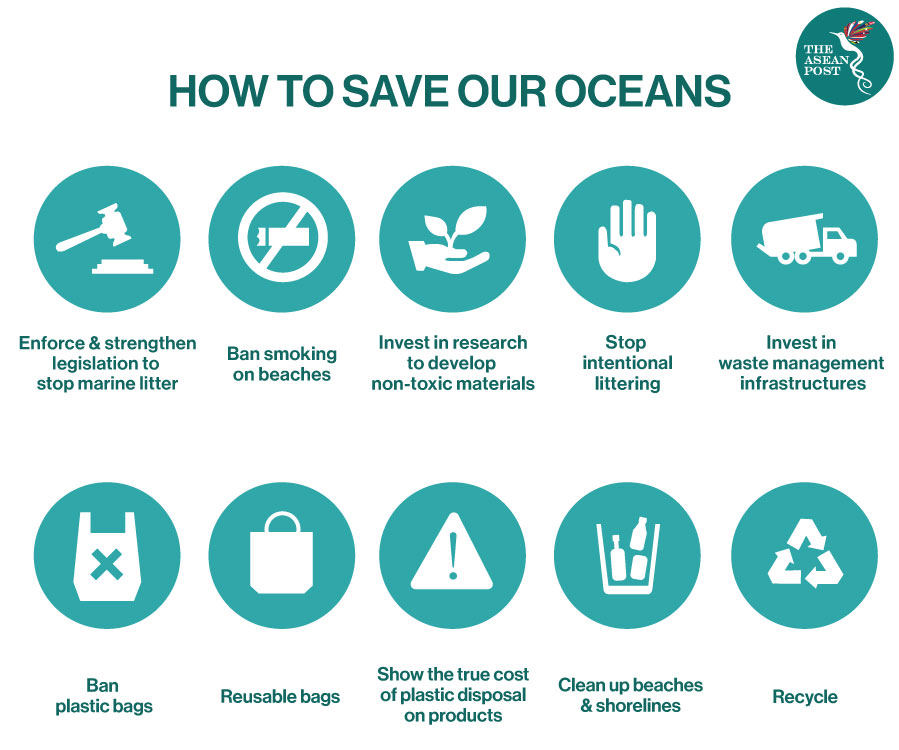 What Is Being Done?
Last year in Bangkok during the Special ASEAN Ministerial Meeting on Marine Debris, the ministers responsible for natural resources, environment and marine affairs affirmed ASEAN's commitment to conserve the region's marine environment and to strengthen regional cooperation in addressing marine debris issues.
Most notably, Thailand has effectively enforced new policies, with three types of single-use plastic being banned in 2019. The Thai government developed a Plastic Waste Management Road Map 2018-2030 to end the usage of single-use plastic and repurpose plastic waste as a source of fuel. This strong commitment can be attributed to a string of incidents in southern Thailand that have led the once "plastic addicted" nation to now set an example for other ASEAN countries.
There is a lot that we, as citizens of ASEAN can do at the ground level to preserve our oceans. First of all, by taking time today to think about what our oceans really mean to us. Learning about the wealth of diverse and beautiful ocean creatures and habitats, how our daily actions affect them, and how we are all inter-connected is another step which can be taken to raise more awareness of our oceans – as is a greater understanding of our carbon footprint and the need to reduce energy use.
Properly disposing waste and using fewer plastics or reusable ones – and disposing them properly – will also go a long way in reducing the flow of plastics into our oceans.
Buying sustainably sourced seafood, reporting illegal activities that are harmful to marine life and joining coastal clean-up activities are other ways we can ensure the continued good health of our oceans for generations to come.