This was pointed out by Ziggie Gonzales, surfer co-founder of eco-hostel chain The Circle Hostel, who said that plastic bottles can only be recycled for certain amount of times and will end up to be just waste.
"The problem will not go away if we get rid of plastic and non-biodegradables. It will only change to a different material. We need to change our mindset and educate for this problem to go away," Gonzales told The Manila Bulletin in an interview.
'The Plastic Solution'
Thus, Gonzales turned to upcyling, after he learned of the eco-bricking system online which eventually led to the birth of The Circle Hostel's "The Plastic Solution" project.
The surfer believed eco-bricking is an easy way to "promote awareness of consumption" and "lessen the impact of non-biodegradables on our environment."
Initiated in August 2016, "The Plastic Solution" aimed to encourage people to fill plastic bottles with non-biodegradable waste and turn them into an eco-brick.
"I came up with the idea after a particularly polluted surf session where the water and beach were covered in plastic and other forms of trash," Gonzales shared, adding that being a surfer has allowed him to see the "visceral effects of humanity on nature."
Since the launch of the project, Gonzales said they have "worked with a couple of communities which have done builds and are working with corporations to do builds in their parent communities."
Groups in provinces have also started to link up with the project.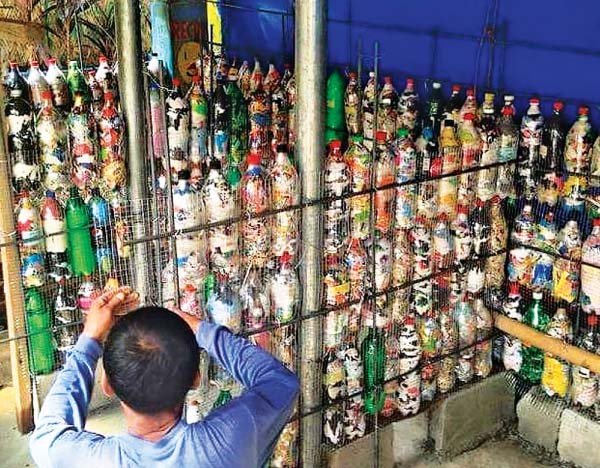 SOLID WALL — A worker cements the eco-brick-made wall of a new bathroom stall of The Circle Hostel-La Union in this September 29, 2017 photo. The Circle Hostel constructed eight additional bathroom stalls/showers made with over 1,000 eco-bricks. (Photos courtesy of The Circle Hostel)
In terms of numbers, Fiona Faulkner, Environmental Officer of The Circle Hostel, said about eight metric tons of plastic have been "upcycle" through donations to them.
"More importantly with the eco-bricks we've collected, we have built or help build nine different eco-brick structures around the country," Faulkner added.
Faulkner said that her team aims to "empower" volunteers and LGUs with information and materials needed for them to be able to start and sustainably implement The Plastic Solution project in their locations.
"We would like everyone around the country to realize the gravity of the plastic pollution and at the bare minimum avoid non-biodegradables where we can," the environmental officer stated.
Besides creating eco-bricks, The Plastic Solution aims to teach Filipinos to reduce their use of plastics and dispose their waste properly through segregation.
"Fromsegregationwe can compost biodegradable waste and eco-brick the non-biodegradables. After all non-biodegradable material is a resource that is improperly managed but could have huge potential," Faulkner shared.
'Bottles for building'
While many question the durability of eco-bricks as a construction material, a study in Bangladesh found that bottle bricks were "stronger than conventional bricks and concrete cylinders."
Gonzales, for his part, stated that eco-bricks were "good for non-weight bearing structures."
"There have been build all over the world and studies extolling their durability," he added.
Faulkner, for her part, said they were working on a report where technical questions about eco-bricks will be addressed.
'Establish from rubbish'
Gonzales clarified that while The Circle Hostel started "The Plastic Solution" project, they "do not strive to collect and build with all the bottles" since they are not considered a volunteer organization.
"The whole idea behind the advocacy is to create awareness and for other people to start their own collection points, builds, etc. with their own communities…We would love people to take the initiative to grow this faster and educate more people," he stated.
The Circle Hostel co-founder is calling on ordinary citizens to help by collecting rubbish and stuff them into bottles. The bottles can be left in the different drop-off points which are listed in their official websitehttp://thecirclehostel.com/the-plastic-solution/.
'One's action is a solution'
If there was anything Gonzales has learned in his advocacy to effectively deal with environmental problems, it was that the solution lay in each and every individual's action.
Gonzales said that resolving the country's environmental issues should not be left for the government to solve alone.
"I decided that if we rely on the government to take care of such a monumental problem we would go nowhere," the surfer said.
In the case of littering for example, Gonzales said that while that can be addressed with "better trash collection and a trash bin network in the country," what could be most crucial would be "educating the nation from a young age."
"No matter how many trash cans we put people will not put the trash in the right place," Gonzales highlighted, adding that his team is reaching out to Department of Education to push for the inclusion of environment conservation and care as a required subject.
Faulkner echoed the same sentiment stating that the plastic consumption of the country is "very much linked to our economy and education."
"The sari-sari culture encourages the single use consumption ofthe non-biodegradable material. We have to change that culture by changing the mindset, which starts with educating people on the effects of the use of these non-biodegradable materials," she stated.
The Plastic Solution vanguards encouraged Filipinos to be guardians of the environment.
"Reduce and recycle as much as possible. Eco-brick all non-biodegradable trash you can! Spread the word and also talk to your barangay to ask about your Materials Recovery Facility (RA 9003) to help get your barangay on the right path to recycling," Gonzales stated.
"Start small, start at home, and you'll start making a difference. #plasticfreestartswithme," Faulkner added.
Source: Manila Bulletin | 23 April 2018