The Rotary Club of East Davao and the Philippine Institute of Certified Public Accountants (PICPA) have seen the urban container gardening (UCG) as one of the best solutions to address hunger and climate change, especially as the country faces a health crisis.
"Urban gardening is a practical and uncomplicated method of growing plant-based food that doesn't require wide agricultural lands or even a backyard. You simply need to repurpose or upcycle common household containers and utilize the space in your rooms, rooftops, or balconies. This method also ensures you that you're eating clean, fresh, and organic produce," Rossano Luga, president of Rotary Club of East Davao, said in an interview Sunday.
UCG is a technology of home farming used to grow food in limited spaces in the urban areas to serve as a nutrition garden of the household.
It is a household activity that utilizes containers in growing fruits, vegetables, and herbs for family consumption; and the cheapest and healthiest way of food production as it utilizes bio-wastes as sources of fertilizers for gardening.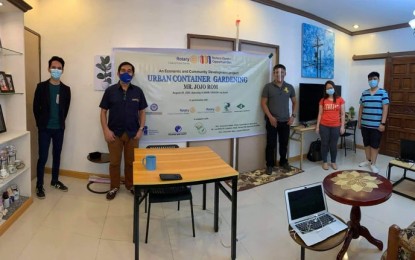 GARDENING. The working group of the free webinar on urban container gardening (UCG). From left to right, moderator Leinard Jan Zaspa; Rossano Luga, president of Rotary Club of East Davao; UCG advocate Perfecto Rom; and Princess Pauline Misa and Kenneth Bryan Estremera (technical support). (Photo courtesy of Ross Luga)
Luga also underscored a need to mitigate the environmental damage that is triggering climate change to overcome the long-term effects of the pandemic.
"Integrating clean and sustainable practices into our daily activities is a crucial step in the right direction as it ensures safe food consumption, promotes a healthy lifestyle, reduces our waste products, and reduces our individual carbon footprints," he added.
The Rotary Club of East Davao and the PICPA, with other participating organizations like the American Chamber of Commerce of the Philippines-Mindanao Chapter, INCOME Davao Credit Cooperative, Rotary Club of Downtown Davao, and Rotary Club of Central Panabo recently conducted a free webinar on UCG.
During the webinar, Perfecto Rom, the resource speaker, said UCG is an advocacy to democratize agriculture empowering families to participate in food production and ecological sanitation (ECOSAN) right in their backyards.