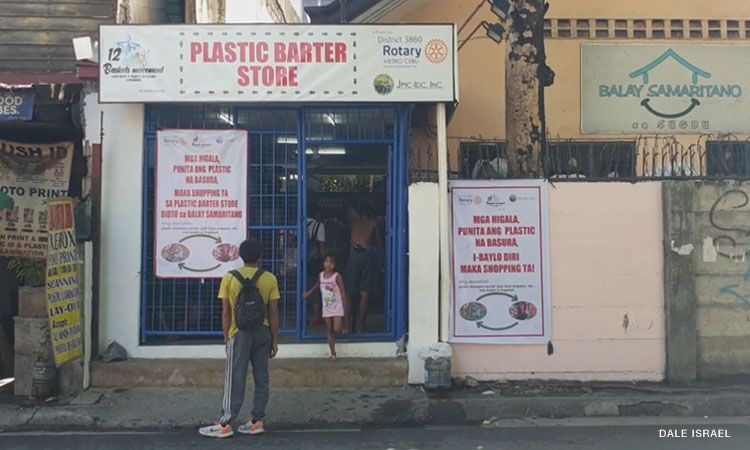 A store in Cebu City is slowly gaining the attention of residents and nearby communities due to its unique payment system.
At the Plastic Barter Store, customers won't have to bring money when they shop for food and assorted goodies. Instead, they would only need to hand over plastic trash.
The eco-friendly store, which opened June 15, features various products including canned goods, rice, school supplies, clothes, slippers, shoes, and toys.
"Mo linya gyud sila. Ang uban muhangyo ug bugas usahay kulang pa sa timbang pero ilaha ra pun-an inig sunod patimbang," said Gina Espenilla, who is in charge of the Plastic Barter Store.
[Translation: Families really line up and ask for rice. Some even do not meet the required weight in kilos of trash but are still given rice provided they make up for the deficit next time.]
Since opening its doors to the public, the store has already accepted 70 to 90 kilos of plastic trash—mostly consisting of water and soda bottles.
Plastic trash accepted in the store includes single-use plastic bags, plastic sachets and wrappers, and empty shampoo bottles.
The accumulated trash will then be used to produce hollow blocks, which in turn will be sold to various construction firms, Espenilla said.
How much trash in exchange?
For two kilos of plastic trash, one can get slippers. Four kilos, on the other hand, can be exchanged for a kilo of rice or a piece of clothing.
School supplies will also need two to four kilos.
Toys require six kilos, while eight kilos can be exchanged for canned goods or a pair of shoes.
The goods featured in the store are mostly donated by non-government organizations and private individuals.
Espenilla said the store also accepts drop-in donations including clothes, toys, rice, and food.
Aside from partnering with different charities, the store likewise aims to promote environmental conservation.
The Plastic Barter Store is open from Mondays to Saturdays from 9 a.m. to 3 p.m.