From endangered to endangering
Mangrove trees can store five times the amount of C02 as terrestrial trees and provide a range of other vital functions to protect life below water and on land.
"Mangroves are often underappreciated, but they are in fact super-ecosystems that are critical for food security, coastal protection, water quality, and climate regulation," said Gabriel Grimsditch, a coastal ecosystem expert at UN Environment.
"Mangrove conservation and restoration are necessary for a healthier coastal environment and a sustainable future for hundreds of millions of people around the world," he said.
Unfortunately, mangroves are being cleared at an alarming rate, with more than half of the world's forests lost in the last 50 years. Making mangroves endangered also endangers all life on earth, because when the trees die, they release the carbon stored in coastal sediments.
According to a UN Environment report, emissions resulting from mangrove losses make up nearly one-fifth of global emissions from deforestation, resulting in economic damages of some US$6-42 billion annually.
"If we lose these things, we are not getting them back, and they go from being the most useful carbon sinks in the world to becoming huge carbon emitters because when they're degraded, the carbon stored in mud is released back into the atmosphere," said Stewart.
From surfing to offsetting
The first place to benefit from the SeaTrees project is the Thor Heyerdahl Climate Park in Myanmar, a country with almost 4,000 miles of coastline in the Indian Ocean.
"Mangroves are disappearing in Myanmar four times faster than anywhere else in the world," said Stewart.
Reforestation projects in the park have led to five million new mangrove trees and hundreds of jobs for locals as well as support for thousands of families with living and educational resources.
Since 2015, 3.5 million mangroves have been planted in the park as part of a project led by Worldview International Fund to restore more than 2,000 hectares of degraded coastal forest.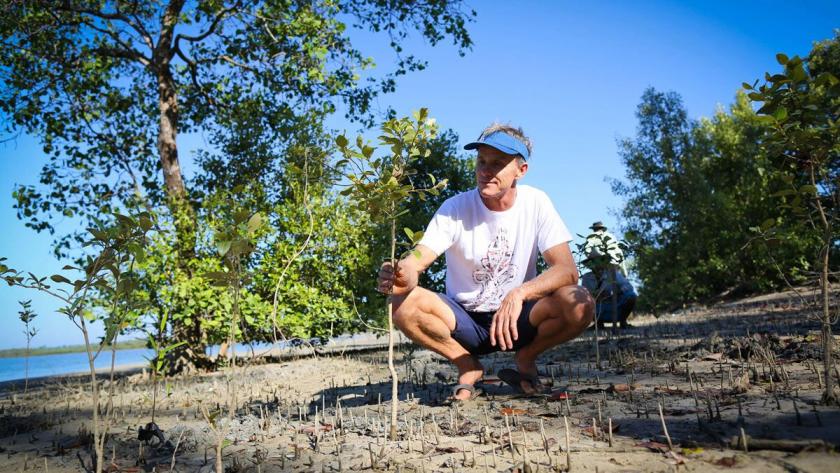 Svein Rasmussen of Starboard, a Sustainable Surf partner, helps plant mangroves. SeaTrees aims to plant one million trees on behalf of the global surfing community in 2019. Photo by Sustainable Surf
The Thor Heyerdhal Climate Park has also driven the use of cutting-edge technology in blue carbon projects. This includes pioneering the use of aerial drones to enable rapid planting at scale in hard-to-access locations, engaging with a web-based transparent mapping platform and using digital blockchain financing to allow individuals to directly support ocean-focused conservation efforts.
Marketing a model park
In February 2018, UN Environment recognized the Thor Heyerdhal Climate Park as a potential world-changing, scalable model for rapid mangrove restoration throughout South-East Asia and globally, and in November the project gained the Verified Carbon Standard (VCS) certification.
"It's sort of the gold standard of certification for voluntary projects, and the climate park project became the very first VCS certified project in Asia," said Stewart.
This makes it the largest mangrove reforestation project to receive this certification and be able to produce carbon credits for international markets, laying the market foundations for Sustainable Surf's goal to be achieved.
"What we need to do is to help bring eyeballs and dollars so that this project can grow and fulfill its potential to grow another five million trees. Then, we have a model to hopefully replicate across Myanmar and the region," said Stewart.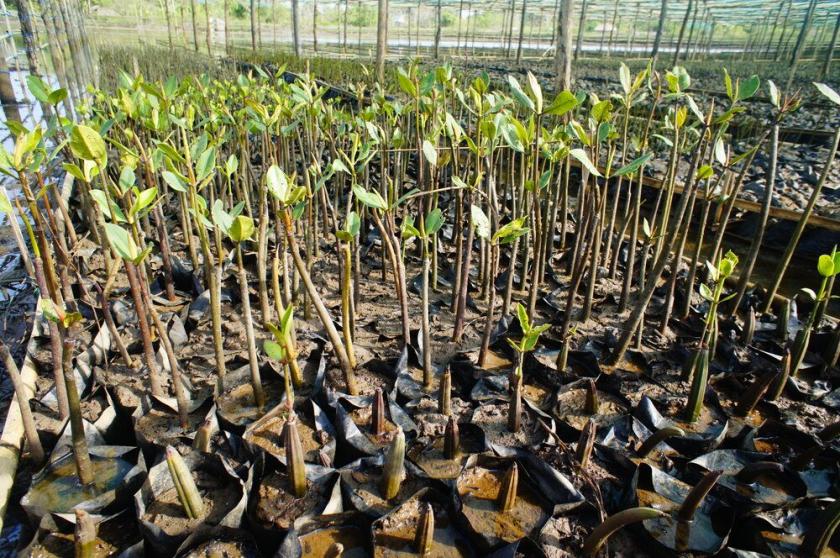 Through SeaTrees, ocean lovers can calculate and offset their climate impacts by investing directly in coastal wetland conservation Blue Carbon projects such as mangrove forests, salt marshes and seagrass ecosystems. Photo by Sustainable Surf
In early 2019, SeaTrees will support an initial planting of trees in the VCS-certified Thor Heyerdahl Climate Park and then launch an interactive online web portal to create a 'surf forest'.
Through SeaTrees, ocean-minded people can calculate and offset their climate impacts, and ultimately become 'climate positive' by investing directly in coastal wetland conservation Blue Carbon projects such as mangrove forests, salt marshes, and seagrass ecosystems.
Blue Carbon projects selected for support on the SeaTrees platform will be chosen based on industry best practices for impact validation and certification, and for their ability to scale up their impact to meet the challenge ahead.
Sustainable Surf is one of many organizations that made its voluntary commitment at the United Nations Ocean Conference in 2017 and has joined a community of ocean action brought together to save life below water by the next event in 2020.
"Now we can actually start not just operating in our silos and with our own projects, but seeing how they overlap and basically making community happen. We are being more than just the sum of our parts," said Stewart. "That's what I'm super excited about and thank you to the United Nations for making it happen."
Source: UN Environment | 6 February 2019