Conyat Create
Equipping businesses with the tools and knowledge to become more sustainable, Conyat Create's 10-strong team of mostly women work from an office full of reclaimed materials in Hlaing township.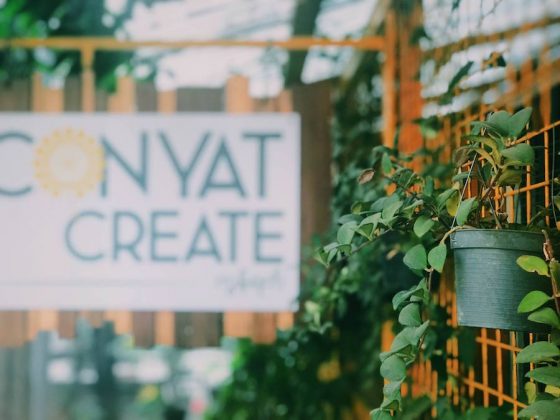 Conyat Create. (Facebook)
Citing Myanmar's vulnerability to climate change as one of her main motivators, Howe realized that "not only businesses but the wider community didn't understand sustainability."
"Our consumption of plastic is over the top. In Myanmar, you don't have the proper supply and value chain to deal with plastic." The insufficient means to deal with plastic waste has "impacted our health, waterways, supply chains, fishing," she added.
Australian-born Howe grew up in Myanmar and led corporate social responsibility at oil and gas firm MPRL E&P from 2011-2017. Improving relations between companies and communities are a major focus for Conyat Create, as is training Myanmar nationals to help implement environmental strategies.
Part of the task is convincing companies why investing in the environmentalist crucial to profitability, such as a fishery preventing plastic waste in the waters to protect its supplies.
"As a business, you want to adapt in the long term or leave yourself exposed to risk later on. And not all employees want to be part of something that's profit-driven; they want to be part of something responsible and doing well."
Palü
Any entrepreneurs concerned that responsibility may not necessarily translate into profitability need only look to Palü, the bamboo straw firm born in March and already producing up to 400 straws every week for 15-20 clients. "That number grows every day," said its founder 32-year-old Lyn Minn-Din.
Palü is a shortened word in the Chin dialect for a bamboo straw used to drink a local rice wine, but the idea came from further afield when Lyn Minn-Din noticed alternatives to straws as well as other green initiatives on his Southeast Asian travels.
Back at his workspace in Energize Myanmar, Lyn Minn-Din spoke to colleagues from an Ayeyarwady Region village specializing in bamboo craft. Bamboo forests are often leveled to make way for betel nut plantations, with some of the leftover bamboo bought by Palü, he said.
The stalks are cut into lengths and washed in the village, and then sent to the Energize Myanmar office where they are sanded, washed, boiled and sun-dried. Bunched in 10 for 10,000 kyats and with a little bamboo cleaning brush, Palü straws are stocked at Union bar. Customers of Blind Tiger, Mandalay Mee-Shay, Yangon Bakehouse, Inle Sanctuary and Chin Café in Kachin State among other venues will also come across them.
Each straw lasts for about 15 uses, but ultimately Lyn Minn-Din wants Myanmar to be straw-free—including in its teashops—and willing "to see the problem as a problem."
"I am very happy if you just don't use a straw ever again, regardless of whether it's bamboo or plastic because if you use a straw it's still trash," he said, adding that inevitable trash should be biodegradable.
When the engineer, who spent most of his adolescent in Scotland, leads fitness program Fight Camp Yangon, he will drink water from his grandfather's decades-old whiskey bottle. His family uses tiffin carriers the same age as him but kept in pristine condition. Myanmar has a tradition of reusing, he said.
Chu Chu
That tradition is practiced creatively at social enterprise Chu Chu, a Dala-based craft shop that takes its name from Myanmar for plastic bags, which staff heat and fuse together to create a range of colorful products.
The shop-cum-workshop also provides items for other outlets, while it buys many supplies from the local community. These range from local boys combing teashops for coffee sachets, to the bicycle repair shop next door touting old inner tubes that are fashioned into wallets.
Between its walls filled with glass bottles, women mold the coffee sachets into model elephants amid curtains of traditional Chin and Rakhine weave made from plastic and second-hand sweaters.
Managing director Wendy Neampui described turning people's mindset toward recycling as "a very difficult thing."
"It will take time. We need to change people's behaviour, basically."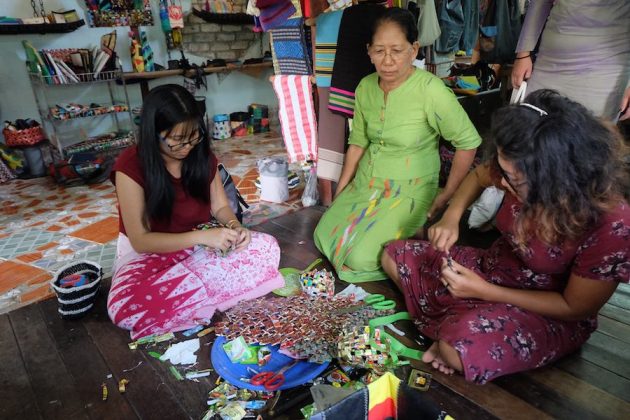 Women weave coffee sachets at Chu Chu. (Myanmore)
Waste management expertFriedor Jeske, who started Chu Chu with Wendy Neampui in 2014, carried out a company-sponsored audit in December 2017 on Mandalay landfill sites.
He estimates four plastic bags are used per person daily in Myanmar's urban areas,however, he could not see any plastic bottles, metal cans, or cardboard in the landfill sites.
"Every item that could have been recycled was removed before the load was emptied in the dump," he said, explaining that recycling in Myanmar is mostly carried out by an informal sector of waste collectors who earn about 5,000 kyats per day.
Dealers sort the waste before exporting or recycling it. Metal is melted down, glass is washed and re-used, plastics are cut into flakes and sent to China—"may be ending up in your new North Face [polyester] sweater," added Jeske.
The sector is "completely unrecognized" by the government and driven by people who "have no choice but to do anything else," he said.
But an increase in advertising, cheap products and consumption are threatening the "repair and repurpose" sector, while as the economy develops, he says, waster collectors will become employed elsewhere, leaving a chasm in the recycling industry.
Green Wave
Local environmentalists say plastic pollution awareness is at a nascent stage in Myanmar, where consumers are being told the impact of irresponsible waste so that they can pass on the message.
Other recent initiatives, such as recyclables pickup service RecyGlo and environmental group Thant Myanmar, are helping spread the message of waste reduction across the whole country—not limiting it to the middle class, repats, and expats.
"People have started to realize the issues at about the same time and now it has got to the point where we kick it into gear," said Lyn Minn-Din of Palü. "We're all on the same page, let's tackle this together."
By the next World Environment Day, the fledgling community may well have grown into Myanmar's biggest green movement yet.
Source: Myanmore | 6 June 2018