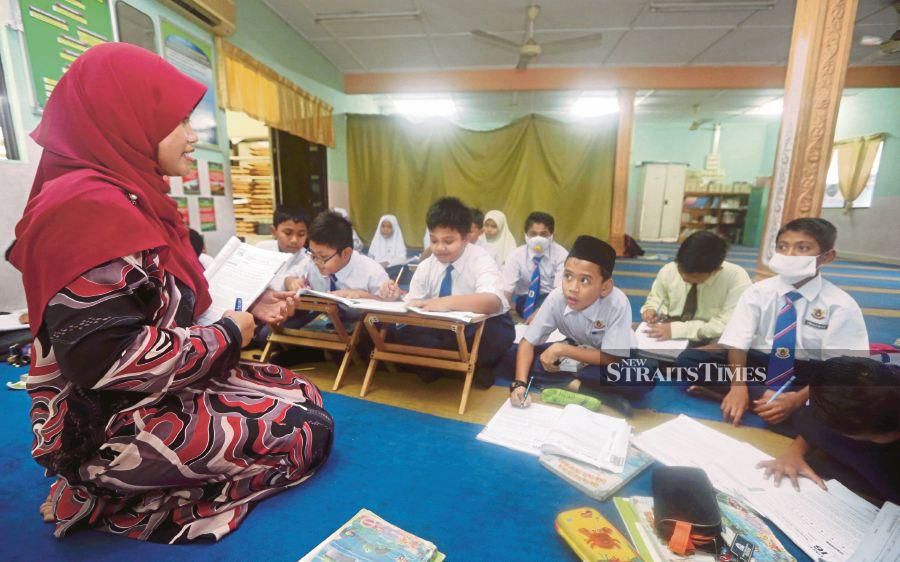 Two pupils wearing masks as they attend class at Surau Al-Hidayah in SK Kopok in Pasir Gudang yesterday. PIX BY HAIRUL ANUAR RAHIM
PASIR GUDANG: UNSTABLE and ever-changing Volatile Organic Compound (VOC) readings have made it difficult for the authorities to pinpoint the exact source of the latest health scare affecting the Pasir Gudang district.
Energy, Science, Technology, Environment, and Climate Change Minister Yeo Bee Yin said monitoring efforts conducted by 85 experts in high-risk schools yesterday had failed to determine the cause of the air pollution, which had entered its 11th day.
The experts were tasked with monitoring VOC readings to ascertain the possibility of the presence of specific gases.
She said preliminary reports from the monitoring team at all the affected schools on Sunday displayed inconsistent readings.
"What is unique here is that Sunday's victims were spread out over a wide radius. Almost 95 percent of the victims are students or schoolchildren.
"This case is not as clear-cut as the Sungai Kim Kim incident, which had evidence of chemical dumping, apart from chemical and gas residue," she said, adding that the authorities would continue to monitor the contamination for as long as symptoms continue to occur.
Yeo was speaking at the Pasir Gudang Municipal Council here yesterday. Present were state Local Government, Urban Wellbeing and Environment Committee chairman Tan Chen Choon.
Yeo said the authorities were considering conducting a loading and carrying the analysis of the 250 chemical factories in the district, which they hope could shed light on the incident.
However, she said, the analysis could take four to six weeks.
On June 20, 15 schoolchildren and two adults from SA Taman Mawar and SK Pasir Gudang 4 were rushed to Sultan Ismail Hospital after experiencing breathing difficulties, dizziness, and nausea.
The day after, three schools and two kindergartens — SA Taman Mawar, SK Pasir Gudang 4, SMK Pasir Gudang 2, Pasti Kindergarten and Pintar Bistari Kindergarten — were ordered to close after students experienced similar symptoms.
In total, 111 schools, institutions of higher learning and kindergartens in Pasir Gudang had been ordered to temporarily close following the health scare.
Two hours after schools reopened on Sunday, hundreds of schoolchildren and teachers experienced dizziness, nausea, and vomiting, with some warded.
Residents feared the incidents signaled a return of the Sungai Kim Kim incident.
In March, thousands fell ill after chemical waste was dumped into the river. Nine people were arrested and four were charged.
However, the authorities had since rejected any possible link between the two incidents, saying some chemicals present in Sungai Kim Kim were not detected in the latest incidents.
Yeo said no more approvals would be issued for new chemical plants in Pasir Gudang.
She said this was discussed with the state government to ensure the district's sustainable development.
Yeo, who chaired a meeting with representatives from the district's 250 chemical factories yesterday, said the chemical factories would install gas detectors in all the district's schools.
She said, for the time being, the government had rented the devices to the factories.
"The air quality monitoring will still be continued by the government. When the schools have their own devices, the teachers would be conducting the monitoring themselves."
This, she said, was to ensure schools could obtain accurate air quality readings and detect the presence of volatile compounds in the air at all times.
She said she would present a memorandum to the cabinet on Friday to ask for allocations to establish a pollution monitoring system in Pasir Gudang.
The state government would also conduct a study on the restructuring of buffer zones for industrial areas in Pasir Gudang to ensure they were a reasonable distance from residential areas.
State Housing, Communications and Multimedia Executive Committee chairman Dzulkefly Ahmad said the existing buffer zones were in place in accordance with the types of industries developed, but the matter had to be reviewed for Pasir Gudang.
He said the move to draw up a buffer zone between industrial and residential areas, especially in Pasir Gudang, could not be rushed and required careful study and restructuring.
"Although the case in Taman Mawar, located about 6km from Sungai Kim Kim, is deemed a minor one and its cause still unknown, we still need to take precautionary measures.
"It is time the Johor government adopts a holistic and comprehensive approach to ensure Pasir Gudang is safe.
"There are buffer zones based on the industry categories. They begin from 50m to a buffer zone of 500m for heavy industries.
"This requires studying and restructuring as Pasir Gudang has many residential areas near industrial areas. The health of the people, especially children, and students, must be a priority."