Our current socio-economic system is built on the exploitation of both people and the planet, causing inequality and environmental devastation. To save a world on the brink of ecological and social disaster calls for greener, more efficient capitalism won't cut it, writes Zafirah Zein.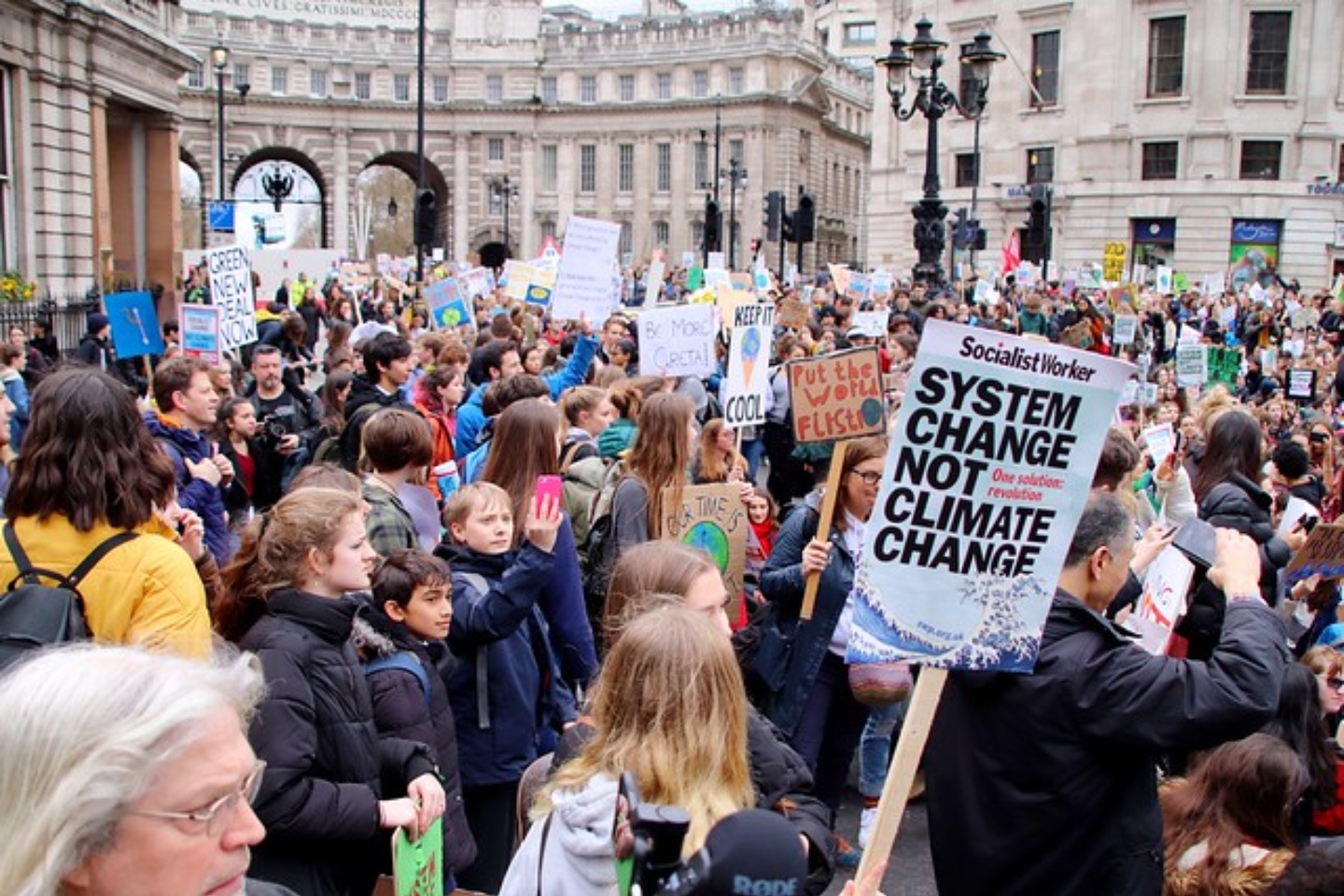 Young climate activists around the world are calling for system change in a world beset by climate change and widening inequality. Image: Roy/Flickr , CC BY-NC 2.0
Several weeks ago, I attended the Shape the World Summit 2019, where leaders from business, education, civil society and delegates from around the world gathered at the National Design Centre in Singapore to discuss ways of designing economies to become more equitable and inclusive, while keeping within planetary boundaries.
It was one event not unlike others I have attended as an environmental journalist that facilitated discussion on how to make cities in the 21st century more liveable—in other words, efficient, resilient and sustainable—without compromising modern-day comforts.
However, during a panel titled Imagine a More Equitable Economy, while panelists highlighted that widening inequality and climate breakdown was the product of today's economic system, talk of solutions revolved around terms like "sustainable capitalism" and "eco capitalism." Someone even suggested that the current system was yet to be perfected, all while acknowledging that capitalism is the cause of many global problems today.
I had sat there nonplussed. Sustainable capitalism? Bearing in mind that a growth-oriented, greed-driven system has got us into this mess in the first place, the term seemed like an oxymoron.
Moved by the language of Greta Thunberg and other activists, I thought the discussion fell short of the radical lengths needed to get to where we need to be to protect the planet, strike climate change at its core, and improve standards of living for the deprived.
The roots of capitalism lie in historical injustice
Considering that the foundations of capitalism can be traced to the extractive industries that arose during the onset of colonialism, I am hard-pressed to believe that re-branding capitalism will help people and planet recover what they had lost during this era of exploitative growth.
In an opinion piece for The Guardian, founder of youth climate action organisation Zero Hour Jamie Margolin highlights the link between capitalism and its colonial beginnings: "Colonialism's mindset of heedless extraction, greed, and human exploitation not only planted the seeds of today's climate crisis, it remains visible in the crisis's central injustice: although the poor are responsible for only a tiny share of humanity's greenhouse gas emissions, they generally suffer first and worst."
And this is exactly where my beef with our current system lies: inequality is endemic to capitalism and its neoliberal variety has been "built on an archipelago of sweatshops and oppression across the developing world," according to British journalist Johann Hari.
Colonialism and economic imperialism were furthermore paved through violence and the disruption of social and indigenous ties, losses that are inherited through generations and compounded by Western development models that define progress and prosperity in terms of boundless growth.
The issue with capitalism is that it builds upon historically-inherited inequalities of class, ethnicity, and gender. It also tends to exacerbate inequality when underprivileged groups are denied access to the economic opportunities afforded by capitalism.
To carry on with the systemic inequality we inherited from the past, people in poorer countries are exploited to this day for the comfort and wealth of rich nations, as can be seen by our heavy reliance on modern technology and the reluctance of developed countries to be held accountable for their carbon footprint.
For instance, research by the Global Carbon Project (GCP) shows that rich countries in Europe and the United States outsource a significant amount of their climate pollution to developing countries in Asia, where labor and manufacturing costs are cheaper.
According to Glen Peters, a scientist at the GCP, this masks the true environmental footprint of these countries, a case that deserves more attention in international climate negotiations.
Another example is the e-waste trade and the human cost hidden in today's flashy tech gadgets. The rare minerals and natural resources that make up our smartphones, for example, are unethically sourced from places such as the Democratic Republic of Congo and Indonesia, where workers and children are trapped in a web of human rights abuses.
Furthermore, for all the talk of green growth, while a renewable energy revolution is urgently needed, growth, if unfettered and unregulated, will lead only lead to continued exploitation.
This is exemplified by the nascent deep-sea mining industry. According to a Greenpeace report, industry claims that mining precious resources in the Earth's deep sea bed is essential to a low carbon economy, although this has not been supported by players in the clean energy sector and has been condemned by scientists.