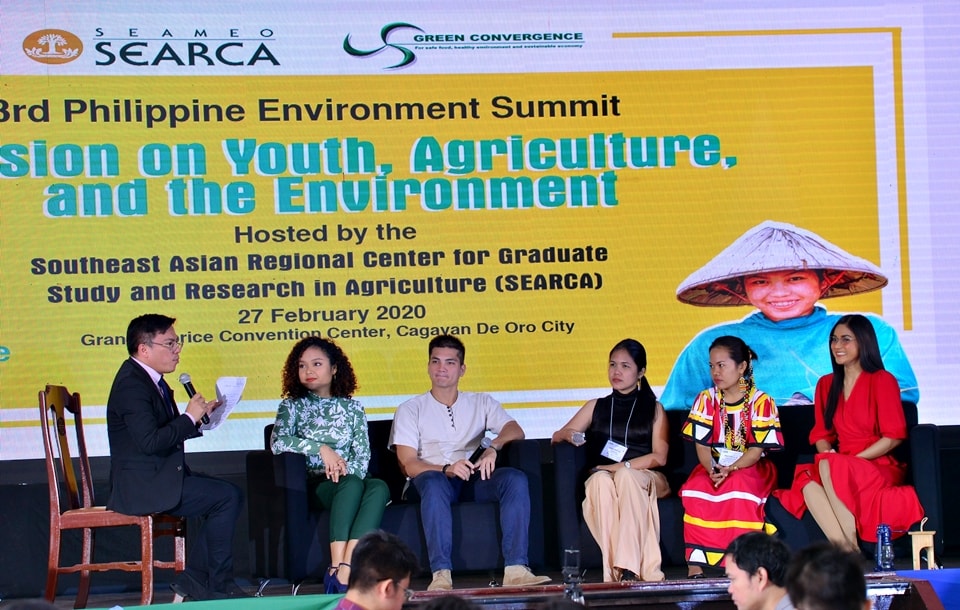 CAGAYAN DE ORO, Philippines – Five young professionals advocating for sustainable agriculture and environmental conservation took center stage during the SEARCA-hosted Youth, Agriculture, and the Environment Session of the 3rd Philippine Environment Summit on 27 February 2020 in this city.
The session featured by-the-youth and for-the-youth initiatives that promote sustainable agriculture practices, environmental protection, and the circular economy. The speakers were Louise Mabulo, Founder of The Cacao Project and UNEP's Young Champion of the Earth; Cherrys Abrigo, Founder of Sierreza Café; Enzo Pinga, Business Development and Partnerships Head of IISLA Ventures; Rein Hillary Carrascal, Beauty Queen and Ambassador of Hapi LIFE Foundation; and Michelle Dagsaan, Higaonon Youth Representative of Samdhana Institute.
"SEARCA believes in the power of the youth. In the ASEAN region alone, one out of three belongs to the youth sector, which makes it a strong collective force to bring transformation in the agriculture and environment sectors," said Dr. Glenn B. Gregorio, SEARCA Director.
On behalf of Dr. Gregorio, Dr. Rico C. Ancog, SEARCA Technical Consultant for Project Development and Technical Services (PDTS), moderated the session and introduced the Center's current programs and highlights of the upcoming 11th Five-Year Plan (FYP) to over 200 session participants from the academe, government, and the private sector.
Meanwhile, Mr. Sonny Pasiona, PDTS staff, also provided an overview of Young Forces for Agricultural Innovation (#Y4AGRI) as SEARCA's banner initiative for engaging and empowering young people—from kids to high school, university students, and young professionals—in agriculture and rural development (ARD).
The youth speakers presented their best practices, challenges, and solutions to their respective projects. They also shared their motivations and personal difficulties in their advocacies, especially at a young age.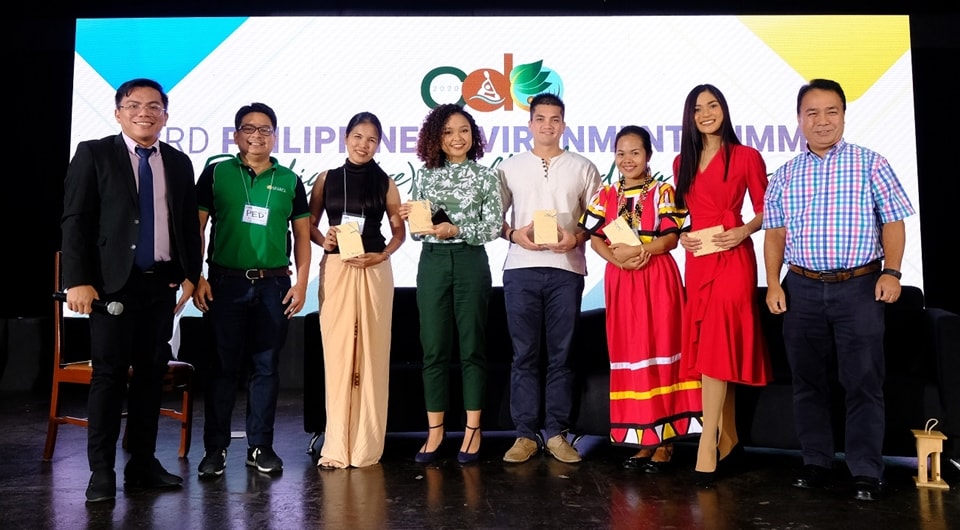 In a panel discussion, they emphasized the need to promote innovative and sustainable practices in agriculture and the environment, and the key roles of the youth in this endeavor. The speakers called for more engagement of and support for young people, particularly through funding and mentorship.
The youth session is the first in an ARD Discussion Series that SEARCA is initiating as an avenue to tackle, solicit ideas, and establish collaboration with stakeholder groups on emerging and on-the-ground challenges for achieving sustainable agriculture and rural development.
The Environment Summit was co-organized by Green Convergence and the Philippine Department of Environment and Natural Resources (DENR). Under the theme, "Paradigm (re)Shift: Heeding Nature," the three-day event presented programs and projects that advance the country's socio-economic development while protecting the environment.
This year's summit aimed to enhance convergence of various individuals and institutions to tackle issues in and accelerate solutions for sustainable development. Plenary talks, breakout sessions, exhibits, and networking activities comprised the summit. Hundreds of participants from the academe, government, civil society, and business sectors attended the event.
The livestream of the youth session can be viewed at the SEARCA Facebook Page.