The forum highlighted contemporary issues in inclusive and sustainable agricultural and rural development (ARD) in Southeast Asia that affect food security and poverty alleviation efforts, converging on the themes of social inclusion, sustainability, institutions and governance, and regional and sub-regional integration. It served as a venue to discuss and analyze recommendations that may guide further actions, policies, and initiatives of various stakeholders of the agriculture and rural sectors in the region. A book featuring the synthesis of outputs from the Second International Conference on Agricultural and Rural Development in 2014 was also launched during the event. The editors of this ARD Book, bearing the same name of this year's Regional Forum, are Dr. Cielito F. Habito, Dr. Gil C. Saguiguit, Jr., and Dr. Doris Capistrano.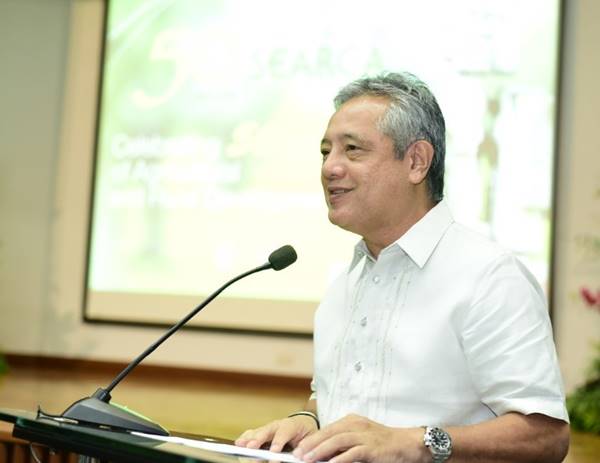 SEARCA Director, Dr. Gil C. Saguiguit, Jr., emphasized the importance of ARD in the efforts of individual countries and the region to work for food security and poverty alleviation in his welcome remarks. Dr. Saguiguit also accented the need to address contemporary and emerging issues and gaps towards informing policy and investment options, as well as good practices that will redound to improved development outcomes and concrete reforms for food security and inclusive growth.
Meanwhile, in his keynote message, Dr. Tin Htut, Permanent Secretary of the Ministry of Agriculture, Livestock and Irrigation of the Republic of the Union of Myanmar, related his experience in agricultural development in Myanmar and acknowledged SEARCA's special role in its success. During the event, Dr. Tin Htut was presented with a special citation by SEARCA for his unstinting support to the Center's capacity building program in Myanmar and for his efforts and contributions to ARD in his home country.
Various stakeholders from the government, private sector, civil society, and the research community in Southeast Asia participated in the forum and tackled, in four sessions, issues on regional integration as anchor of sustainable agricultural and rural development; institutions, governance, and transformation in Southeast Asian agriculture; the Southeast Asian experience on inclusive growth through ARD; and sustainability in agricultural and rural development.

The ARD Book chapter authors served as main resource speakers. Dr. Larry Wong, Former Program Director of the Technology, Innovation, Environment, and Sustainability, Institute of Strategic and International Studies in Malaysia, delivered the following key messages in his talk: (1) the agriculture sector needs to continue modernizing apace with ASEAN development for an effective ASEAN Economic Community, and (2) the private sector can effectively serve as key driver for ARD in conjunction with the public sector's crucial role as enabler. Dr. Nipon Poapongsakorn, Distinguished Fellow and Former President of Thailand Development Research Institute Foundation, discussed how current literature explains the transformation of the Asian food market and how disruptive forces transforming the market, including the adoption of non-market institutional arrangements, are opportunities for farmers, firms, and farmer groups to coordinate new products, enhance models of governance, and empower smallholders. Dr. Jonna P. Estudillo, Professor of Development Economics of Japan's National Graduate Institute for Policy Studies, highlighted the essence of analyzing ARD through the lens of the household unit and discovering that major benefits for farmers still accrue from investments in electricity, good quality roads, telecommunications, agricultural research, irrigation, and education. Dr. Doris Capistrano, Regional Advisor of the ASEAN-Swiss Partnership for Social Forestry and Climate Change, and SEARCA Senior Fellow, discussed the broad implications of sustainability in ARD, from its multi-dimensional aspects to the complexities in frameworks of sustainable ARD; and proposed policy recommendations concerning discriminatory barriers against SMEs, fostering sustainable agricultural intensification and green SMEs, enhancing participation of small producers in profitable green value chains, regional quality standards, and regional cooperation initiatives.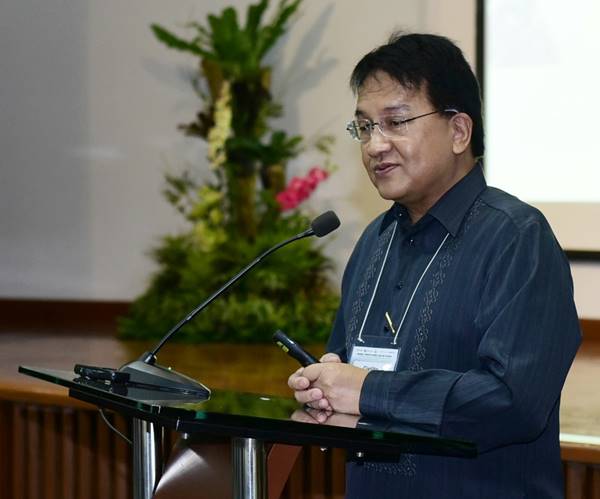 In his closing remarks, Dr. Habito recommended approaching the agriculture sector from a systems viewpoint and adopting a broader perspective of food security, while pursuing wider opportunities in synergistic cross-border business partnerships. He also asserted the need to provide concerted assistance to small farms and firms; to expand the application of Information and Communication Technology and the use of the digital economy to link small farm producers with retail markets; to harmonize long-term ASEAN policies including addressing the shortcomings of contract farming; and to focus on and increase public investment in energy, transport, education, and health infrastructure and services, and in R&D as measures to move ARD forward in the ASEAN region. Finally, he called for the pursuit of Inclusive and Sustainable Agricultural and Rural Development (ISARD) through a RICH – resilient, inclusive, competitive and harmonious – ASEAN Agricultural Community. (Aaron Lecciones and Maria Katrina Punto)