The Southeast Asian Regional Center for Graduate Study and Research in Agriculture (SEARCA) and the ClimateScience entered into an agreement for several collaborations on the many intersections of agricultural and rural development (ARD) and climate change. The virtual ceremonial signing of MOU was held on 27 September 2021.
Dr. Glenn B. Gregorio, SEARCA Director, and Mr. Eric Steinberger, CEO and Co-founder of ClimateScience, signed a memorandum with Mr. Joselito G. Florendo, SEARCA Deputy Director for Administration and Ms. Rochelle L. Bata, Partnership Officer and Continental Coordinator for Asia, Climate Science, as witnesses.
ClimateScience is a United Kingdom-based non-profit organization providing free educational content about the causes, consequences, and solutions to climate change. They aim to make learning fun, accessible, and science-backed. The volunteer-driven team has become the leading provider of accessible educational resources on solutions to climate change globally.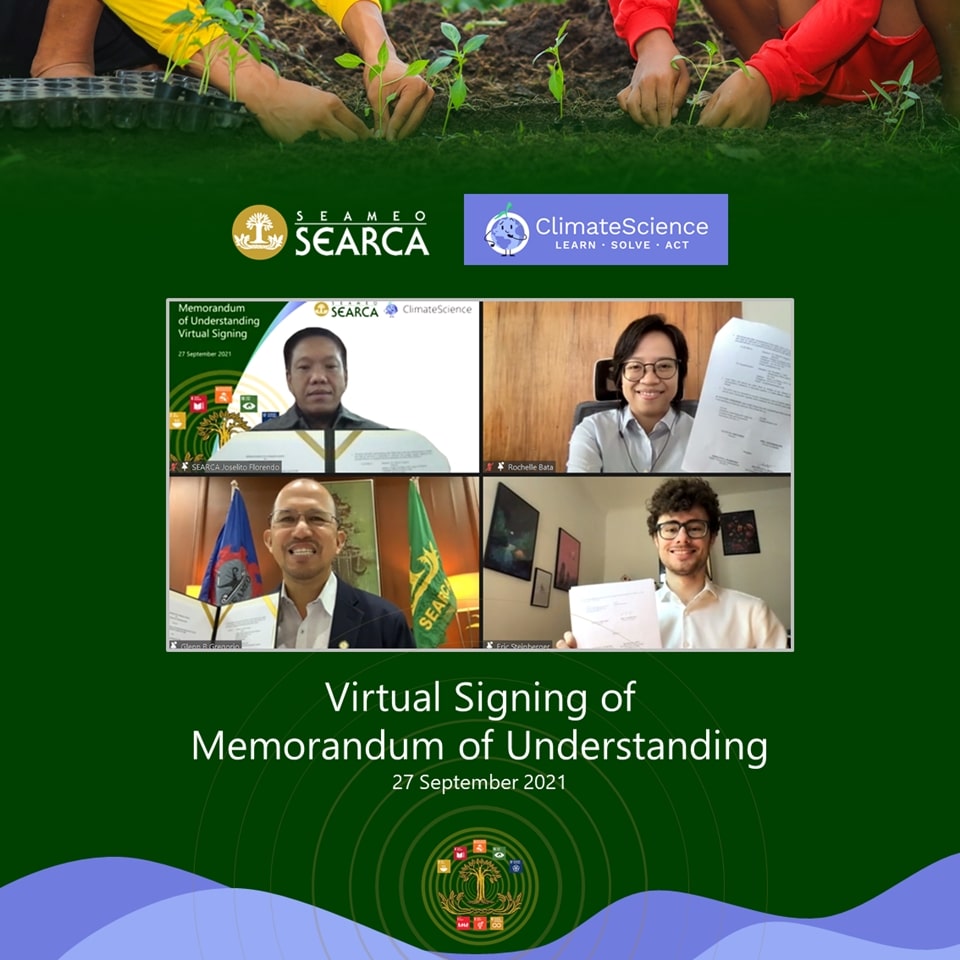 Among the collaborations of SEARCA and ClimateScience include translation of materials to ASEAN languages, idea grants for youth, leadership trainings, use of materials for awareness campaigns and programs for the youth, and ARD-focused cohorts on agri.
Dr. Romeo V. Labios, Operations Consultant for Partnerships, SEARCA, provided a brief background and overview of the said joint collaboration as well as the two learner-centered institutions involved.
According to Dr. Gregorio, SEARCA is aligned with ClimateScience's vision to empower people especially the youth to contribute to real, systemic and climate solutions while exercising the need for a learning environment that is, engaging, accessible, reliable and fun.
"That is why, we launched #Y4AGRI or the Young Forces for Agricultural Innovation as part of our 11th FYP. Y4AGRI is the banner youth engagement initiative of SEARCA. Guided by the principle of "by the youth, for the youth, and with the once youth," the program aims to nurture young people like learners as partners and leaders for agricultural innovation," he added.
Mr. Steinberger resonated with the words of Dr. Gregorio in his message and emphasized that climate change and agriculture complement each other.
"Agriculture takes up everything even the largest share of our usable land resources and we recognize that it can make a huge difference in all places and communities around the world. In turn, solving climate change will always be part of agricultural innovations and agricultural education," the Co-founder highlighted.
Mr. Steinberger also expressed that climate change is a global problem where several unknown layers take even decades to solve. But with propellers of the advancement of technology like SEARCA and ClimateScience, can speed up the process.
"I think SEARCA is a prime example that is a multiplier of impacts on an enormous scale. If we can inspire young people to take responsibility towards a good use such as solving climate change, we would be able to further the productivity for research and development and solve global issues faster."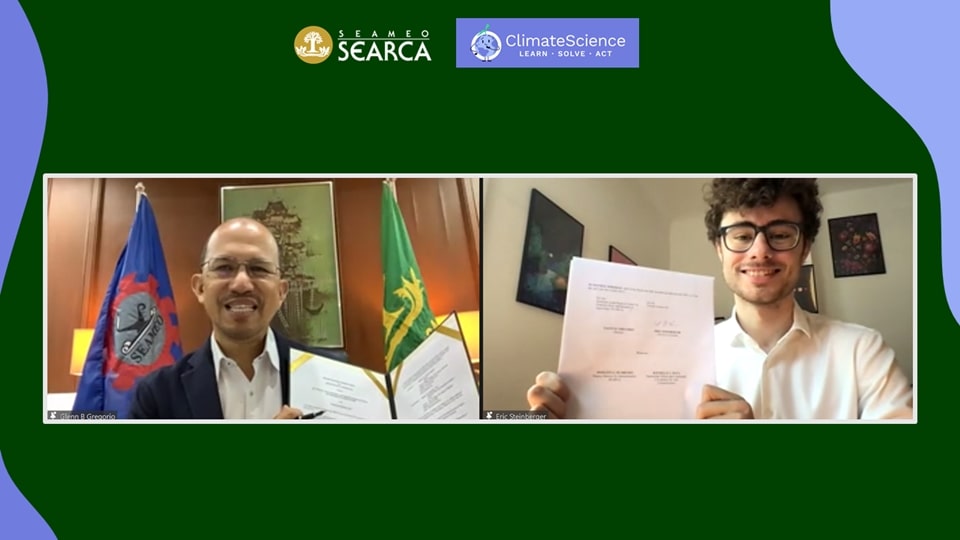 The Director also affirmed that it is through participatory action can both institutions alike achieve an authentic learning paradigm that is highly favorable for learners. Thus, SEARCA's partnership with ClimateScience to provide in-depth knowledge and co-creation as the Center pushes timely and relevant movements in the emerging digital sphere.
Dr. Gregorio concluded, "We believe that in order go beyond what we can offer, we seek partnerships to help more communities and share what we have and what we know. Collaborating with Climate Science can truly lead us to a BETTER, BIGGER and SMARTER normal that is highly relevant for the future of the Southeast Asian region and beyond."
Gracing the ceremonial signing were representatives from ClimateScience: Mr. Steinberger, Ms. Bata, and Ms. Kanika Prajapat, Partnership Head.
Together with Dr. Gregorio, Mr. Florendo, and Dr. Labios, the SEARCA delegation comprised Dr. Pedcris M. Orencio, Program Head for Research and Thought Leadership Department (RTLD); Ms. Imelda L. Batangantang, Officer-in-charge for Emerging Innovation for Growth Department (EIGD); Dr. Nova A. Ramos, Head for Training for Development Unit (T4DU); Mr. Benedict A. Juliano, Head for Applied Knowledge Resources Unit (AKRU); Ms. Beatrisa L. Martinez, Executive Coordinator to the Director; Ms. Ma. Victoria D. Bravo, Executive Assistant for Programs; Mr. Sonny P. Pasiona, Senior Communications Associate and Youth Program Lead; Mr. Nathan P. Felix, Senior Public Relations Associate; and Ms. Maria Teresa B. Ferino, Senior Events and Visitors Associate.