Hosted by the University of the Philippines Center for Integrative and Development Studies (UP CIDS), CIFAL Philippines is part of an international network of training centers coordinated by the United Nations Institute of Training and Research (UNITAR).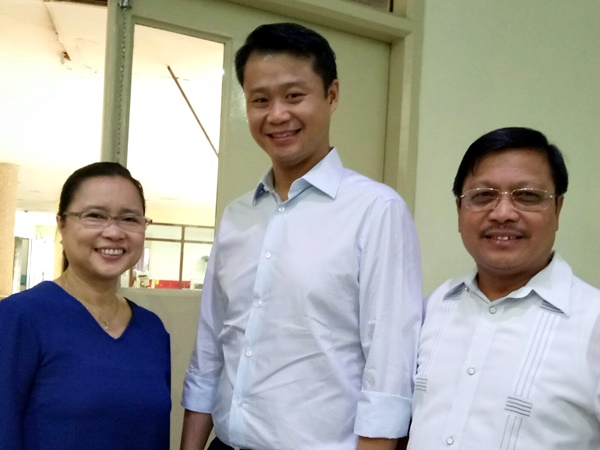 Dr. Lope B. Santos III (right), SEARCA Unit Head for Project Development and Technical Services, with Senator Gatchalian and Dr. Burgos, during the web series taping at the TVUP Studio in Diliman, Quezon City.The "2030" web series is jointly developed by CIFAL Philippines with Television UP (TVUP) and 2030 Youth Force in the Philippines. TVUP is the Internet TV Network of the University of the Philippines.
With an initial line-up of six episodes, the web series introduces the Sustainable Development Goals (SDGs) to the youth.
When it is launched in September 2017 on TVUP, the web series will provide an accessible platform for individuals and organizations to share how they contribute to the attainment of the SDGs in the Philippines.
Episode 4 focuses on integrating climate change measures into national policies and strategies for a resilient Filipino community.
With Dr. Burgos in the panel were Philippine Senator Sherwin Gatchalian and Professor Mahar Lagmay of the University of the Philippines (UP) NOAH Center (Nationwide Operational Assessment of Hazards – NOAH Center for climate actions and disaster risk reduction management).
Dr. Burgos shared SEARCA's initiatives on climate change in Southeast Asia. She expounded on SEARCA's Umbrella Program on Climate Change Adaptation and Mitigation for Southeast Asia (CChAMSEA).
She also talked about SEARCA's partnerships with the Asian Development Bank (ADB) and the Philippine Climate Change Commission (CCC) on climate resilience and green growth in ecotowns in four critical watersheds in the country.
Dr. Burgos also discussed SEARCA's role in helping the Department of Agriculture (DA) implement the first phase of its Adaptation
and Mitigation Initiative in Agriculture (AMIA), particularly the landscape planning approach. (Leah Lyn D. Domingo)