Participants, resource persons, and organizers of the launch of the Sustainable Gardening Project on 31 August 2019
The Southeast Asian Regional Center for Graduate Study and Research in Agriculture (SEARCA) has partnered with the Rotary Club of Bay RID3820 and the municipal government of Bay, Laguna in their Sustainable Gardening Project dubbed "Hatid ng Gulay, Makulay na Buhay," which was launched on 31 August 2019.
Held at the N.L. Galvez Memorial National High School in Bay, the project kicked off with seminars on the advantages of vegetable gardening and how to plant a thriving vegetable garden as well as a demonstration of wet lab techniques.
A total of 75 participants were in attendance, representing each of the 15 barangays of Bay headed by the barangay caption. Also present were representatives from the municipal government of Bay, Rotary Club of Bay members, and SEARCA staff.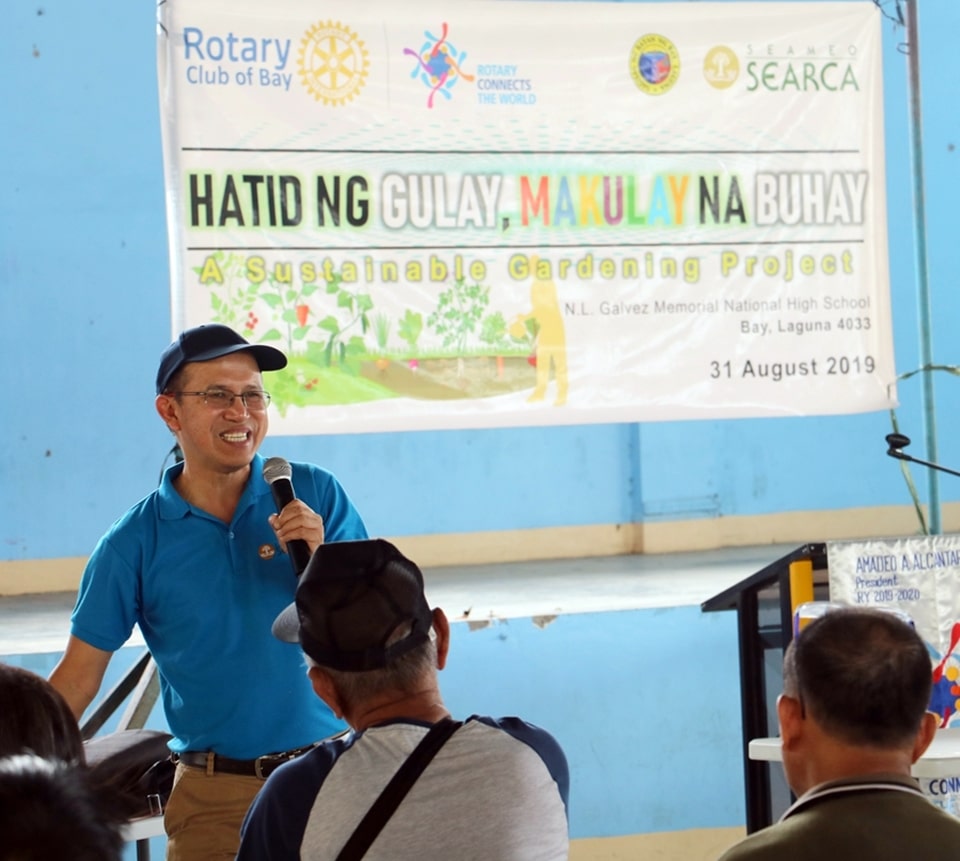 In his message, Dr. Glenn B. Gregorio, SEARCA Director, said SEARCA is happy to be part of the vegetable gardening project and remarked that "gardening is science-intensive, which is why we have to do our research on it."
He added that "the food we eat should be balanced. The more colorful the food on our plate, the more healthful and nutritious it is."
This was affirmed by Ms. Carmen Nyrhia G. Rogel, SEARCA Program Specialist for Research and Development, during her lecture, citing a study that found that people get sick not because of what they eat, but because of what food they don't eat like fruits and vegetables.
Dr. Gregorio also shared SEARCA's success story in establishing school+home gardening in Laguna and its recent efforts to do the same in Busuanga Island in Palawan.
Ms. Rogel also talked about the gains of SEARCA's School-Plus-Home Gardens Project and how it has grown from one high school and five elementary schools to 20 schools now, all in Laguna. She also gave a lecture on the types of gardens and why gardening is important.
Mr. Garry A. Hidalgo, General Manager of Farmers' Factory and Horizontal Greeners Farm and Landscape Services and Rotary Club of Bay member, shared the proper methods of planting vegetables and wet lab techniques.
The next step in the project is a Gulayan sa Barangay contest wherein all 15 barangays of Bay will each be given a uniform set of seeds to be planted in the same land area and grown from September to December 2019.
Dr. Mariliza V. Ticsay, Rotary Club of Bay member who chairs the project, announced the complete mechanics of the barangay gardening contest.
SEARCA's involvement in the gardening project is an expansion of its School-Plus-Home Gardens Project and corporate social responsibility efforts in its local community.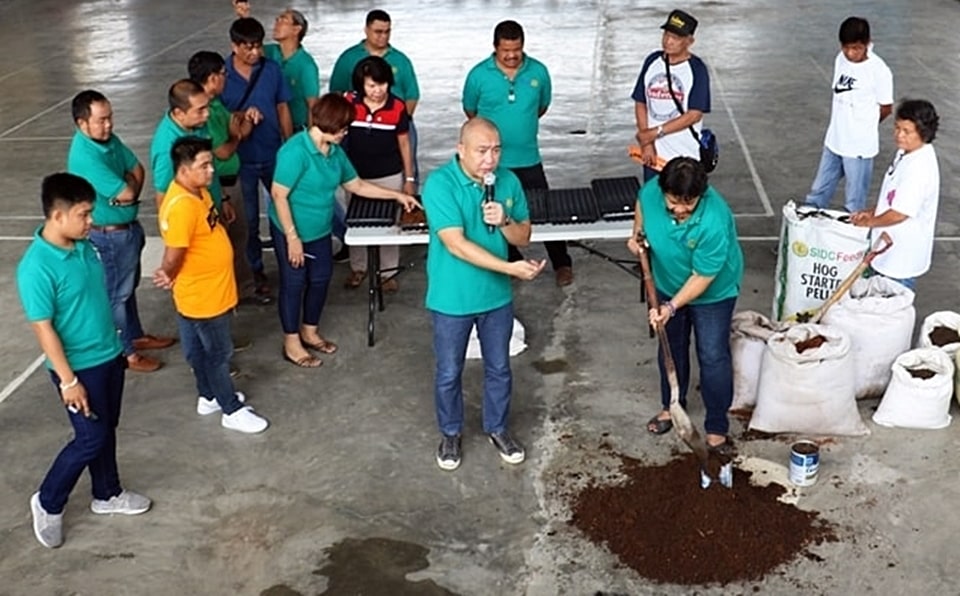 Preparation of mixed soil media consisting of pig manure, coco coir dust, garden, carbonized rice hull.