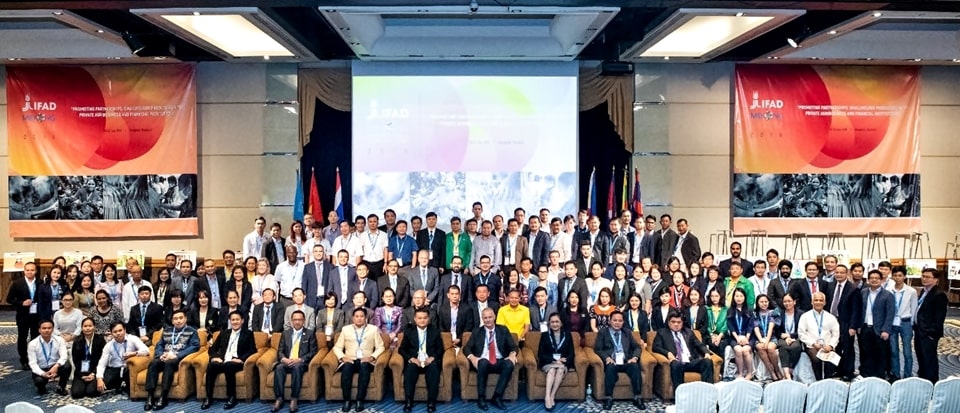 BANGKOK, Thailand – The Southeast Asian Regional Center for Graduate Study and Research in Agriculture (SEARCA) was one of the selected partner organizations to participate in the recently concluded 2nd International Fund for Agricultural Development (IFAD) Mekong Knowledge and Learning Fair (MKLF) here on 10–12 July 2019 at the Royal Orchid Sheraton Hotel & Towers.
The 2019 MKLF, with the theme, "Promoting Partnerships: Smallholder Producers with Private Agribusiness and Financial Institutions," aimed to (1) learn from the shared experiences of Thailand in developing agribusiness, which benefit the smallholder farmers; (2) identify approaches, technologies, and solutions from the shared tested practices and innovations of IFAD supported projects related to the theme; (3) share common policy issues in agriculture and rural development; and (4) create spaces and processes for cooperation, partnership, and solidarity among participating IFAD supported projects and development partners.
SEARCA was represented by Dr. Pedcris M. Orencio, Program Head, and Ms. Bernice Anne C. Darvin, Program Specialist, both from the Research and Development Department (RDD), and Ms. Zara Mae C. Estareja, Knowledge Management Associate of the Knowledge Resources Unit - Knowledge Management Department (KRU-KMD). A SEARCA knowledge and learning booth (KLB) was set up at the event, highlighting the Center's existing IFAD-funded projects—Agricultural Transformation and Market Integration in the ASEAN Region: Responding to Food Security and Inclusiveness Concerns (ATMI-ASEAN) and Rural Regional Transformation: Pathways, Policy Sequencing, and Development Outcomes in China, the Philippines, and Vietnam (RRT). The SEARCA KLB also showcased publications anchored on the theme.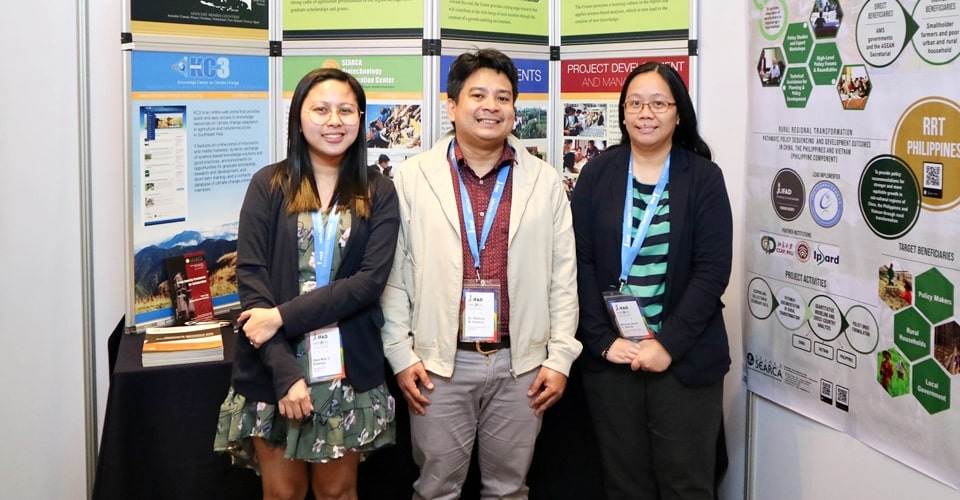 In his opening remarks, Mr. Thomas Rath, IFAD Country Director for Vietnam and Lao PDR and Coordinator of the Mekong Hub, explained that the MKLF will serve as a platform for creating partnerships in learning and developing solutions that will serve the interests of both rural producers and agri-food enterprises. It should also help provide a better understanding of the limitations, challenges, and opportunities of the partnerships between smallholder farmers, the private sector, and the public sector or governments. He also encouraged the participants to focus on establishing value chains that are more prosperous, inclusive, environmentally sustainable, and climate change resilient.
SEARCA representatives participated in the sessions that focused on the stakeholders' perspective on the partnerships among producers, financial sectors and agribusiness groups, showcase of agribusiness and financial models and innovations in the Mekong region and the Philippines, and discussions on various mechanisms for engagement with the private sectors. The group also joined the learning visit to successful agribusiness in Thailand and learn from concrete examples of existing public-private-producer partnerships in the country. This opportunity to learn from existing workable models of partnerships are good case examples for SEARCA for shaping the approaches in building the capacity of ASEAN member states on agriculture and rural development.
More than 100 participants from various IFAD offices, loan and grant projects, and other partner institutions attended the event. The 3rd MKLF is being proposed to be hosted by the Philippines in 2020.