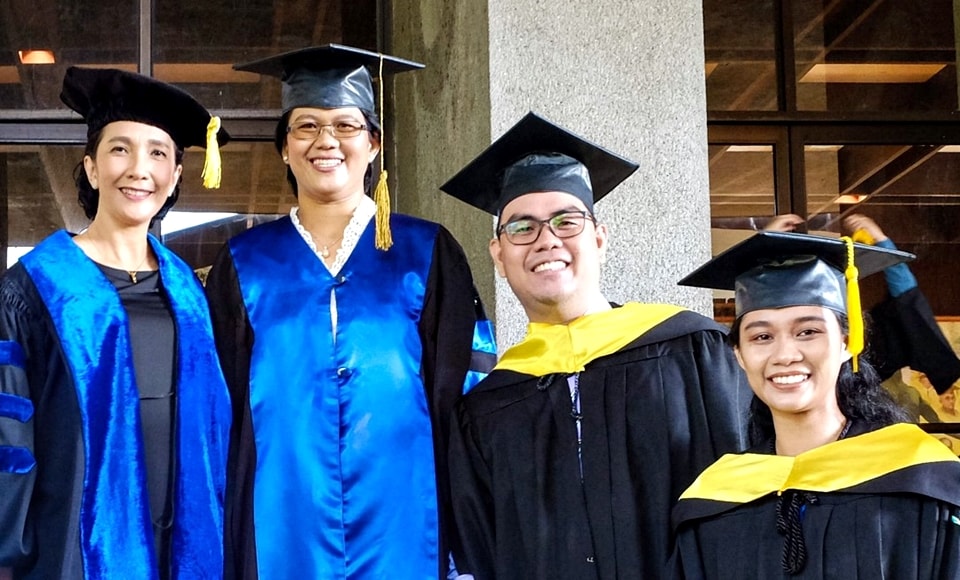 SEARCA scholars during their graduate recognition and hooding ceremony at the University of the Philippines Los Baños.
SEARCA is now accepting online applications for the AY 2021-2022 Full MS/PhD Scholarship. Since AY 1968-1969, a total of 1,737 Full MS/PhD scholarships have already been granted by SEARCA to nationals of SEAMEO member countries, namely: Brunei Darussalam, Cambodia, Indonesia, Lao People's Democratic Republic, Malaysia, Myanmar, the Philippines, Singapore, Thailand, Timor-Leste, and Vietnam.
This scholarship program aims to enhance human resource capacity in agriculture and create agents of change and thought leaders that will transform the landscape of agricultural and rural development in the region. As SEARCA enters its 11th Five Year Plan (FYP), the scholarship will connect students, professionals, scientists, executives, teachers, and progressive farmers to partner universities and research institutes to pursue graduate studies and professional learning in fields significant to the Sustainable Development Goals (SDGs). Graduate studies may be taken at Institut Pertanian Bogor (IPB) in Bogor, Indonesia, Kasetsart University (KU) in Bangkok, Thailand, Universitas Brawijaya (UB) in Malang, Indonesia, Universitas Gadjah Mada (UGM) in Yogyakarta, Indonesia, Universiti Putra Malaysia (UPM) in Serdang, Selangor, Malaysia, and University of the Philippines Los Baños (UPLB) in Los Baños, Laguna, Philippines.

Notable SEARCA Alumni: Recipients of the Outstanding SEARCA Scholarship Alumni (OSSA) and Emerging Leaders in Transition Economies (ELITE) award. (L-R) Dr. Seng Mom (ELITE Awardee from Cambodia), Dr. Phan Hieu Hien (OSSA Awardee from Vietnam), Prof. Dr. Musliar Kasim (OSSA Awardee from Indonesia), Dr. Generoso G. Octavio (OSSA Awardee from the Philippines), Prof. Dr. Ir. Mochammad Maksum (OSSA Awardee from Indonesia), Dr. Naomi Tangonan (OSSA Awardee from the Philippines), Representative of Prof. Dr. Mahiran Basri (OSSA Awardee from Malaysia), Dr. Lucrecio L. Rebugio (OSSA Awardee from the Philippines), Dr. Klanarong Sriroth (OSSA Awardee from Thailand), Dr. Chya Suthiwanith (OSSA Awardee from Thailand), Dr. Segfredo R. Serrano (OSSA Awardee from the Philippines), Dr. Delfin J. Ganapin, Jr. (OSSA Awardee from the Philippines), and Mr. Agustinho Da Costa Ximenes (ELITE Awardee from Timor Leste).
Areas of specialization and planned thesis research of prospective scholars should also be aligned with the theme of the 11th FYP on Accelerating Transformation Through Agricultural Innovation (ATTAIN) and its priority areas on agri-business models for increased productivity and income, sustainable farming systems and natural resource management, food and nutrition security, transformational leadership for agriculture and rural development (ARD), gender and youth engagement in ARD, enhanced ARD towards climate resilience, and eco-health/one-health applications to ARD.
Successful applicants who will be granted the scholarship are entitled to tuition and other school fees, travel allowance, thesis/dissertation support, book, and supplies allowance, health insurance, and stipend. Information on the application procedure and timeline of scholarship recruitment is detailed here. Other scholarship grants offered by SEARCA and its partner institutions include the PhD Research Scholarship, NTU-SEARCA Joint MS Scholarship for Global ATGS, BulSU-SEARCA Joint Scholarship, Tokyo NODAI-SEARCA Scholarship, UPM-SEARCA Scholarship, Agropolis Fondation-SEARCA Joint Scholarship, DAAD-SEARCA Scholarship, PCC-SEARCA Scholarship, and NU-SEARCA Scholarship.