The Southeast Asian Regional Center for Graduate Study and Research in Agriculture (SEARCA) met with its key partners in Oriental Mindoro last 13 -14 July 2022 to discuss collaborative activities in support of the province's calamansi industry. The SEARCA team was composed of Dr. Pedcris M. Orencio, Program Head; Ms. Bernice Anne D. De Torres and Ms. Anna Gale C. Vallez, Program Specialists; and Ms. Pauline D. Gonzales, Program Associate, all of the Research and Thought Leadership Department (RTLD). They were joined by Engr. Luther John Manuel, Software Developer and Assistant Professor from the University of the Philippines Los Baños (UPLB).
Ms. De Torres, on behalf of SEARCA, presented the proposed Calamansi Roadmapping Exercise to the Oriental Mindoro Provincial Agriculture Office (PAgO). She provided an overview of the roadmapping process to be undertaken as well as the proposed roles and activities which include a series of multistakeholder consultation workshops.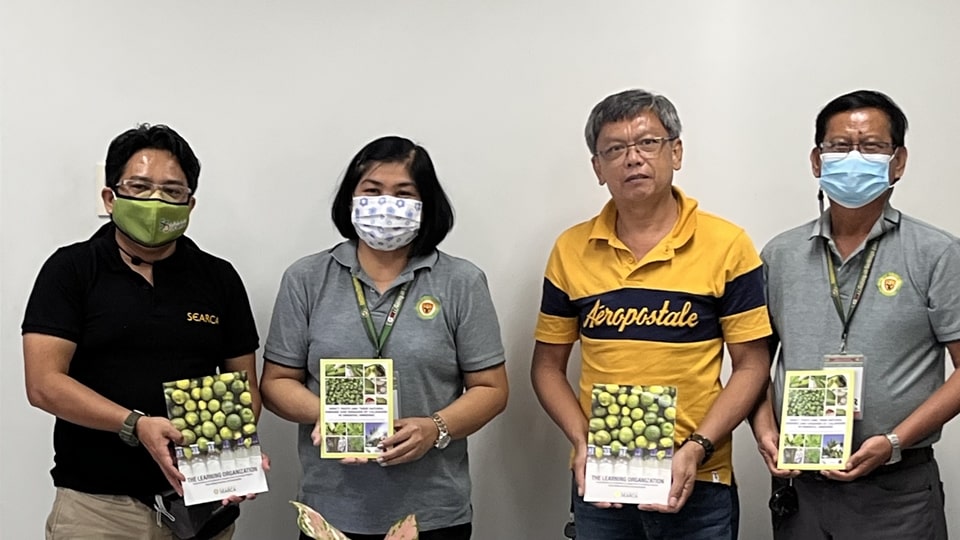 Various agencies involved in calamansi production, processing, and marketing are expected to participate in the workshops. PAgO will be putting together a roadmapping team that would lead the development of the commodity provincial roadmap. The meeting was attended by Ms. Christine M. Pine, Provincial Agriculturist; Ms. Sharmaine B. Cruzado, Agricultural Technologist; and Ms. Charito J. Manongsong, Provincial High Value Crops Development Act (HVCDP) Coordinator.
Dr. Orencio led the discussion with the Mindoro State University (MinSU) regarding the development of an automated sorting machine which aims to shorten the processing time of calamansi-based products and minimize possible postharvest losses due to manual sorting and handling. A biodigester will also be developed to reduce wastes from calamansi processing (e.g., calamansi peels and rind). These activities are being coordinated by RTLD in collaboration with the Emerging Innovation for Growth Department (EIGD). MinSU was represented by Dr. Christian Anthony C. Agutaya, Vice President for Research, Development, and Extension; Mr. Macario Masagca, Director for Research; and Ms. Flordemae V. Ines, Instructor I. Mr. Ruel A. Sanchez, President of the Victoria Kalamansi Farmers Federation (VKFF) was also present during the meeting.