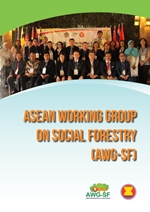 Click to download ASEAN Working Group on Social Forestry (AWG-SF) flyer
SEARCA awarded ASRF travel grants to Dr. Ei Ei Swe Hlaing of Myanmar and Mr. Ricky Alisky Martin of Malaysia for their participation in the CSO Forum and Agroforestry Conference on 25 June 2018 and 26 June 2018, respectively. Dr. Ei Ei will present two papers, namely, "Experience of National Multi-stakeholder Social Forestry Working Groups in Myanmar" and "Potential Developments and Initiatives inSmall holder/community-based NTFP Enterprises and Market Support". Mr. Martin, on the other hand, will present his paper titled "Tagal System in Social Forestry". SEARCA will co-moderate various sessions in the forum and conference.
The ASEAN Swiss Partnership on Social Forestry and Climate Change (ASFCC) served as co-organizer of the Agroforestry Conference. SEARCA, as one of the ASFCC partners, supported the participation of Dr. Wilfredo M. Carandang, University of the Philippines Los Baños (UPLB) Professor, as resource person for the plenary session on Agroforestry for resilience and disaster risk management; and of Dr. Adisti Permatasasi Putri Hartoyo, Bogor Agricultural University (IPB) Lecturer, as resource person for the parallel session on Capacity development priorities for agroforestry development.
As a side event of the 12th AWG-SF Annual Meeting, SEARCA will host a meeting of the ASRF Program Steering Committee (PSC) on 26 June 2018. SEARCA representatives will present the Operational Report for 2017 and updates on 2018 activities to the PSC, whose members consist of selected AMS representatives, the SEARCA Director, theASFCCSenior Advisor, SDC representative, AWG-SF secretariat, and ASEAN Secretariat representative.AFC partners and other AMS representatives will be invited as observers for this year's meeting. The ASRF Sustainability Plan (Business Plan) will also be presented in the meeting to generate inputs and recommendations from participants.
The Center will be represented by Dr. Bessie M. Burgos, Program Head for Research and Development; Ms. Carmen Nyhria G. Rogel, Program Specialist; Ms. Amy M. Lecciones, ASRF Regional Program Coordinator; and Mr. Xyrus Godfrey B. Capiña, Project Associate; all from Research and Development Department. (Xyrus Godfrey B. Capiña)