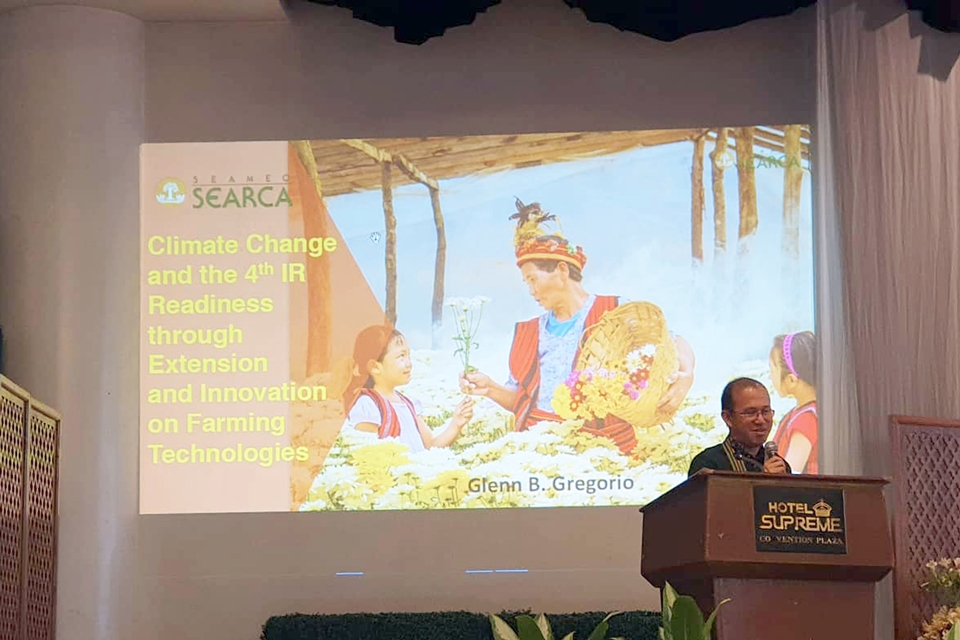 BAGUIO CITY, Philippines – Dr. Glenn B. Gregorio, Director of the Southeast Asian Regional Center for Graduate Study and Research in Agriculture (SEARCA), delivered the keynote address at the 33rd Anniversary celebration of the Department of Agriculture-Agricultural Training Institute-Cordillera Administrative Region (DA-ATI-CAR) on 30 January 2020. The theme was "Vibrant Agriculture and Fishery Extension Towards Masaganang Ani at Mataas na Kita."
In his keynote address titled "Climate Change and the 4th IR Readiness through Extension and Innovation on Farming Technologies," Dr. Gregorio emphasized that SEARCA is working with partners such as ATI to make a difference in agriculture in Southeast Asia and in the Philippines in particular.
"We don't just need a hero now, what we need are partners," Dr. Gregorio declared.
He talked about SEARCA's partnership with ATI-CAR in implementing the International Fund for Agricultural Development (IFAD)-funded project "Supporting Smallholder Farmers in Asia and the Pacific Region through Strengthened Rural Advisory Services (SAAS)" from June 2016 to February 2020. The project aims to empower smallholder farmers through access to effective and demand-driven agricultural advisory services.
Dr. Gregorio also shared SEARCA's strategic plan in the next five years starting July 2020, explaining that at the very heart of it is its key strategy to transform the agriculture sector by changing the farmers' mindset to that of "agripreneurs" through the use of technologies and engaging SEARCA's key partners, such as extension workers from ATI and local and national government leaders, in bridging science and technology to the farmers.
"Agriculture must be treated as a business and that it must be market-centric," he stressed.
"We need extension people to explain newly developed technologies, including upgraded breeds of crops, and to be catalysts in changing the farmers' mindset," Dr. Gregorio reiterated.
SEARCA also presented ATI-CAR with its newly launched publications, namely: "Gender Dimensions of Climate Change Research in Agriculture" and "Compendium of Climate-Resilient Agriculture Technologies & Approaches in the Philippines."
With Dr. Gregorio were Ms. Adoracion T. Robles, SEARCA Unit Head for Management Services, and Ms. Sarah Grace L. Quinones, Project Coordinator, Project Development and Technical Services.