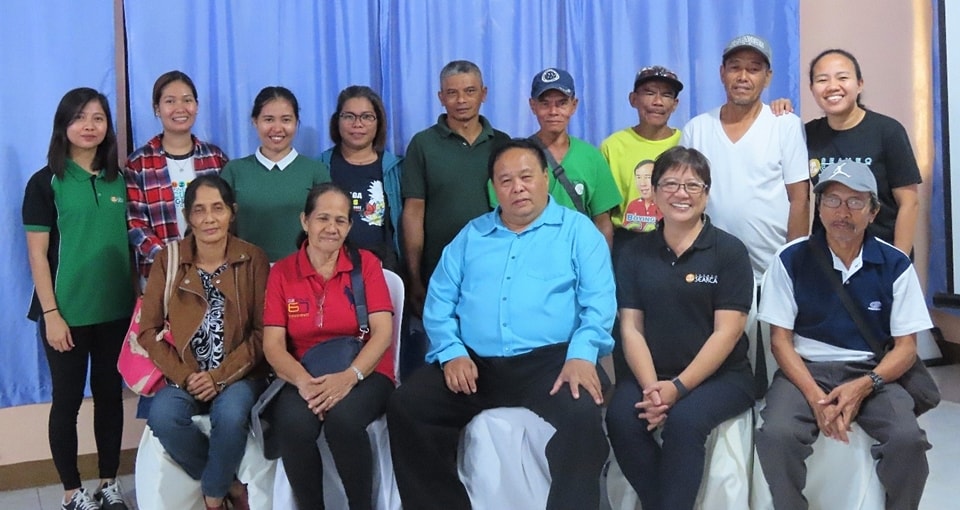 ISARD partners gathered at Visayas State University for the stakeholders meeting.
ORIENTAL MINDORO AND LEYTE – Now on its wrap up stage, SEARCA's project titled Piloting and Up-scaling Effective Models of Inclusive and Sustainable Agricultural and Rural Development visited its two pilot sites in Inopacan, Leyte and Victoria, Oriental Mindoro on 12-15 and 18-19 November 2019, respectively. The activity was held in preparation for the writing of the project guidebook. It was led by Dr. Jose R. Medina, ISARD Overall Program Coordinator; Dr. Jose R. Bacusmo, Leyte On-Site Coordinator; Dr. Ma. Conception Mores, Mindoro On-Site Coordinator; and Dr. Lily Ann Lando, ISARD Guidebook Writer. Ms. Donna Bae N. Malayang, Program Associate and Ms. Ruth Jazrel M. Bandong, ISARD Project Associate, both from the Research and Development Department (RDD) also joined the visit.

Dr. Lily Ann Lando, ISARD Guidebook Writer, interviewing the farmers groups in Inopacan Leyte (left) and Victoria, Oriental Mindoro (right).
Dr. Lando facilitated the discussions with the stakeholders involved during the project implementation composed mainly of representatives from farmers groups, SUCs, and LGUs in both pilot sites. She gathered information that are relevant and useful in writing the guidebook, as supplementary to the existing project documents and reports. In Leyte, partners from Visayas State University (VSU), farmers associations such as Hinabay Upland Farmers Association (HUFA), Hinabay Women Workers Association (HIWWA), Inopacan Jackfruit Farmers Association (IJFA), and the Inopacan municipal mayor were interviewed. Meanwhile, in Oriental Mindoro, partners from Mindoro State College of Agriculture and Technology (MinSCAT), Victoria Kalamansi Farmers Federation (VKFF), Victoria Municipal Agricultural Office (MAO), and Oriental Mindoro Provincial Agricultural Office (PAgO) were also asked about the project.

Demonstration farms in Inopacan, Leyte.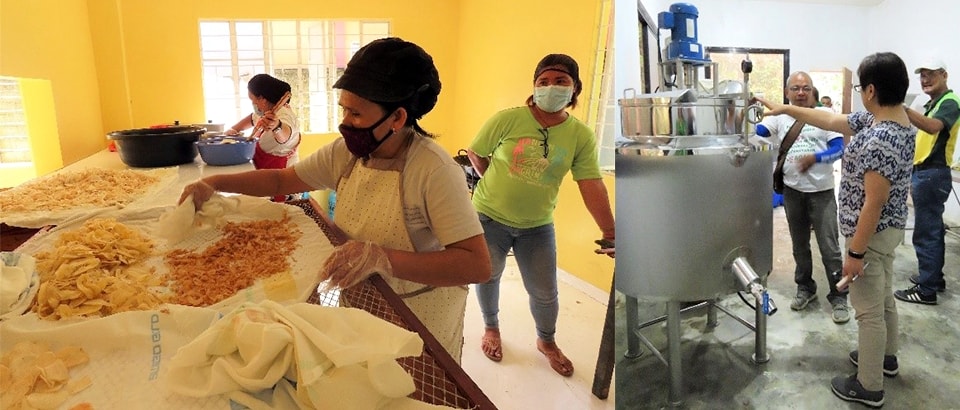 Processing facilities in Inopacan, Leyte (left) and Victoria, Oriental Mindoro (right).
The ISARD project has conducted activities and gained significant outputs and outcomes anchored on its four components – technical assistance, capacity building, knowledge management, and linkaging and networking. The development strategies coupled with the strong partnerships built and employed have contributed greatly to the success of the project. Hence, SEARCA deemed it important to identify and document the lessons learned in implementing good practices and innovative approaches that contribute to the program's success. The research outputs, lessons learned, challenges and recommendations will be collated and produced into a guidebook for scaling up across different crops and commodities and in other geographies. Using the two sites as case examples, the ISARD Guidebook will be an aid to universities, local government units, and other development organizations interested in introducing and deploying effective models of inclusive and sustainable agriculture and rural development to their community.