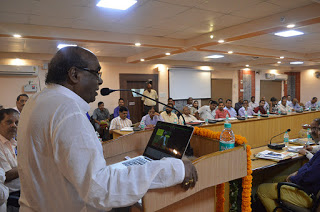 "Odisha is a natural reservoir of diverse rice germplasm that has helped to feed millions of people across the region," said Dr. Damodara Rout (photo), Odisha's minister of agriculture, who inaugurated the workshop. "It is a great opportunity for national scientists to utilize this rich heritage of germplasm for developing potentially viable and economical rice varieties best suited to local ecologies. It will ultimately lead to food sufficiency and security, not only in the state but to the region and nation as well."

Participating were more than 100 agriculture scientists, extension officials, and policymakers representing government departments, national research institutions, universities, public-private organizations, and IRRI.

Dr. Rout went on to say, "Proven technologies developed by IRRI and national partners and critical intervention through various programs can usher in another Green Revolution in the state and country." The minister released a manual and a pictorial calendar on the production of quality seed.
In addition to Dr. Rout as chief guest, other participating dignitaries included Mr. Manoj Ahuja, principal secretary (agriculture); Dr. Surendranath Pasupalak, vice chancellor of Odisha University of Agriculture and Technology (OUAT); Mr. Hari Ballav Mishra, director, Agriculture and Food Production, Government of Odisha; and Dr. Uma Shankar Singh, coordinator for South Asia region, Stress-Tolerant Rice Program, IRRI.

Mr. Ahuja acknowledged the contribution of IRRI in developing stress-tolerant rice varieties which are performing exceptionally well under climate change adversities such as flooding, drought, and salinity. Mr. Mishra assured that his department will offer the best conducive environment for implementing modern technologies at the grass root level and harness the full potential of modern technologies for improving the rice productivity and enhancing the livelihood of farmers in the state.

"IRRI has been working with Odisha's department of agriculture for almost one decade," said Dr. Singh. "The collaboration has resulted in the promotion and dissemination of climate-resilient technologies and high-yielding modern rice varieties to improve and stabilize the productivity of the state's stress-prone areas." Dr. Singh added that, "The Odisha-IRRI program is a landmark initiative that, among others, is looking at strengthening the seed system, rice crop management, capacity building, and crop monitoring using remote sensing to develop crop insurance. These components are working in tandem to enhance the state's rice and rice-based cropping systems."

IRRI has established linkages with, among others, Odisha University of Agriculture and Technology (OUAT), National Rice Research Institute (NRRI), Central Institute for Women in Agriculture (CIWA), and several public and private partners and NGOs for collaborative research and technology dissemination. Private entrepreneurs have a larger role to play in the years to come to augment the public sector so that seed production and rice cultivation can be made more market- and value chain-oriented.
Source: International Rice Research Institute (IRRI) | 8 June 2017