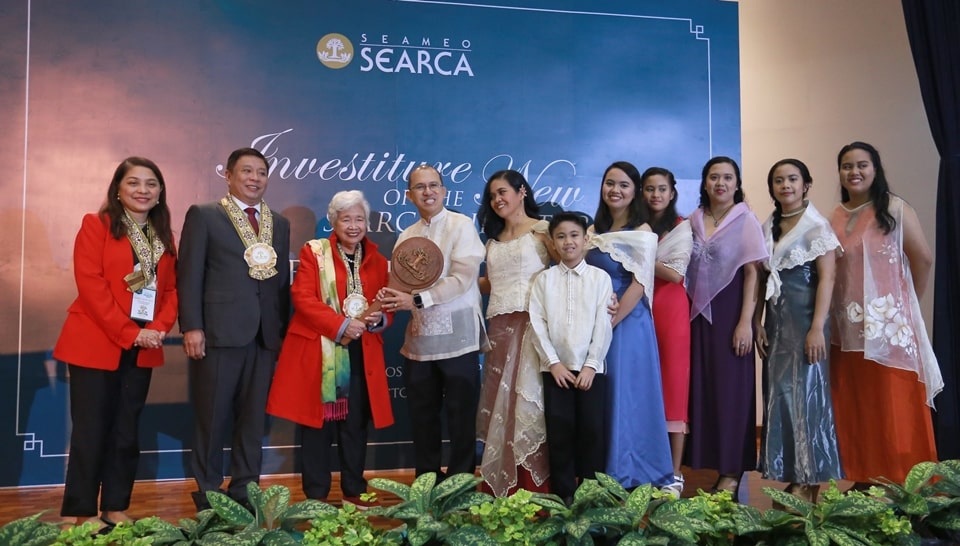 The newly installed Director of the Southeast Asian Regional Center for Graduate Study and Research in Agriculture (SEARCA) envisions the Center's strategic role in pushing for inclusive innovation and academe-industry-government interconnectivity towards Agriculture 4.0 and achievement of the Sustainable Development Goals (SDGs).
SEARCA held investiture rites for Dr. Glenn B. Gregorio as the 11th SEARCA Director presided by Philippine Education Secretary Leonor M. Briones on 28 October 2019 at the Center's headquarters in Los Baños, Laguna, Philippines.
A distinguished rice scientist and Academician of the National Academy of Science and Technology (NAST) of the Philippines, Dr. Gregorio is also currently a Professor at the University of the Philippines Los Baños (UPLB). He brings to SEARCA his wide experience from three decades of work with the International Rice Research Institute (IRRI) and later as the global lead of breeding programs of the East-West Seed Company, Inc.
Dr. Gregorio assumed office as SEARCA Director in May 2019 and has since led the Center in crafting its strategic plan for the next five years, from 2020 to 2025.
In her keynote address, Secretary Briones affirmed that she supports the focus of SEARCA's 11th Five-Year Plan on strengthening academe-industry-government interconnectivity, agricultural innovations, and market-driven agribusiness development in the Philippines and the rest of the Southeast Asian region "to modernize the agricultural sector, encourage the participation of smallholder farmers, and partner with development aid organizations—and, for us in the Department of Education (DepEd), to promote agriculture by integrating it in basic education programs."
To elevate the quality of life of agricultural families through sustainable and resilient livelihoods and access to modern networks and markets, Dr. Gregorio explained that SEARCA commits to contribute and allocate resources for the achievement of SDG 2 - Zero Hunger; SDG 4 - Quality Education, SDG 9 - Industry Innovation and Infrastructure, SDG 13 - Climate Action, and SDG17 - Partnerships.
He added that "in doing so, SEARCA tangentially contributes to SDG 1- No Poverty, SDG 5 -Gender Equality, and SDG 12 - Responsible Consumption and Production."
"In order to do so, SEARCA will strategically and intentionally pursue policy, institutional, social, and technological innovation by and with their partners over time. It will develop platforms that can deliver its strategic outcomes which are significantly better, bigger, and smarter," Dr. Gregorio affirmed.
Hosted by the Philippine government on the campus of UPLB, SEARCA is one of the oldest specialist institutions of the Southeast Asian Ministers of Education Organization (SEAMEO). SEARCA was founded in 1966 to serve the agricultural and rural development needs of Southeast Asian countries through graduate education and training, research, and knowledge dissemination.
The Bangkok-based SEAMEO Secretariat was represented by Dr. Ethel Agnes Pascua-Valenzuela, SEAMES Director, who is also a member of the SEARCA Governing Board. She expressed confidence in Dr. Gregorio's leadership and urged SEARCA's allies to continue to support the Center under his watch.
"SEARCA has contributed in no small measure to the development of the region in the last 50 years, for which it has earned the trust and respect of major development partners, donors, and stakeholders alike, among which we count our resource poor farmers," Dr. Fernando C. Sanchez, Jr., UPLB Chancellor and Country Representative of the Philippines to the SEARCA Governing Board, said as he welcomed the guests to the investiture.
He added that "as one of the study post of SEARCA's scholars from across Southeast Asia, [UPLB has] seen the unprecedented success and accomplishments of the Center through its more than 1,800 graduate scholarship alumni spread across the region, many of whom have gone on to occupy or have occupied high positions of responsibility in government, academe, and other important international and national institutions. In fact, some have risen to become Ministers, Deputy Ministers, Members of Parliament and Cabinet, Rectors and Presidents of universities, and other prestigious positions in their respective chosen careers."
Among the hundreds of guests who witnessed Dr. Gregorio's investiture were the Lao Ambassador Songkane Luangmuninthone, Thai Ambassador Vasin Ruangprateepsaeng, and French Ambassador Nicolas Galey, and representatives of the embassies of Australia, Brunei Darussalam, Indonesia, and Vietnam in the Philippines. Other guests were national scientists, NAST Academicians, UPLB officials, the Los Baños scientific community, the press, and the many partners of SEARCA from across and outside Southeast Asia in its work for agricultural and rural development. Also in attendance are the Country Representatives of Brunei Darussalam, Cambodia, Lao PDR, Malaysia, Thailand, Timor-Leste, and Vietnam to the SEARCA Governing Board; as well as SEARCA staff, scholars, and former Directors and other officials.