The meeting was attended by Nagoya University professors led by Dr. Akira Yamauchi, Director of the International Cooperation Center for Agricultural Education (ICCAE) and Professor of the Graduate School of Bioagricultural Sciences. SEARCA was represented by its Director, Dr. Gil C. Saguiguit, Jr.; Program Heads; Project Development and Technical Services Head; its Senior Fellow for Food Safety Dr. Maria Concepcion Lizada; Dr. Jose L. Bacusmo University Professor and Director for Research, Visayas State University; and other selected staff.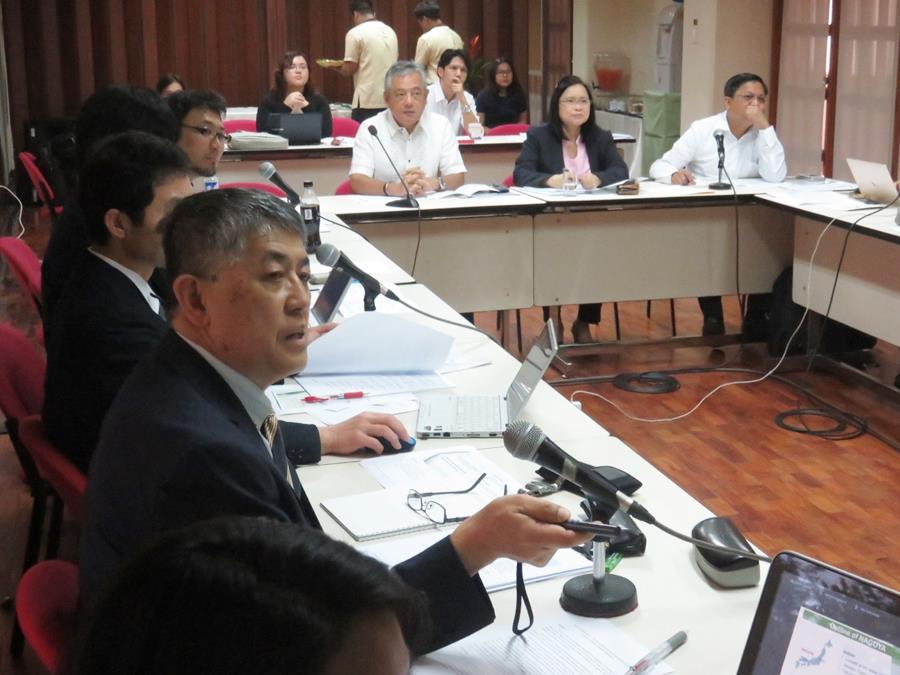 Dr. Saguiguit and Dr. Yamauchi started the workshop by introducing the strategic thrusts of SEARCA and NU, respectively, and by giving a brief historical background on the NU-SEARCA MOU. Dr. Bessie M. Burgos, Program Head for Research and Development, discussed the proposed framework of collaboration with emphasis on the objectives, desired development outcomes, and parameters and principles of collaboration, as well as its programmatic focus, thematic areas and integrated components. In general, NU and SEARCA agreed to focus the collaboration on "Strengthening Food and Nutrition Security under Conditions of Climate Change and Changing Food Demand in Southeast Asia." They tentatively identified the following as the priority thematic areas: sustainable production systems, climate-smart agriculture, food safety and quality assurance, agrobiodiversity, and models for community development by linking extension and education.
During the workshop, SEARCA presented a line-up of potential projects on risk-based food safety systems; research and capacity building towards the development of jackfruit industry in Inopacan, Leyte; mainstreaming biodiversity in agriculture; and academic exchange for graduate education in agriculture and natural resources. NU, on the other hand, presented concept notes on different researchable areas including joint research on plant protection and abiotic stress tolerance of crop plants; strengthening food security and nutritional improvement through interdisciplinary approach; developing model of feeding management for the improvement of dairy farming systems; forming new academic platform to develop tropical dairy science as research field in Southeast Asia; rice production improvement in problem soils under climate change; and efficient nitrogen and carbon recycling using locally available resources in rice-based culture.
NU and SEARCA agreed to further develop the framework of collaboration and tap researchers who would be interested in working on different projects in relation to the thematic areas.
Dr. Yamauchi acknowledged SEARCA 's efforts in organizing the workshop. He expressed hope that through the Center's assistance and network in Southeast Asia, NU will be able to expand research and capacity building activities in the region. On the other hand, Dr. Saguiguit conveyed SEARCA's gratitude to the NU delegation for coming over to Los Baños for the workshop and emphasized the importance of communication towards successful project formulation and implementation. (Maria Katrina R. Punto)

Dr. Gil C. Saguiguit, Jr. welcomes the participants of the Nagoya University-SEARCA workshop.