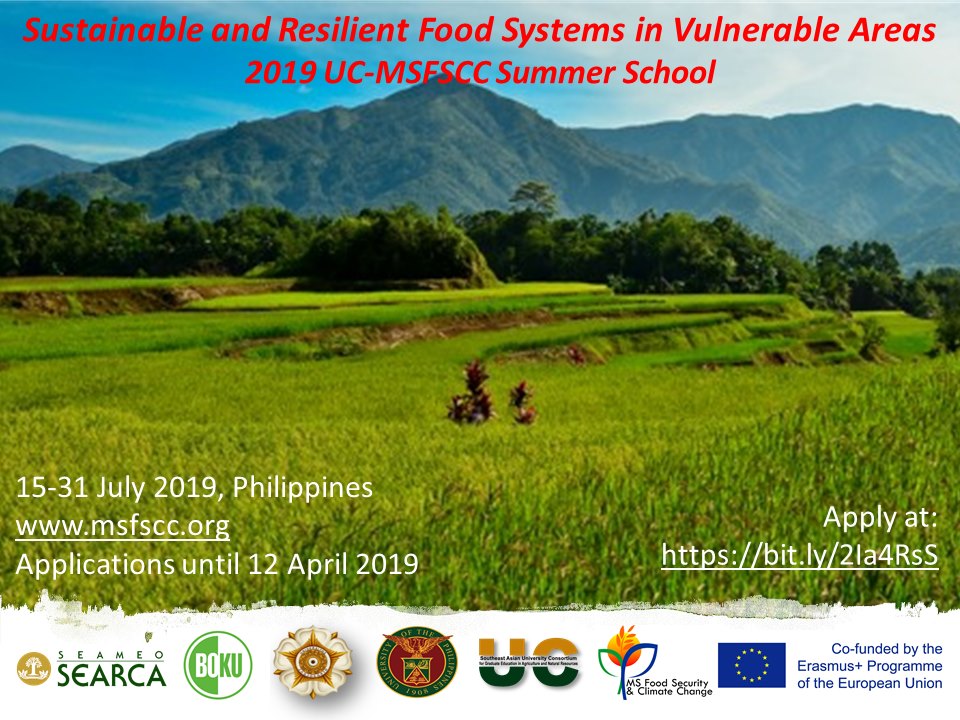 The Call for Applications for the 2019 MSFSCC Summer School and one-semester mobility is now open. Deadline for applications is 12 April 2019.
The Joint Master program in Food Security and Climate Change (MSFSCC) is a project of the Southeast Asian University Consortium for Graduate Education in Agriculture and Natural Resources (UC) being led by Kasetsart University in Thailand. It was awarded funding for three years effective October 2016 by the ERASMUS+ program under its Capacity Building for Higher Education component. The MSFSCC project aims to establish a joint master program within the UC that would build capacities of individuals working to address the twin issues of food security and climate change. The ERASMUS + funding supports the participation of students in the Summer School and a one-semester mobility.
The 2019 Summer School is a pilot offering of one of the four newly established coreMSFSCCprogram courses titled Assessment of Sustainability in Agriculture Production and Food Processing Systems. It is a 2-credit course scheduled from 15 to 31 July 2019 that will be offered by the University of the Philippines Los Baños (UPLB) and is organized jointly with the University of Natural Resources and Life Sciences, Vienna (BOKU), Universitas Gadjah Mada (UGM), and SEARCA. The course provides a venue for the students to level-off their understanding of the inter-linkages among food security, climate change and sustainable production, and experience active learning with international and interdisciplinary team on holistic assessment of farming systems sustainability. The course will discuss theories, methods, and practices to understand and facilitate transitions in natural resources management. This includes the identification of appropriate entry points and the design of facilitation measures to accompany complex social, ecological, and economic transitions. Students learn how to assess the diversity of farming systems and rural livelihoods, how to accelerate change, and how changes at practical level correspond with the relevant institutions and policies. This year, the field work will be done at Camarines Sur, Philippines.
Applicants who are ongoing Master students from any of the MSFSCCproject partners in Southeast Asia that could proceed to a one-semester mobility to any of the UC partners will be given priority. For more details about the MSFSCCproject, see http://msfscc.org. Online application may be accessed at https://bit.ly/2Ia4RsS.