"As Thailand's leading university in agriculture and natural resources, we understand how important climate change and food security is, and everyone in this University need to take that into consideration, especially in support of the sufficiency economy, which is now the priority of His Majesty."
This was underscored by Dr. Chongrak Wachrinrat, Acting President of Kasetsart University, as he opened the 2016 Summer School on 25 July 2016. For the first time, the roving summer school supported by the Food Security Center (FSC) of the University of Hohenheim (UHOH), Germany is merged with the summer school implemented by the Southeast Asian University Consortium for Graduate Education in Agriculture and Natural Resources (UC).
Despite being considered as the Kitchen of the World, Dr. Chongrak pointed out that many Thai farmers remain poor. "This means a lot of things still need to be done," according to the KU President.
For its first week, the summer school will focus on climate change and aquaculture with Dr. Sukkrit Nimitkulat from KU's Faculty of Fisheries as resource person. On the other hand, Dr. Jean Rust from Dohne Agricultural Development Institute, South Africa will discuss how climate change affects livestock production on the second week. The final week will dwell on climate smart agriculture to be facilitated by Dr. David Reiser of UHOH.
"Kasetsart University and SEARCA has had a long and strong partnership both at the level of the UC and as strategic partners of FSC. KU initially hosted the FSC Summer School in 2012, which SEARCA also hosted in 2013. Recognizing the value of bringing together students from different countries to learn from experts, share experiences and develop networks, SEARCA conducted its own Summer School in 2014. This was eventually adopted by the UC as another venue to collaborate among its members," remarked Dr. Maria Cristeta N. Cuaresma, SEARCA's Program Head for Graduate Education and Institutional Development.
KU and SEARCA are both founding members of the UC, which was established in 1989. On the other hand, KU and SEARCA are the Asian partners of the FSC since its first phase started in 2009. The project is now on its second phase.
Among the participants of the summer school are eight graduate students from four other UC member universities, namely, Institut Pertanian Bogor, Universitas Gadjah Mada, Universiti Putra Malaysia, and the University of the Philippines Los Baños. SEARCA, through its Institutional Development Assistance Program, is supporting six participants from Yezin Agricultural University in Myanmar, Royal University of Agriculture in Cambodia, and Savannakhet University in Lao PDR.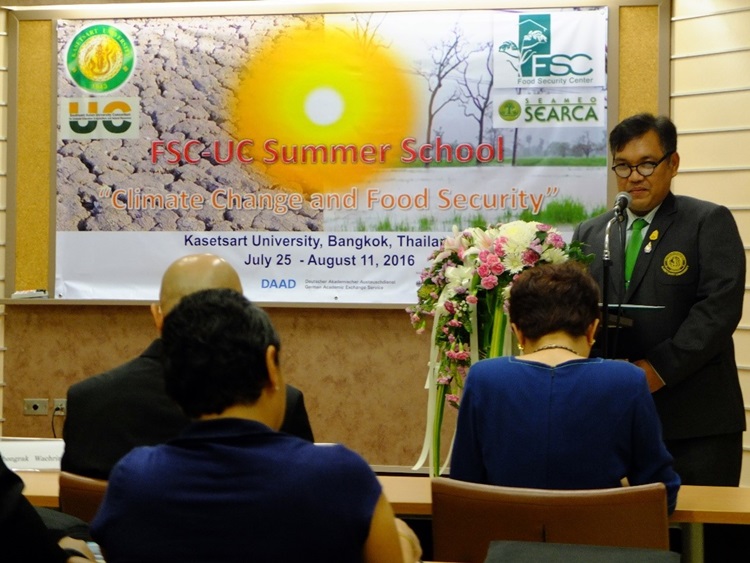 Dr. Chongrak welcomes participants to Kasetsart University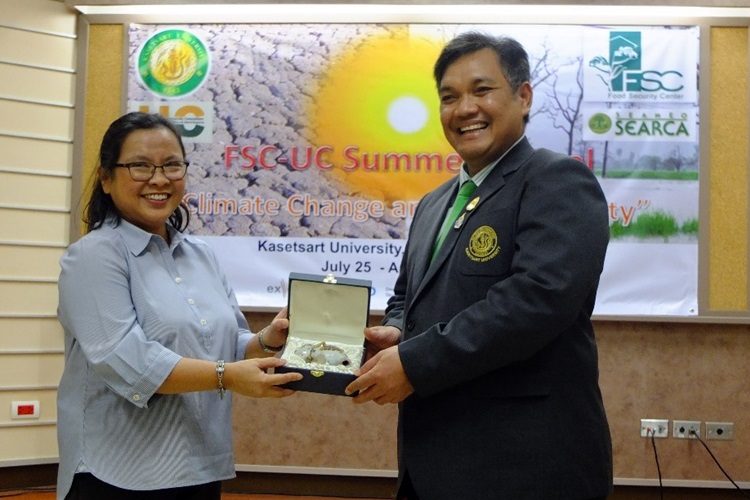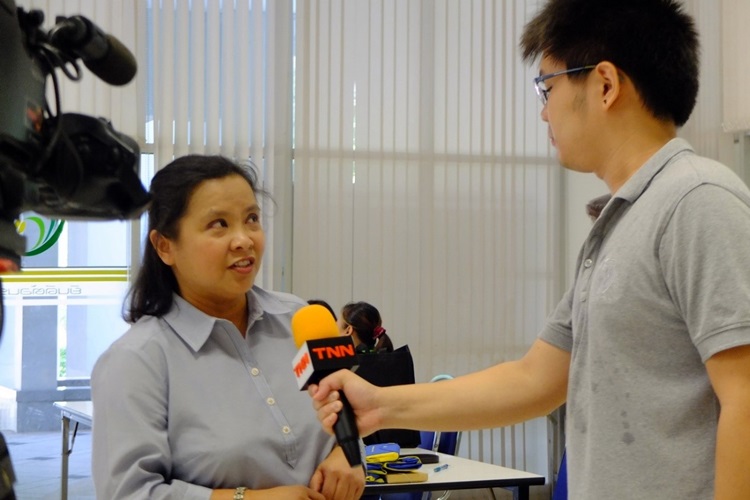 Thai News Network (TNN24) interviews Dr. Cuaresma after the Summer School opening program.