With the theme "Leveraging the Multi-functionality of School Gardens", the international conference was organized by SEARCA in partnership with the University of the Philippines Los Baños (UPLB), the Department of Education (DepEd)-Division of Laguna, Philippines, and the International Institute of Rural Reconstruction (IIRR). It aimed to serve as a venue for sharing the different models and approaches of school gardens within and outside the Southeast Asian (SEA) region.
In his Welcome Remarks, SEARCA Director Dr. Gil C. Saguiguit, Jr. highlighted the importance of school gardens in providing simple yet effective solutions to address malnutrition and nutrient deficiencies, which can lead to poor academic performance among school-aged children. School gardens do not only address the children's nutrition. As Dr. Saguiguit said, "Simple school gardens can make significant contributions to children's nutrition and to some extent, food and nutrition security at the community and national levels." Moreover, he noted that school gardens serve as an "innovative alternative learning facilities" where children can learn various subjects such as science, health, biology, language, and mathematics. He also emphasized that the conference is an important venue for the discussion of initiatives and models on school gardens implemented by different organizations and governments.
Dr. Bessie M. Burgos, SEARCA's Program Head for Research and Development, further discussed the objectives of the conference. Dr. Burgos emphasized that the international conference aimed to promote understanding on how school gardens in different settings can improve nutrition, education, and economic well-being of children, families, and communities.
The discussions during the conference focused on the various models and approaches, experiences, lessons, impacts, commonalities, issues and challenges, and strategies for addressing the issues on school gardens including links to nutrition, education, and home gardens, and communities.
The keynote speakers and resource persons were from the Southeast Asian Ministers of Education Organization Secretariat (SEAMES), Philippine Department of Education (DepEd), Philippine Department of Agriculture (DA), Food and Agriculture Organization of the United Nations (UN-FAO), Bioversity International, SEARCA, UPLB, IIRR, Nutrition Center of the Philippines, National Nutrition Council (NNC), SEAMEO Regional Centre for Tropical Biology (SEAMEO BIOTROP), SEAMEO Regional Centre for Food and Nutrition (SEAMEO RECFON), the Local Government Unit (LGU) of Pila-Laguna, Nepal Agricultural Research Council, and Plant Genetic Resources Center.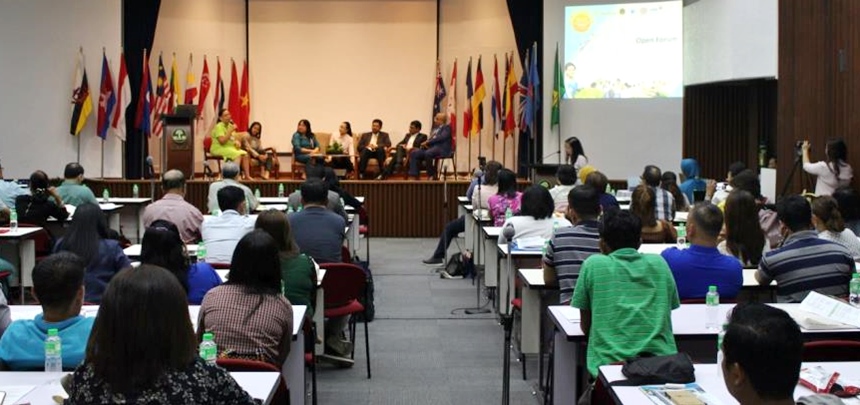 (From left to right): Dr. Fely Aminoso, Ms. Irish Baguilat, Dr. Ma. Corazon Dumlao, Dr. Bessie Burgos, Dr. Irdika Mansur, Dr. Dhruba Raj Bhattarai, and Dr. WGMG Dayawansa during Session 3 Open Forum.
The conference was organized around four (4) sessions. The first session covered the global and regional views on the multi-functionality of school gardens. The resource speakers in this session discussed how school gardens serve as a multi-disciplinary educational tool and a contribution along food and nutrition systems. It was emphasized that school garden contributes to Sustainable Development Goals 2 (Zero hunger), 4 (Quality Education) and 12 (sustainable consumption and production).
The second session was a panel discussion on the multiple dimensions of school gardens. The lessons and good practices such as the promotion of the nutritional value of biodiversity in school gardens, Linear Programming as a tool for consideration in planning and utilization of school gardens, and Life Cycle Assessment (LCA) as a prelude to the establishment of school garden were discussed in this session.
The third session presented the country experiences in the implementation of school gardens in both Southeast Asia and beyond. Some of the highlights in this session include the technical and material inputs from non-academe into school gardens such as in the Philippine GulayansaPaaralan (School Garden), Bio-Intensive Gardening (BIG) with emphasis on simple and doable practices, and the Climate-smart organic vegetable production.
The fourth session was a panel discussion on scaling up strategies and sustainability. The session considered the factors towards improving uptake of school gardens and elements that can contribute to their perpetuation. Some of the strategies mentioned include the review of the integration of school gardens into school curricula, inclusion of research and extension project proposal writing among school teachers, benchmarking on educational tools on school gardens, building evidence to influence policies, and intra- and inter-school networking.
In the overall synthesis, Dr. Normahitta P. Gordoncillo, Conference Technical Coordinator, emphasized the need to level-up and/or scale-up school garden, school and home kitchen connections given the lessons learned and keep the "fire burning" for school gardens – with hard work, passion, and dedication.
The conference is also programmed back-to-back with a Training of Trainers (ToT) on Scaling-up the School-Plus-Home Gardens Model in Southeast Asia on 18-21 April 2018. The ToT aims to discuss options for scaling up viable school garden models. It is a platform for exchanging knowledge, experiences, and success stories that aim to strengthen implementation of similar School-plus-home Garden Projects (S+HGP) currently undertaken or to be initiated in the SEAMEO member states. (Sarena Grace Quiñones)