In her paper titled "Promoting Productivity, Technology, and Innovation: Examples of Successful Community Forestry-based Enterprises in Myanmar," Dr. Win gave an overview of the ASEAN Coordinating Committee on MSME (ACCMSME) and the vision of the ASEAN Strategic Action Plan for SME Development 2016-2025 (SAP-SMED) to have globally competitive and innovative SMEs. She underscored the potential of Social Forestry (SF) as a mechanism to realize the goals and targets of SAP-SMED. She also cited the best practices of Myanmar, which revolved around four key activities: nationwide greening of dry zones and forest landscape restoration, promotion of biodiversity, mangrove rehabilitation and coastal management, and reform strategy to boost private sector investments in social forestry/community forestry.
The examples of Myanmar's successful community forestry initiatives included innovations in value-adding for traditional products like Thanaka, bamboo, palm and toddy, coconut, plum and tamarind, and organic tea.
Dr. Win also facilitated the session "Integrating Social Forestry/Community Forestry Enterprises in Micro, Small and Medium Enterprises (MSME) Plan of ASEAN: Pathway to Achieving Success." She highlighted and commended AWG-SF for initiating cross-sectoral collaboration with different ASEAN groups, particularly with ACCMSME.
Over 200 participants from government, civil society organizations, development partners, the private sector, and academic institutions in ASEAN Member States (AMS) took part in the conference, hosted by the Royal Forest Department of Thailand and co-organized by AWG-SF Secretariat and the ASEAN-Swiss Partnership on Social Forestry and Climate Change (ASFCC). SEARCA is one of the implementing partners of AWG-SF and ASFCC.
The SEARCA Travel Grants Program, which supported the participation of Dr. Win, continues to reinforce the Center's effort and resources in the promotion of inclusive and sustainable rural development toward poverty reduction in the ASEAN region. (Dr. Phyu Phyu Win)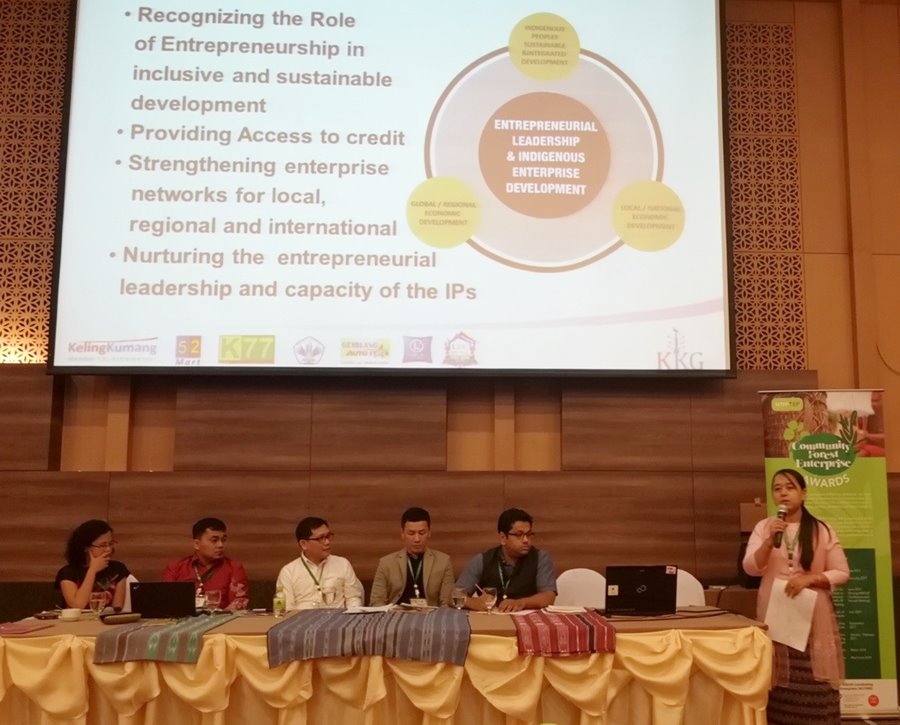 Dr. Win presents her paper entitled 'Promoting Productivity, Technology, and Innovation: Examples of Successful Community Forestry-based Enterprises in Myanmar.'