Mr. Alexis Lapiz, International Relation Specialist of CCC, said the invitation came after the successful participation of the Philippine delegation in the Targeted Topics Forum (TTF): Monitoring and Evaluation (M&E) in the NAP Process held on 7-9 February 2017 in Lilongwe, Malawi.
The NAP Global Network is funded by the United States Department of State and Germany's Federal Ministry for Economic Cooperation and Development through the IISD, which serves as the NAP Global Network Secretariat.
The TTF covered three aspects of M&E, namely: foundational issues (i.e., purpose, use and policy environment), methodological issues related to M&E of NAPs (i.e., challenges, opportunities, and ways forward), and operational issues for the design and implementation of and M&E system.
Fifteen countries were represented in the TTF, to include Albania, Brazil, Grenada, Jamaica, Kenya, Malawi, Peru, the Philippines, Togo, Japan, USA, Canada, Germany, United Kingdom, and Switzerland. The Philippine delegation was composed of Mr. Lapiz; Dr. Lope B. Santos III, Program Specialist, Project Development and Technical Services (PDTS) of SEARCA; and Ms. Carlyn Diaz of the Department of Finance.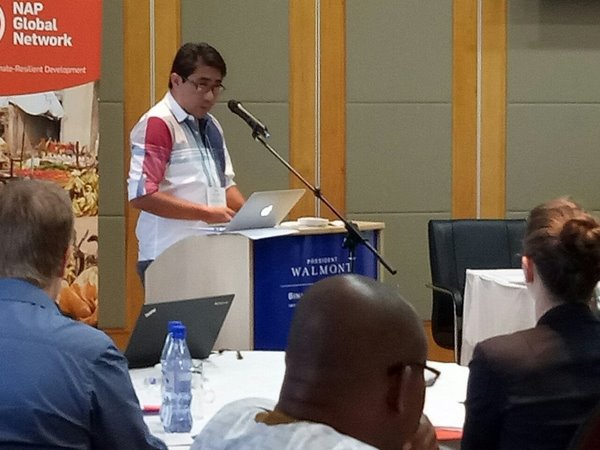 Mr. Lapiz emphasized that since last year, the Philippines, with assistance from development partners, has conducted a series of orientations and workshops on the NAP process. He added that CCC is closely working with the League of Municipalities of the Philippines in the preparation of Local Climate Change Action Plans, which is crucial in advancing the NAP process and the National Climate Change Action Plan at the local levels.
SEARCA has assisted the Philippine delegation in the preparation and presentation of the country paper on M&E NAP Process during the TTF. The Philippine delegation shared project experiences related to M&E from the two Asian Development Bank (ADB) Technical Assistance to CCC in Demonstrating Ecotown and Climate Resilience and Green Growth (CRGG) in Upper Marikina (ADB TA-8111-PH); in Lower Marikina, Camarines Sur and Davao Oriental (ADB TA-8493-PH); as well as from CCC's ecotown and CRGG demonstration in Palawan, Surigao Del Sur, and Oriental Mindoro.
In both ADB projects, SEARCA provided professional services covering baseline data analysis, greenhouse gas inventory, cost-benefit analysis of priority adaptation measures, Natural Resources Assessment, Environment and Natural Resources Accounting, CRGG Roadmap, and Local Climate Change Action Plan (LCCAP).
SEARCA has assisted 11 LGUs in the preparation of their respective LCCAP, namely: Baras, Cainta and Rodriquez in Rizal province; Milaor, Naga City and San Fernando in Camarines Sur; Banganga, Boston, and Cateel in Davao Oriental; and Quezon City and Marikina City in Metro Manila.