Dedicated to pursue enhanced agricultural and rural development (ARD) towards climate resilience that will Accelerate Transformation Through Agricultural Innovation (ATTAIN), the Southeast Asian Regional Center for Graduate Study and Research in Agriculture (SEARCA) conducted the SEARCA Online Learning and Virtual Engagement (SOLVE) webinar on "Climate Resilience Gap through Nature-Based Solutions Innovations" on 9 September 2020 through Zoom and Facebook.
Launched on 28 April 2020, the SOLVE webinar intends to provide an avenue for knowledge sharing on concrete innovative actions on the ground along SEARCA's 11th Five-Year Plan through technology-mediated social platforms that would directly benefit farmers and farming families and engage youth in agriculture and rural development. The webinar utilizes the popular online platforms Zoom and Facebook and are livestreamed to interested audiences anywhere in the world.
SEARCA's vision has brought focus to climate resilience agriculture. Through the 16th SOLVE webinar, the Center highlighted nature-based solutions innovations. Two distinguished speakers, Atty. Allan Barcena and Ms. Imelda Bacudo, were invited to share their knowledge on the topic.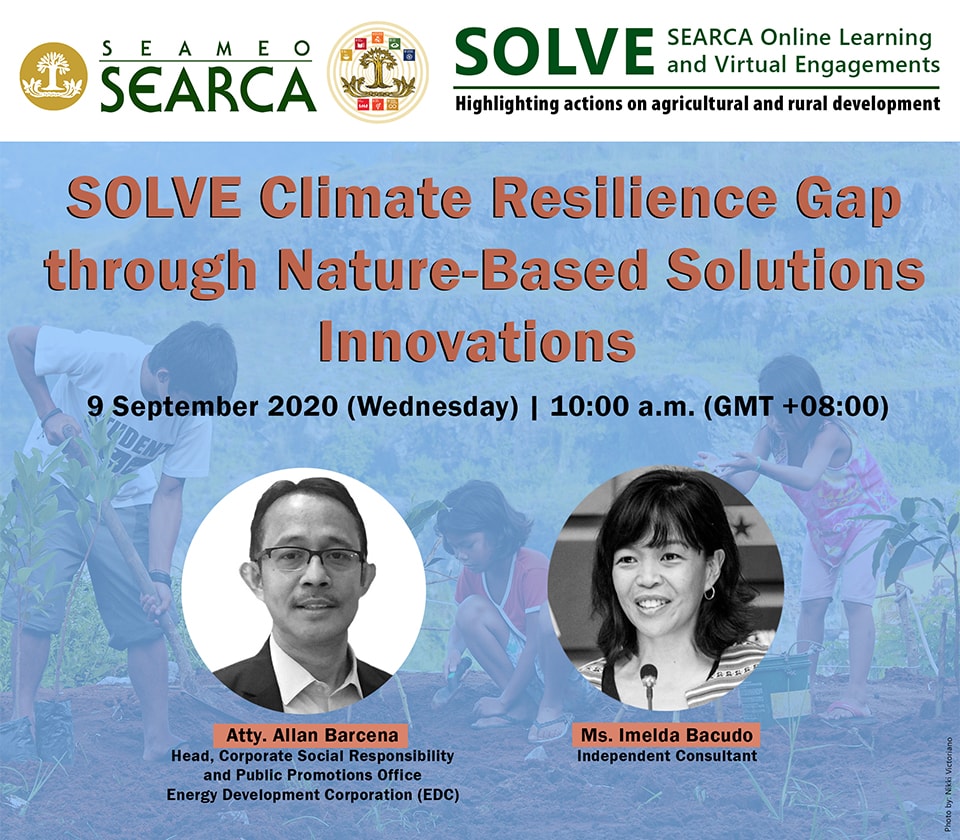 Atty. Allan Barcena, Energy Development Corporation (EDC) Head (Corporate Social Responsibility and Public Promotions Office), presented EDC's ecosystem-based watershed management programs, specifically the BINHI forest restoration program. This is in partnership with Department of Environment and Natural Resources- Ecosystems Research and Development Bureau (DENR-ERDB) and University of the Philippines Los Baños (UPLB). He reported that the program has proved to be a beneficial solution due to the increased carbon sequestration to offset carbon emissions, improved biodiversity, and sustained communities by providing livelihood opportunities, among others. He also emphasized one of the key component of the program, which is the Species Rescue Propagation and Protection of 96 threatened tree species in the Philippines.
At the end of the webinar, Atty. Barcena emphasized that "it takes a whole lot effort and collaboration to really mitigate the impact of climate change. The government cannot do it alone, so the private sector along with local government units need to take concerted effort and collaboration to really make an impact and make a difference in the fight against climate change."
Further on the promotion of climate-smart agriculture in the ASEAN region, Ms. Imelda Bacudo, an independent consultant for the Association of Southeast Asian Nations (ASEAN) and its 10member states, discussed Nationally Determined Contributions (NDC). Additionally, she also spoke about the work done by the ASEAN Climate Resilience Network (CRN) that serves as a platform to strengthen regional cooperation, promote knowledge sharing, and provide evidence-based policy recommendation, among others, on climate-friendly land use.
Ms. Bacudo also introduced climate-smart agriculture and its challenges as a nature-based solution, which includes lack of effective approaches for the transfer of technology, limited field demonstration and piloting of best practices in selected areas, and lack of sustainable finance mechanism for scaling up nature-based solutions. In addition, she discussed the Koronivia Joint Work on Agriculture (KJWA) as a landmark decision-making that recognizes the role of agriculture in tackling climate change and take in consideration the vulnerabilities and challenges in the industry in addressing food security.
Ms. Bacudo reflected, at the close of the webinar that "there are so many ways of approaching climate change from so many sides, but the bottom line is that we should really continue to hold dialogues and be able to communicate climate change well in a way that fosters understanding, cooperation, and collective action." Raising awareness through dialogues and building network to further address and tackle climate change has become imperative in mitigating its effects on agriculture, farmers, and farming families.