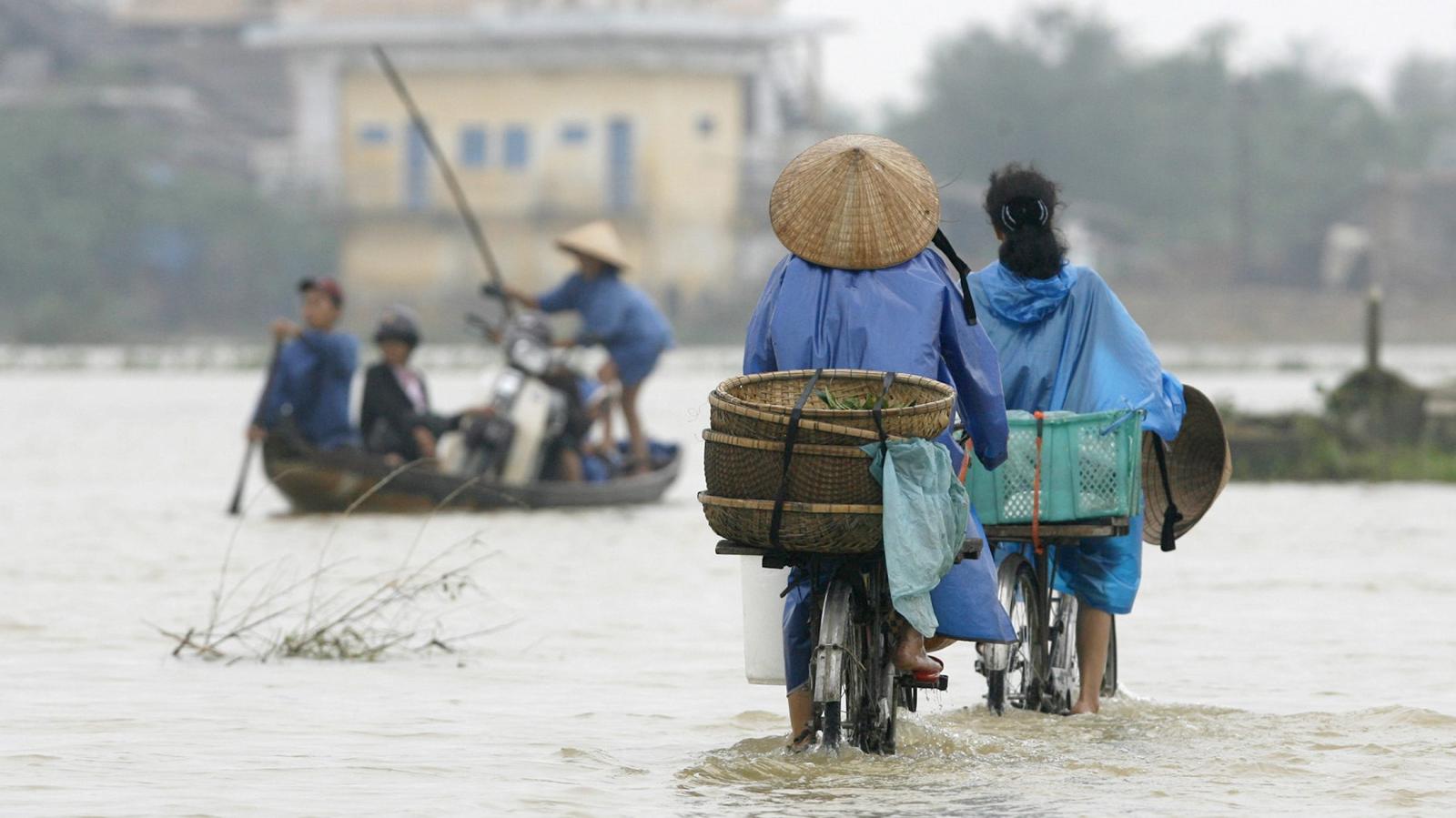 In Vietnam's Thua Thien Hue province, the threat of climate change is all too real.
Tran Thi Phuong Tien remembers when the floods came. Sitting at her cafe in Hue city, where she roasts her own coffee beans and serves sizzling beef that draws customers from the other side of the Perfume River, she recalls how Tropical Storm Eve hit the coast in October of 1999, pounding the region with more than its monthly average of rain in just a few days. The massive rainfall, which landed mostly upstream, conspired with the tide to cause the largest natural disaster for the area in the 20th century. The sea spilled aggressively through the narrow, unprepared streets of the communes and the single-storey homes of Hue. The unfeeling water rose shockingly fast.
The flooding continued for four days. Tran and her family fled to her mother's house. At one point her husband took a boat back to their house, diving under the water to get inside and surviving on a stash of energy drinks leftover from Tran's old job for the few days he spent there. Government staff was tossing balls of cooked rice through the windows of homes across the river, but on her side, the flooding was too extreme for even meager rescue efforts like that. Most of their furniture was destroyed. After the waters receded, she saw dead bodies everywhere: dogs, cats, buffalo, humans. The mud left on the walls refused to yield to her cleaning efforts. She heard about a family—a grandmother, a grandfather, and their two grandchildren—who knew they would die and tied themselves together so their bodies wouldn't wash away.
An estimated 600 people died in those few days, and the damage amounted to about $300 million. It left the province of Thua Thien Hue, and others in that region of north-central Vietnam, fearful of the next time the sea would come to claim the land as its own.
Greedy waters have often held the province in their clutches. In November 2017, floods from Typhoon Damrey affected more than 160,000 households in the province, killing nine people, and causing about $36 million in damage. But it's the 1999 flood that haunts. From beneath her wispy fringe, Tran looks at the dirty pond across the street from her café as if bracing herself for what it might become.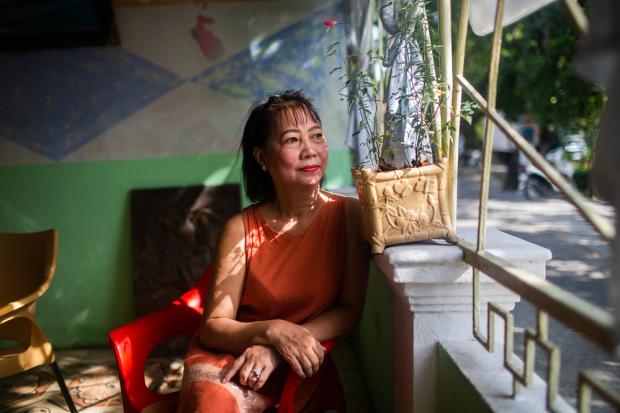 Tran Thi Phuong Tien, owner of Cafe Hua Sua in Hue. (LAUREN DECICCA FOR MOSAIC)
The 1999 disaster is what people in Thua Thien Hue talk about when you ask them about climate change, as reflexively as a hiccup, as if it were a textbook example. The connection isn't accurate, explains Pham Thi Dieu My, director of the Center for Social Research and Development, a Hue-based nonprofit. The cyclical, if severe, storm had the fiendish luck of bringing together heavy rains, high tide, and a lack of preparation. But for Pham, who has been educating the community about climate change, the memory has been crucial for waking up residents—women in particular—to the realities of their future.
Vietnam's Ministry of Natural Resources and the Environment predicts that, if emissions remain high, the average temperature in Thua Thien Hue will rise by up to 3.7 degrees Celsius by the end of the 21st century. Annual rainfall will increase by 2–10%. Sea levels will rise by up to 94cm. Rising sea levels combined with increased rain will flood the low-lying plains in which the province sits. At the same time, the water on which some crops depend may become fatally salty when dry season droughts fail to bring enough rain to balance out the salinity of ocean water. The 1999 flood, says Pham, makes it easier to understand what's coming.
As a strategy it works. The example of the flood, coupled with other recent changes—temperatures so hot that farmers had taken to planting rice at night, and low rainfall that left waters too brackish for rice and many fish to thrive—proved to the people of Thua Thien Hue that climate change wasn't just coming, it was here.
So when Pham approached the local branches of the Vietnam Women's Union, with a simple idea to help the land and sea withstand the coming danger, she found willing volunteers. They didn't need marches or commitments from world superpowers to catalyse them into action. The women of Thua Thien Hue were ready to rescue themselves. And in doing so, they joined a global movement to preserve and restore one of the most crucial and widespread—yet neglected—tools for thwarting climate-driven destruction: mangrove trees.
Le Thi Xuan Lan is laughing at me. I deserve it. We are walking towards her small rectangle of water, a pen bordered by low, sandy dykes walling it off from the Tam Giang lagoon along the central coast of Vietnam. There, she harvests shrimp and crab to supplement the money she earns collecting trash in her commune three times a week. But reaching her pond requires crossing a bridge—if you can call it that. Pipes of grey bamboo bound together and bolstered by narrow, upright planks stretch across an inlet. A single horizontal pole made of bamboo offers a rickety railing that inspires scant confidence. The bridge spans just 30 feet or so, but I'm clumsy and fearful of dropping my notebook and recorder, so I clutch the railing with two hands and take the bridge sideways. Behind me, Le, who is 61, howls with laughter and jumps on the bridge without holding on. Behind both of us, the South China Sea lies flat and calm, as if it plans to stay that way.
Earlier that day, our feet sank into the hot, black, squishy shore by a 16-month-old patch of mangrove trees that she had helped plant. The young trees looked like boy soldiers, thin and lanky, their heads of green, leathery leaves hovering just a foot or so above the water. Le, clad in a pink hoodie and black pants—covered head to toe despite the boiling air, as is the way in South-east Asia—bent down to clear seaweed from the still-tender roots. She tossed away a rock that had come to rest nearby, like a mother wiping food from a toddler's face. Keeping the small trees free of anything that could stifle their growth is vital to their success. And their success, she knows, is vital to her survival. In a few years, the mangroves will be there to keep floodwaters from swallowing her village whole. Or so she hopes.
Mangroves are a testament to the miracle of trees. Of the 60,000 or so species of trees on Earth, only mangroves tolerate saltwater. They thrive where fresh water mingles with the ocean, just beyond the shores of more than 90 countries in South-east Asia, South America, North America, Africa, the Middle East, the Caribbean, and the Pacific. Their thick tangles of ropey roots capture river sediment, thereby reducing beach erosion and preventing pollutants from flowing into the ocean. A 100-meter-wide swath of mangroves can reduce the height of a wave by as much as two-thirds. They sequester carbon three to five times more powerfully than upland tropical forests.
Read more.