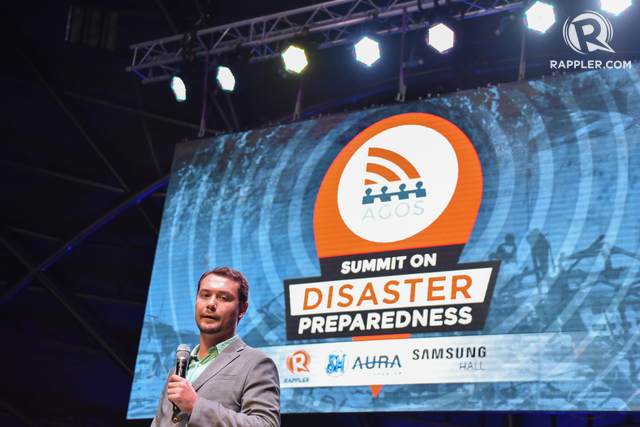 POWER OF MEDIA. Bryan McClelland suggested that it's time to incorporate climate change and disaster preparedness into pop culture.
Actor and YesPinoy Foundation chair Jose Sixto "Dingdong" Dantes III said it is really a challenge to convey to people the message of disaster risk reduction.
"I think it is also our duty and responsibility as citizens to help the government, to participate, and not just to participate, but to meaningfully participate," Dantes said during the panel discussion.
"We have all these platforms – there's television, social media, and media companies who use everything that they can to convey to all people the importance of DRR and climate action. But of course it needs our help, because we're the ones who will give it the multiplier effect…. If everyone acts together, the results will be better," he said in a mix of English and Filipino.
Paul Pangilinan, commissioner-at-large of the National Youth Commission, talked about the power of the barkada (group).
"I suggest kayong mga kabataan, you go in groups, kayo-kayo mag-usap anong maitutulong 'pag may disasters. Baka puwedeng magtulong-tulong, magvolunteer," he added.
(I suggest you young people go in groups, and you talk among yourselves how you can help during disasters. Maybe you can help each other, maybe you can volunteer.)
Climate Change Commission's Rina Atienza said children should not be left out of the conversation.
"We shouldn't underestimate children. They actually have imagination that they can come up with solutions….We encourage giving them a voice, giving them a say, because it's supposedly their future we're also looking out for," Atienza explained.
She added: "What are their opinions about it? And then providing platforms for their solutions to be heard, because we're getting it now in a lot of Facebook, YouTube videos: young children are actually smarter than we give them credit for."
Before the panel discussion, McClelland, Dantes, Pangilinan, and Atienza each talked about how their own organizations are involved in the movement for climate action and disaster resilience.
Organized by Rappler's civic engagement arm MovePH, the first ever Agos Summit on Disaster Preparedness will run until Saturday, July 8.
The two-day summit aims to bring together key stakeholders, tackle pressing issues, and learn from good practices that mitigated risks or achieved zero casualties in a disaster scenario. – Rappler.com
Source: Rappler | 8 July 2017