As a staunch supporter of the environment, SM Aura Premier developed a summer display called "On Thin Ice, an Art Installation for a Cause" under its #ArtinAura campaign. The exhibit features a sleuth of life-size polar bears distributed in the mall's Skypark. Aiming to educate the public on the species' plight, as the polar bears seek shelter in the tropical space of the Philippines, to symbolize the depletion of their current homes. Surrounding the display are QR codes to prompt guests to visit WWF Philippines' website and become a member.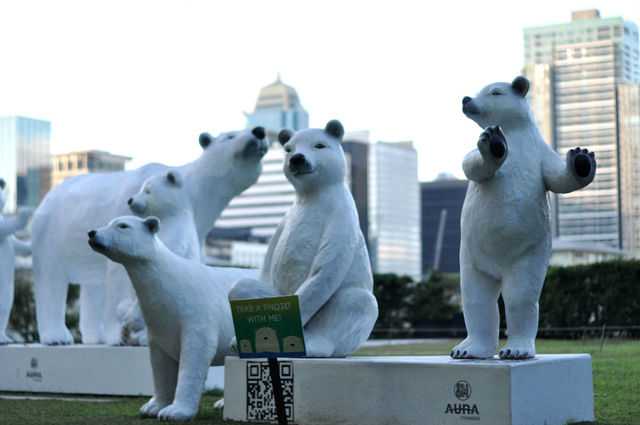 In partnership with the World Wide Fund for Nature (WWF), the world's largest conservation organization, and SM Cares, SM's corporate social responsibility arm, SM Aura Premier creates the exhibit to bring awareness towards global warming, which has been most pronounced in the Arctic – notably the ongoing loss of the polar bears' natural sea ice habitat. Because of this, polar bears were listed as a threatened species in the US under the Endangered Species Act. Given that they are apex predators, polar bears regulate the food chain and play an important role in the overall health of the marine environment.
Through the years, SM Aura Premier has been a strong advocate of the environment, garnering a Leadership in Energy & Environmental Design (LEED) certification that verifies the building's green features, stating that the design, construction, operations, and maintenance of SM Aura's building is resource-efficient, high-performing, healthy, and cost-efficient.
"On Thin Ice, an Art Installation for a Cause" will be on display from March 22 – May 31, 2018at the Skypark of SM Aura Premier. To see more of SM Aura Premier's activities, follow @smsaurapremier or see the hashtag #ArtinAura.
Source: Rappler | 10 May 2018