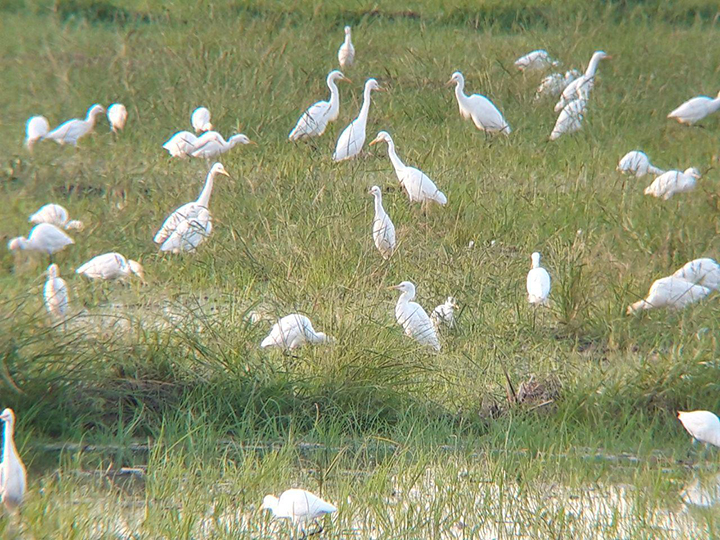 White egrets at the Candaba Swamp
Occasionally, we heard chirping sounds from a distance, adding to our excitement.
As we drew near the area where hundreds of native and migratory birds flock during the migration season, the chirping sounds became louder and clearer.
"Look, there's one," Gregg Yan, an environmentalist and conservation communication specialist whispered to a blogger next to him.
"Look, there's another," another excited tour participant, a bird enthusiast, and a photographer said.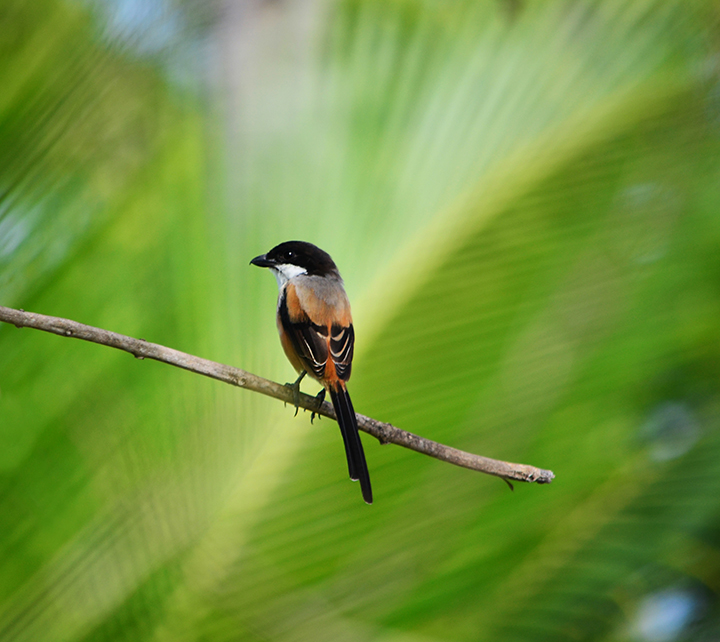 Long-tailed shrike
Finally, we reached the Paligui Wetlands within the famed Candaba Swamp, a haven for migratory birds and the biggest of such unique ecosystems in Luzon.
As the sun started to shine, more of our feathered friends were visible, flying above us. Suddenly, our feathered friends were all around us.
World Wetlands Day
Organized by the Department of Environment and Natural Resources-Biodiversity Management Bureau (DENR-BMB) and the Society for the Conservation of Philippine Wetlands (SCPW), the Media Wetland Exposure Activity held on February 1 and 2 was part of the country's celebration of WWD.
The WWD held every February 2 commemorates the adoption of the Convention on Wetlands in the Iranian city of Ramsar in 1971.
In 1999, by virtue of Presidential Proclamation 74, February 2 was also declared by the Philippine government as the National Wetlands Day.
This year's theme, "Wetlands and climate change," highlighted the importance of wetlands, one of the world's most threatened ecosystems.
Underscoring the importance of protecting and conserving wetlands, Director Crisanta Marlene Rodriguez of the DENR-BMB said healthy wetlands provide natural solutions in coping with climate change.
According to DENR-BMB, destructive human activities contribute to the degradation of wetlands. Besides destructive development projects, dump-and-fill activities and indiscriminate dumping of garbage, water pollution, overfishing and exploitation of natural resources within wetlands threaten these very important ecosystems.
Ecosystem services
Peatlands, mangrove swamps and seagrass beds, in particular, are the world's most effective carbon sinks, Rodriguez said.
"While inland wetlands like rivers and lakes absorb and store water from excessive rains and floods during the dry season, these wetlands slowly release stored water, minimizing droughts and water shortages," she said.
Rodriguez underscored the importance of maintaining coastal wetlands because they act as a protective buffer against storm surges and tsunamis, providing a shield to coastal communities.
"In times of and after most disasters, fully functional wetlands sustain communities by acting as a reliable source of food, fresh water and raw materials for livelihoods. The multitude of benefits we get from these ecosystems are our natural wealth, but their potential for climate mitigation is largely undervalued," she said.
Sadly, she said wetlands are often seen as "wastelands"—a place to be drained and burnt off.
"Not many know that when they are burned or drained, for example, for agriculture, they turn from being a carbon store to a carbon source, from flooding protection to cause of flood and from being a source of sustenance to cause of harm," Rodriguez explained.
Land conversion, climate change
The DENR-BMB official said many wetlands are threatened with extinction because of massive land conversion.
Citing the case of the Paligui Wetland, she noted that vast portions of wetlands are privately owned and are used for food production.
Worse, wetland-cum-agricultural lands may eventually be sold by owners to real-estate developers to convert them into a human settlement.
In Barangay Paligui, a 70-hectare portion of the wetland adjacent to the bird sanctuary is being developed into rice paddies by the new owner after it was sold by the former owner.
Climate change is also being eyed as a contributory factor to the degradation of wetlands.
In the Candaba Swamp, farmers observe that the swamp dries up easily because of intense heat.
"It dries up easily, unlike before, when we used to enjoy fishing a lot," said Gaudencio de Leon, president ofMacagatal Irrigators Association (MIA).
"Especially now, a portion of the dike collapsed, so water goes out. We need it during this time of year for rice cultivation," de Leon said.
On the other hand, during typhoon season, he said they have to cope with the challenge of flash flood as the Pampanga River overflows because of typhoon-induced rain, he said.
Besides land conversion and climate change, other threats to Candaba Swamp are the resurgence of hunting or poaching of birds and excessive growth of vegetation, particularly water hyacinth.
Important bird area
The Candaba Swamp, also called Candaba Wetlands, is an important staging and wintering area for ducks and other threatened waterbirds.
It is one of the country's 117 Important Bird Areas and a candidate for the Ramsar Site or Wetlands of International Importance.
The swamp is shared by four towns in Pampanga and one town in Nueva Ecija. These are the Arayat, Candaba, San Luis, Santa Ana towns in Pampanga and Cabiao town in Nueva Ecija.
According to Joy Navarro, specialist of the DENR-BMB's Caves, Wetlands and Other Ecosystems, the Candaba Wetlands is a complex of freshwater ponds, swamps, and marshes with surrounding areas of seasonally flooded grassland, arable land and palm savanna on a vast alluvial flood plain.
Besides providing agriculture and fisheries a boost, a "healthy" Candaba Swamp helps mitigate climate change, as it acts like a sponge that absorbs overflowing water from the Pampanga River, hence, mitigating potentially disastrous flood.
"It is a backswamp of Pampanga River. Once the water level in Pampanga River rises over a natural levee, it overflows toward Candaba Wetlands, which is relatively lower than the levee. As there is no place for the water to drain out, it settles in the backswamp," Rodriguez said in mixed English and Filipino.
International importance
According to the DENR-BMB, there are about 54 species of resident birds and 68 migratory birds recorded in Candaba Wetlands since 1940.
Because of its strategic location, the Philippines, being part of the Asian-Australasian Flyway, the DENR-Central Luzon and DENR Pampanga Office are pushing for its recognition as a wetland of international importance in Asia, by being listed as a Ramsar Site.
The Candaba Swamp satisfies at least three important criteria.
These include support to vulnerable, endangered, or critically endangered species or threatened ecological communities; support to plant and/or animal species at a critical stage in their life cycles, or provides refuge during adverse conditions, and support to 1 percent of the individuals in a population of one species or subspecies of waterbird.
The Philippine duck, Baer's pochard, streaked reed-warbler are among the globally threatened wetland-dependent species that Candaba Swamp supports.
Downward trend
Over the years, the number of birds visiting Candaba Swamp had dwindled. Environment officials fear it is caused by the degradation of the swamp.
Migratory birds are ecosystem indicators. Birds stay longer in an area that can support their sustenance, feeding on fruits, fish and even small insects and mollusks their beaks could reach.
According to Ronald Estrada, Development Management Officer of DENR Central Luzon Conservation Development Division, the vast tract of land was formerly being used as a fishpond, which attracts native ducks and other migratory birds.
Before, thousands of migratory birds, or what the Capampangans call ibong dayo, visiting Candaba Swamp were recorded every year. This made the swamp a popular tourist destination, especially for bird watchers, bird photographers, and nature trippers.
Because of massive land conversion, as of January 17, this year the Asian Waterbird Census recorded only 2,188 birds.
Last year was worse. Bird count volunteers were able to record a total of 1,700 birds only.
Paligui Wetland
135-hectare farmland within Barangay Paligui in Candaba, Pampanga, the Paligui Wetland is owned and managed by MIA.
It is adjacent to the locally declared bird sanctuary called Candaba Swamp Wildlife Reserve that is owned by the former municipal mayor of Candaba, Jerry Pelayo.
The SCPW is helping the members of MIA to protect and conserve the Candaba Swamp as a showcase for wetlands conservation with the support of Ramsar Regional Center-East Asia Wetland Fund.
The project is "an attempt to conserve a portion of the Candaba wetlands with the primary objective of increasing the awareness of its key stakeholders," said Amy Lecionnes, executive director of SCPW.
Through the project, SCPW aims to provide baseline data and information for its management and conservation and to develop a management plan to increase the capacity the members of MIA on sustainable farming practices.
MIA is currently composed of 75 farmers responsible for the water irrigation in the area, which covers 24 hectares of irrigation canals and dikes.
Ecotourism
Lecionnes told the BusinessMirror in an interview that they intend to promote ecotourism in Paligui as part of the project, which aims to increase awareness about the importance of wetlands.
Through various programs, they intend to promote homestay, bird-watching tour guiding, community or wetland tour guiding, vehicle service from Baliwag, Bulacan, and from Santa Ana and Mexico towns in Pampanga, and individual or group meal preparations to boost the income of the farmer-partners. "We have started providing training to some fishermen to act as bird-watching tour guides," she said.
Besides bird watching, other attractions and activities in Candaba Swamp are "Wetland Walk," a guided walk around the wetland and the scenic view of the rice fields with Mount Arayat in the background; exploring the various natural and human-made features of the swamp; hook-and-line fishing; carabao cart ride; and boodle fight meals.
Pledge of support
With its battle cry, "We are not powerless against climate change," SCWP is highlighting its Communication, Education and Public Awareness efforts.
With the WWD 2019 event, a media exposure and birding activity, the DENR and SCWP hoped to rally the support of mainstream media practitioners and netizens, including bloggers, to help increase public awareness that will strengthen the protection of wetlands all over the country.
At the end of the activity, participants were asked to write a pledge, their commitment to help save wetlands in general and the Candaba Swamp in particular.
"I pledge to continue to write for the environment, communicate and help increase awareness to protect and conserve our wetlands," I said.
Image Credits: Gregg Yan, Jonathan L. Mayuga
Source: Business Mirror | 11 February 2019