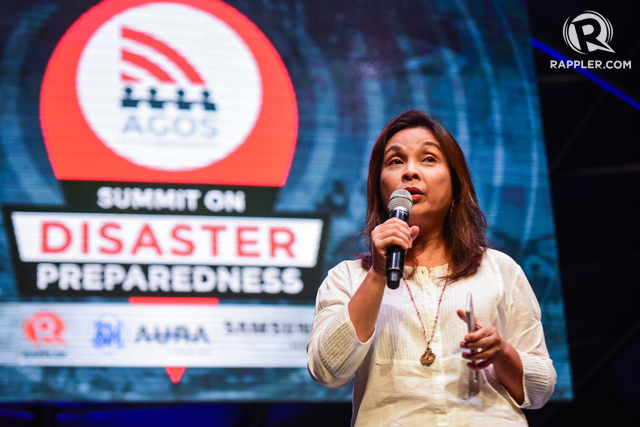 DISASTER RISK REDUCTION. Senator Loren Legarda shares at least 9 ways Filipinos can help mitigate the impact of disasters on their lives. Photo by Alecs Ongcal/Rappler
Here are at least 9 ways to do it, according to Legarda:
1. Multi-hazard early warning systems
Disasters now rarely cause one hazard alone, said Legarda. Citing the onslaught of Super Typhoon Yolanda (Haiyan) in 2013, she said there were storm surges, strong winds, and landslides that the government and the public had to deal with.
To avoid a repeat of the aftermath of such disasters, she said the national and the local government should communicate to the public "early enough" the possible risks and hazards they may face with an expected disaster.
"If there were early warning systems in place, or if it was communicated...early enough for them to be informed, then they would have left," she said.
"Puwedeng may soil erosion, landslide, o nasira bahay o eskuwelahan, pero di namatay (There could have been soil erosion, landslide, or destruction of houses or schools, but people won't die)," she said.
It is also important to communicate the information properly, citing the country's diverse culture and dialects. She also cited the need need to integrate government expertise for a holistic approach.
"There is a need to integrate expertise, systems, services. PAGASA for hydro, Phivolcs for seismic hazards, DENR-MGB for landslide or land risk. And to establish an integrated risk information system for our country," the senator said.
2. Rain water catchment facilities
The Philippines, despite having one of the longest coastlines in the world, is still subjected to drought.
One way to address this is through the creation of rainwater catchment facilities, which individuals can also build in their own homes. The trapped rainwater can then be used to water plants, farms, or fields.
"The Philippines is always subject to drought. That's unconscionable for a country with a long coastline. Through DPWH or DILG, they must create rain water harvesters. Imagine if we just collect rainwater," Legarda said.
3. Seed banks
"We must have seedbanks. Seed banks preserve indigenous trees. Mawawala mga puno, di bale kung merong maitatanim muli. Eh kung wala na, indigenous species, kaisa-isang balete tree o kaisa-isang ironwood (These trees will disappear unless they are replaced. What if there's nothing left of our indigenous species, the last balete tree or the last ironwood)? There could be indigenous species wiped out by floods, uprooted by earthquakes," Legarda said.
4. Mangroves
Mangroves or bakawan are crucial against storm surges. (READ: Mangroves are PH's best shield vs climate change)
Legarda said during Yolanda, areas with mangroves suffered lesser impact than those without.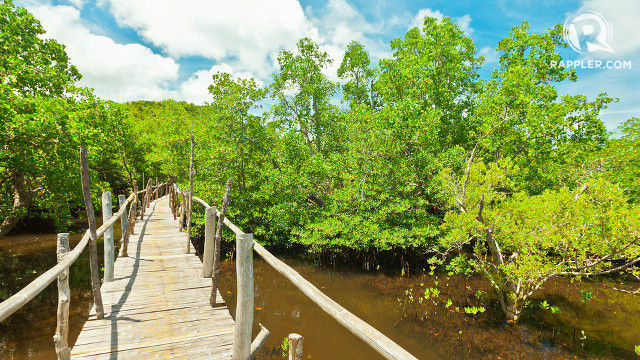 GEMS. A mangrove sanctuary in Bohol thrives under an ecotourism program. File photo
"When there are no mangroves, storm surges wipe out the population, infrastructure, livelihood. Mangrove is so important for coastal protection. It's a beautiful barricade against storm surge, tsunami, and puwede pang bahay ng mga isda (they are also fish nurseries)," Legarda said.
5. Indigenous knowledge
The knowledge of indigenous groups on the environment and agriculture should be documented for preservation and for future practice.
"'Wag balewalain. 'Yan ang yaman natin, nauna pa ating katutubo (Let's not disregard that. That's our treasure, the indigenous people were first). They have indigenous knowledge for culture, agriculture, environment that we should document," she said.
6. Rooftop gardens
Households can easily do this. If rooftops are not available, a small garden will do. Many commercial establishments have also included this in their practice.
7. Roadside ditches
There is a need for this because roads without gutters get flooded easily.
"The Department of Agriculture and the Department of Public Works and Highways should know this. Ang kalsada na walang kanal, siyempre babaha. Common sense, dapat may daluyan ng tubig (roads without gutters get flooded. Common sense, there should be a water outlet).
8. Seawall construction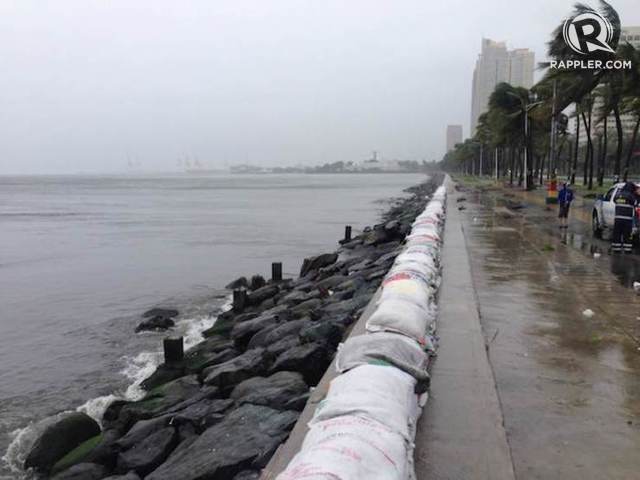 SEAWALL CONSTRUCTION NEEDED. The MMDA has lined the seawall along Manila Bay with sandbags to cushion any possible storm surge on July 16, 2014.
This is a back-up for mangroves for the protection against storm surges. But Legarda emphasized that planting mangroves is still better: "Aside from being beautiful, it's more effective."
9. Drills for disaster response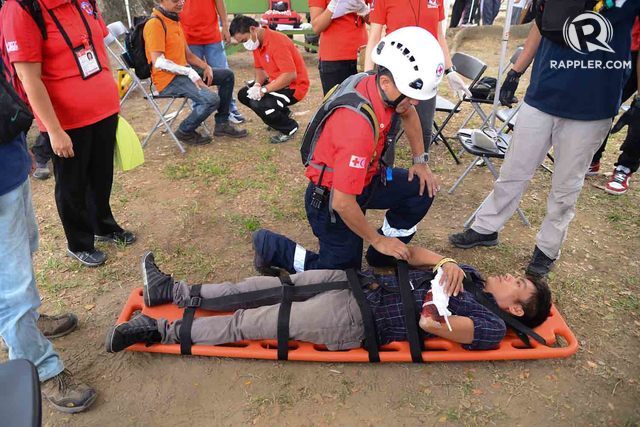 THE BIG ONE. Filipino volunteers at Intramuros participated in a nationwide Earthquake drill in 2015. File photo
This includes practicing of drills (earthquake drill, fire drill, tsunami drill) for disaster response to save lives and reduce risks and other issues. – Rappler.com
Source: Rappler | 10 July 2017